3-year-old Apache Junction boy dies from fentanyl overdose
APACHE JUNCTION, Ariz. - A toddler died after police say he ingested fentanyl over the weekend at a home in Apache Junction.
According to police, the 3-year-old boy ingested at least one fentanyl pill on Jan. 29 near Tomahawk Road and Broadway Avenue.
The boy was taken to the hospital by his family and was treated with Narcan before being airlifted to a different hospital.
RELATED: How to get Narcan in Arizona: What it's for, and how to use it
"Unfortunately, the 3-year-old boy's respiratory system shut down after issues of brain swellings and stroke symptoms, and he ultimately was put on life support before he died," Apache Junction Police said.
No arrests have been made at this time, however, the incident is an ongoing criminal investigation.
"The family transported the 3-year-old to the hospital and it is a protocol for the hospital to contact the police department in these cases," says Apache Junction Police Lt. Daniel Saldana.
Police are still interviewing the boy's relatives, including his mother. The toddler had been staying at different homes across Maricopa and Pinal counties.
Detectives are still trying to narrow down where the toddler found the fentanyl – and who was there with him.
"A lot of unknowns. We can't make a decision right away … before we can even decide if charging will be done," Saldana said.
'A significant increase'
Poison control experts say there are several signs that a young child, who can't communicate yet, may have ingested fentanyl.
"Decreased breathing … appearing very drowsy, and one sign is also pinpoint pupils in their eyes," explained Maureen Roland, Banner Poison and Drug Information Center managing director.
The Banner Poison Control Center says it's seen a dramatic increase in fentanyl-related calls involving children.
"We're getting close to 50 in a year – people calling to the poison center. So about 50 a year, when we look back to 2017, 2018 we were looking at one or two, so it is a significant increase," Roland said.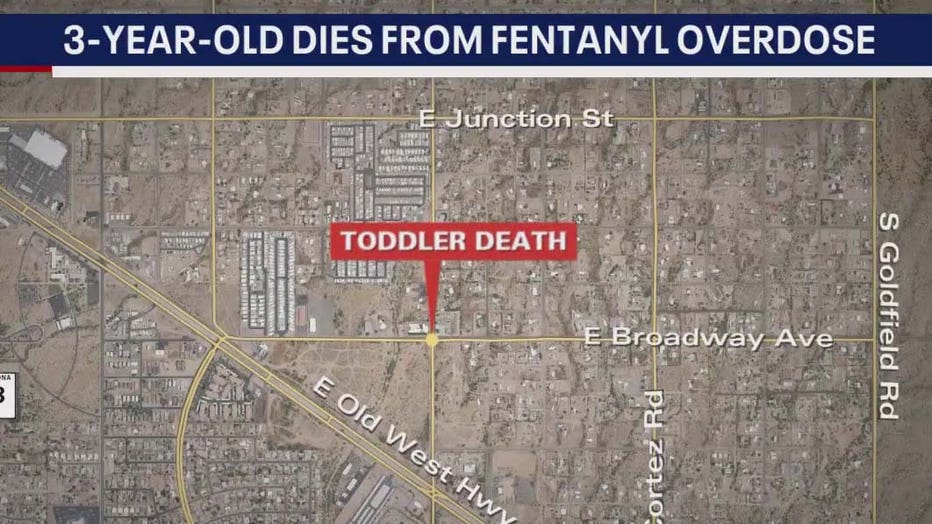 A toddler has died after police say he ingested at least one fentanyl pill at a home in Apache Junction.
More Arizona headlines:
Tune in to FOX 10 Phoenix for the latest news: