'American nightmare': How 30 unlicensed rehab homes nearly took over a Laveen community
PHOENIX - How did a behavioral health provider nearly take over a Laveen neighborhood?
The rehab program we're learning about now has three clinics suspended by Arizona's Medicaid agency, facing allegations of fraud.
This comes as the state continues its crackdown on the sober living scheme.
'An American nightmare'
"It's the American dream, right? My parents are immigrants. We come from nothing. It's like, 'grow up, go to school, do a good job, work hard, buy a house,'" Jackie Mares said.
She moved in right as 2023 kicked off, excited to own her first home.
She bought a home in the community Element on Euclid in Laveen. It's a fairly new community with a little more than a hundred single-family homes.
She says she later realized something was off.
"Just kind of felt like it turned my American dream to an American nightmare, like literally overnight," Mares said.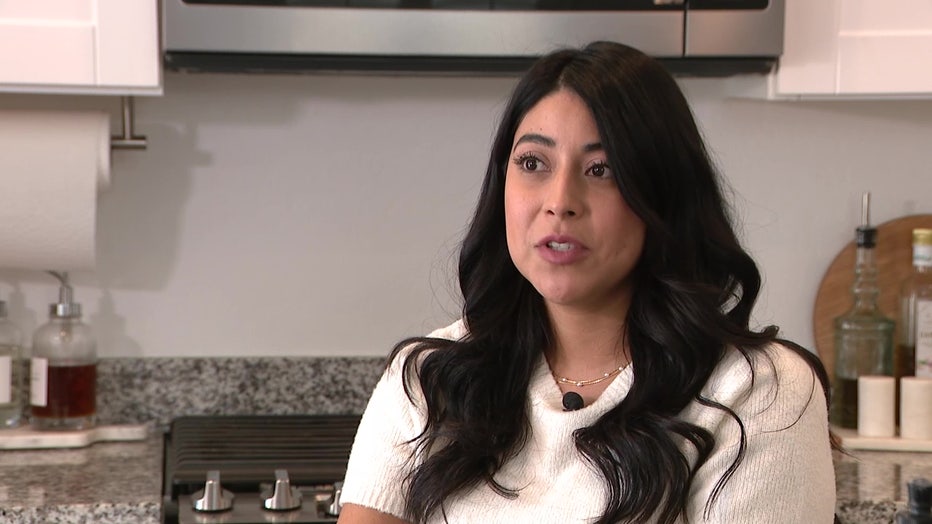 'It was crazy. It was nonstop'
So far this year, Arizona's Medicaid agency, better known as the Arizona Health Care Cost Containment System (AHCCCS), has suspended more than 300 behavioral health providers.
Registered providers must be licensed by the Department of Health to get paid by AHCCCS for any services they provide to patients.
But, after being defrauded for hundreds of millions of dollars, AHCCCS is cracking down on those believed to be fraudulently billing the state for therapy services rarely given to people trying to get sober.
This brings us to Rehema Behavioral Health.
Mares says she constantly saw Rehema transport vans picking people up at houses in her neighborhood.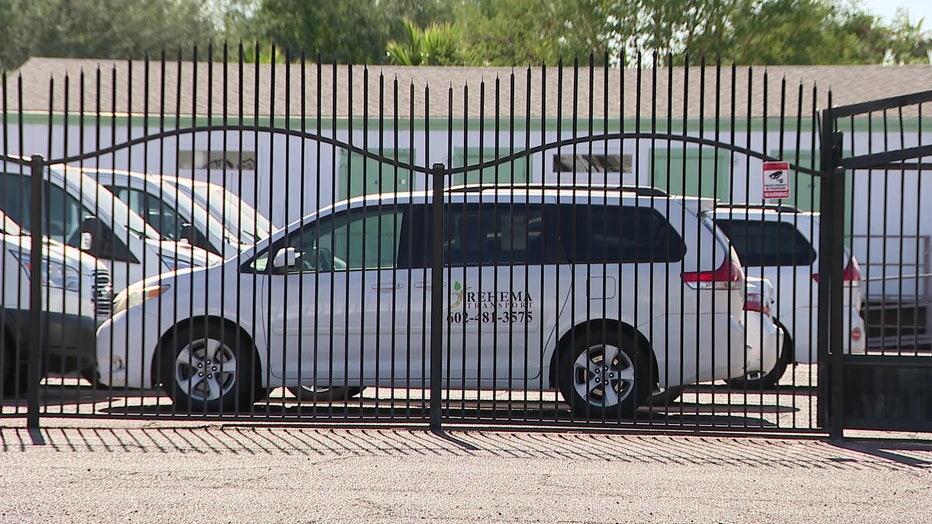 "I felt like I was just waiting for the van to show up at my house one day. It was crazy. It was nonstop. It was on the weekends, in the mornings, in the evenings, and who knew what was happening during the day, but it got bad. Everybody was talking about it. You could not escape it," she said.
Neighbors became frustrated, and Mares filed a complaint with county code enforcement.
"At one point, there was like a person passed out sleeping at the park, needles everywhere, beer cans, and again, the neighborhood has been around for six months at that point, so to see it go down that fast by people that didn't care, it was a really big deal to me," Mares said.
READ MORE ON FOX 10'S INVESTIGATIONS INTO THE SOBER LIVING CRISIS
Tens of millions paid from AHCCCS
FOX 10 obtained AHCCCS suspension notices for three different providers owned by Rehema: One in Casa Grande and two in Phoenix.
Between three facilities, the state's Medicaid agency says it paid Rehema Behavioral Health a total of $43,669,769 from 2020 to 2023.
It's important to note that reimbursements paid for services do not indicate exactly what is believed to be alleged fraud.
These three clinics face allegations of fraud, revealed in May and September, from excessive billing to paying for patient referrals to housing clients at unlicensed homes while members receive treatment.
Investigators identified those homes in the Element on Euclid community.
According to the Maricopa County Assessor, 20 homes there are owned by Jehova Jireh Realty, LLC.
It's the same company owned by Christine Kemboi, who is also listed as CEO of Rehema Medical Corporation, per state records.
Another ten homes in the community are owned by Sarah Ragira.
Through public records, FOX 10 confirmed both Kemboi and Ragira manage Rehema Behavioral Health Center.
To give you perspective, that's 30 out of 107 homes in the neighborhood.
None of the 30 properties in question are licensed by Arizona's Department of Health Services.
Ten of those homes are lined up next to Mares.
Maricopa County code enforcement officers confirmed some of Mares' concerns.
Officials say they witnessed multiple Rehema vans pick people up from homes in June and bring them to Rehema's clinic near 7th Avenue and Camelback Road.
Back in August, we went to the neighborhood to see this for ourselves.
Instead of Rehema vans, we watched a car pick people up and followed them. They went to the same behavioral health center on Camelback Road.
An employee confronted us briefly.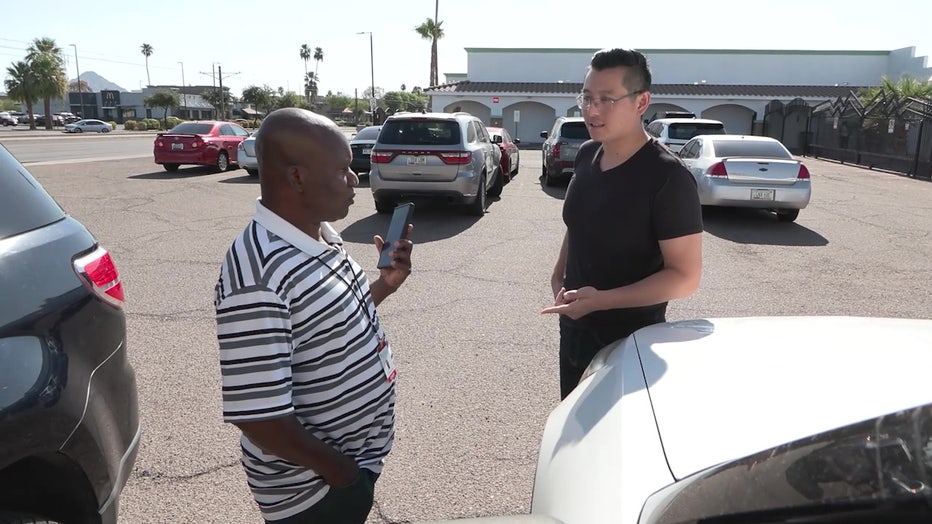 Justin Lum: "Are you with Christine Kemboi?"
Employee: "Yeah. Who are you, sir?"
Justin Lum: "I'm with FOX 10 News. Are you guys still operating while being suspended by AHCCCS?"
Employee: "We're actually working here."
We've requested to interview Kemboi through her lawyer but have not heard back.
A week after our first visit to the clinic, Kemboi was issued a notice of violation and order to comply, accused of "operating a recovery community" without proper zoning entitlement.
Under a new contract
"In this instance, the homes were all associated with an offsite treatment center and there were other overlapping issues that tied all these homes together and, as a recovery community, we said, 'You need to obtain multi-family zoning or cease and desist,'" explained Darren Gerard. He's the planning division manager for Maricopa County.
Initially, Kemboi had a civil hearing set for the zoning violation in September, but during a prehearing inspection of nearly 30 homes linked to Rehema, the county found them to be mainly vacant. The county closed the case due to the violation being corrected.
Gerard says the county is not seeing an increase in that type of violation regarding recovery communities in single-family zoning.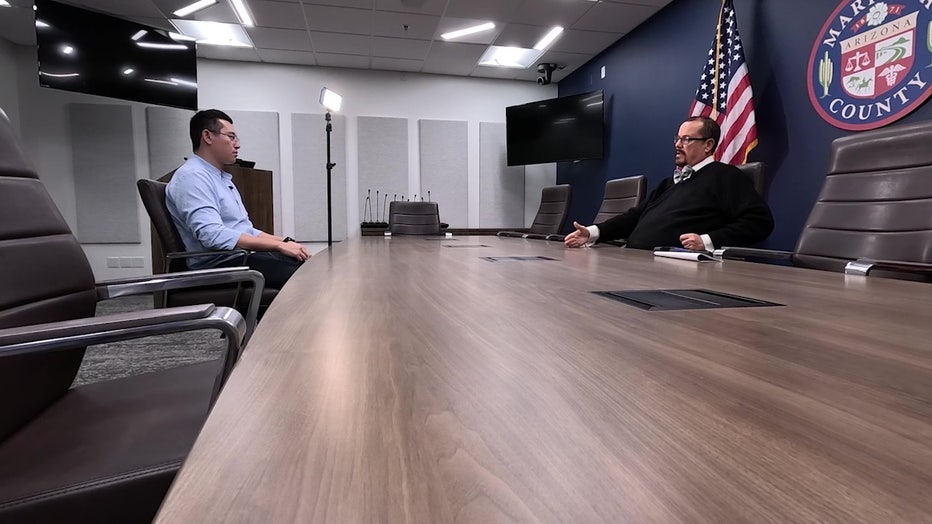 (Right) Darren Gerard, planning division manager for Maricopa County
He says the Rehema case is the only one to date.
"The zoning process, the zoning code enforcement process, we treat it the same. We receive a complaint, we attempt to verify the complaint within 30 days," Gerard said.
On our last visit to Rehema Behavioral, there was not much activity but two people who appeared to work together at the clinic didn't want to talk to us.
According to officials, the properties previously used as recovery homes are now under contract with XCD Realty and Property Management to be rented out to the public.
XCD is a company FOX 10 has reported on previously for being cited by the Department of Health. They were accused of allowing unlicensed sober living facilities to operate out of new condos in Mesa.
What now?
Rehema vans and the unlicensed sober living activity are gone, for now, but Mares remains on alert.
"I'm at the point where I'm a little tired honestly, but I feel like if I don't do anything about it, if I'm not loud about it, if I'm not sending emails, if I'm not making calls, who is? If I haven't done that to begin with, Maricopa County probably wouldn't have gotten involved, right?" Mares said.
More documents related to this investigation: