Ukraine-Russia crisis: Arizonans react, brace for potential impact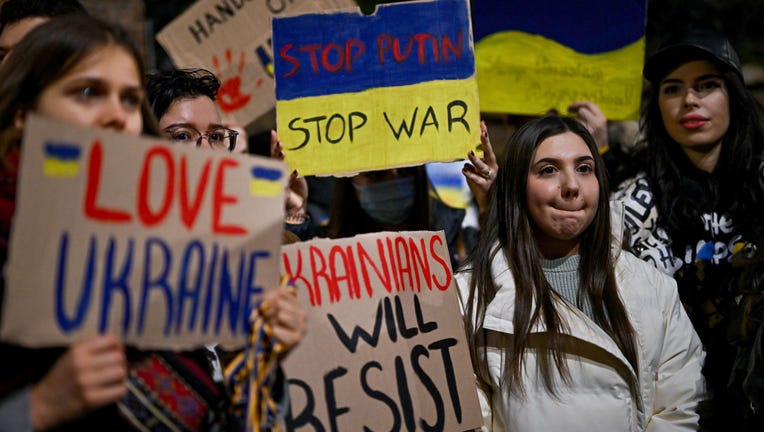 article
PHOENIX - As Russia continues its invasion of Ukraine following weeks of escalating tensions, Arizonans are reacting to the latest turn of events.
What happened?
In a televised address on the night of Feb. 23 (Arizona time), Russian President Vladimir Putin announced the start of military operations against Ukraine.
Read more: Russia invades Ukraine; peace in Europe 'shattered'
Putin ignored global condemnation and cascading new sanctions as he unleashed the largest ground war in Europe in decades, and chillingly referred to his country's nuclear arsenal. He threatened any foreign country trying to interfere with "consequences you have never seen."
As of Feb. 24, Ukraine's Health Minister said 57 Ukrainians have been killed as a result of the Russian invasion, and 169 more were wounded.
On Feb. 24, President Joe Biden announced broad new sanctions targeting Russia.
"Putin is the aggressor," Biden said. "Putin chose this war, and now he and his country will bear the consequences."
The sanctions target Russian banks, oligarchs and high-tech sectors, Biden said. The United States and its allies will block assets of four large Russian banks, impose export controls and sanction oligarchs.
Biden also said the U.S. will be deploying additional forces to Germany to bolster NATO after the invasion of Ukraine, which is not a member of the defense organization. Approximately 7,000 additional U.S. troops will be sent.
The penalties fall in line with the White House's insistence that it would hit Russia's financial system and Putin's inner circle, while also imposing export controls that would aim to starve Russia's industries and military of U.S. semiconductors and other high-tech products.
Arizona's Ukrainian community reacts to war
According to U.S. Census data from 2019, there are over 1 million people who reported Ukrainian ancestry. In Arizona, there is a small Ukrainian population, and many of the members of that community have friends and family members still living in Ukraine.
Members of the community are watching the latest developments in the area, while worrying about their friends and family members.
"They all have mothers and fathers and brothers and sisters over there. They are all frightened of what can happen," said Victor Szwez, the president of St. Mary's Orthodox Church. The central Phoenix church has a small but dedicated congregation of about 50 people. "It's terrifying. I caught myself crying at one point today, thinking how many young men, civilians kids being killed today."
Both Szwez and his wife's parents immigrated from Ukraine in the 1960s. He keeps many of their belongings in a large case, and he still has cousins and friends there.
"They say they've been going into their basements on a daily basis since the shelling started," said Szwez.
The citizens of Ukraine voted for independence in the early 90s as part of the collapse of the Soviet Union. The country agreed to give up its large nuclear arsenal, with the promise of protection from the West. That is a now a deal that many may not live to regret.
"Most people are staying. They want to stay, and most people saying they're going to fight," said Szwez.
For Szwez and the small Ukrainian congregation, about all that they can do is raise money to send a few supplies, and pray Ukraine won't return to the country his parents knew.
"That this is happening again, it brings back so many memories," said Szwez. "I never thought my daughter would have to see something like this happen, and here it is happening."
On Feb. 24, people gathered for a prayer vigil at Szwez's church.
"This is piece of Ukraine in Arizona, and help feel at home," said Yuriy Melyk.
For those at the vigil, prayer appears to being comfort amid a seemingly helpless situation.
"Show our support for our family, our parents," said Yuriy.
Yuriy's mother lives near an air force base in western Ukraine, and he fears the area could be targeted by Russia.
Ordinary Arizona residents also feeling impact from war
The war can impact the daily lives of Arizonans, because in a global economy, what happens in Kharkiv can affect someone in Phoenix.
Currently, prices are already high at the pump, and the price could jump again, as the price of crude oil continues to rise.
"They're manageable, but it's getting harder to manage," said Mike Johnson. "It went from being $40 to fill up my truck to $60 right now. So it is quite an increase, especially when I have to go out of town a lot."
According to AAA officials, the new culprit might be in Eastern Europe.
"If Russia is going to continue its advances on Ukraine, that would likely push up prices as well," said Aldo Vazquez. "The thing is the global oil market is, like any other market, it's going to respond to bad news, and that's going to have a ripple effect around the globe and in the United States."
AAA officials say while Arizona has cheap gas compared to nearby states, their forecasts show prices will not go down for at least another year.
Beyond the larger fight for freedom, Johnson is keeping an eye on his wallet in Phoenix, and the prices that are only going up.
"Hopefully -- I mean, it won't affect too much, but it seems like it's steadily getting worse, what's happening over there," said Johnson.
ASU professor talks about what could happen next
Many people have watched, on TV or social media, the opening salvos of Russia's invasion of Ukraine. ASU's Co-Director of the Center on the Future of War, Daniel Rothenberg, was one of them.
"It is a dangerous time, and it's something we all have to pay attention to, and we just have to hope for the best in terms of the need to respond, and also in terms of escalation," said Rothenberg.
Rothenberg called the invasion a war of aggression. The response from the world not only coming in the form of sanctions, but also in how Ukrainian people will be provided with help.
"It seems likely that there will be large numbers of Ukrainians that will flee the country very rapidly," said Rothenberg. "European nations have said they will welcome them, but there will be large numbers of Ukrainians who will be stuck there, and what will they be subjected to? There's been reports about kill lists being put together."
Arizona politicians react
In separate statements, various Arizona politicians spoke out about the war.
Gov. Doug Ducey
Gov. Ducey also addressed the issue of cyber warfare, saying that it is something the state is always monitoring.
"We monitor the incoming cyberattacks," said Gov. Ducey. "They're plentiful on a quiet day. I can only imagine on a day when Europe is roiled in the most civil unrest since World War II."
Sen. Krysten Sinema
"Russia's illegal, unprovoked attacks on free and democratic Ukraine directly threaten American national security interests and the sovereignty of our allies. I support increased, aggressive sanctions, and call on NATO and other democratic, peaceful countries to stand united in swift, decisive action against Russia's aggression. 
My highest priority is the safety and security of Arizonans and the American servicemembers who risk their lives to protect us, and I'll continue supporting policies that keep America safe, promote our country's and our allies' long-term security, and ensure our servicemembers' safety."
Sen. Mark Kelly
"Putin's invasion of Ukraine is unprovoked and unjust. I am thinking tonight of the Ukrainian people, who want nothing but peace, yet are now under attack and in a war for their homeland. The United States, alongside our NATO allies, must be resolute in our support for the Ukrainian people. And we must work to quickly impose the maximum sanctions on Putin and the Russian government. Putin has chosen a devastating and illegal war. He bears responsibility and must be held to account."
Rep. Ruben Gallego
State Rep. Wendy Rogers
Rep. Andy Biggs
Rep. Paul Gosar
Congressman Tom O'Halleran
"Vladimir Putin is a rogue leader who has continually lied to his own people, to the people of Ukraine, and to the people of the world, and we must treat criminals and liars as such. The United States must swiftly implement robust sanctions against Russia and ensure Putin is further isolated from the international community—together, with our allies, we must send firmly the message that this will not be tolerated on the world stage. 
Congress must continue to support the Ukrainian people and our NATO allies, especially those who border Russia, through increased military aid. Putin's actions are an affront to democracy worldwide and we will not allow for it. We are all praying for the safety of the children, families, and leaders of Ukraine who are facing the ravage of war brought about by a man who has no respect for human life."
The Associated Press (AP) contributed to this report.
Related Stories
LiveNOW from FOX - Streaming live events, breaking news, and stories from around Arizona and the world
Tune in to FOX 10 Phoenix for the latest news