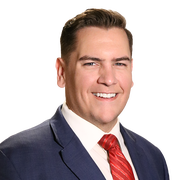 After spending five years in the Florida panhandle covering news and politics, Matt Galka headed west for Phoenix.
Matt spent three years at Capitol News Service in Tallahassee, FL covering state politics and everything else Florida threw at him. Before that, he spent two years at WCTV in Florida's capital city where he covered everything from crime to courts to sports.
Matt is a huge sports fan and former walk-on football player for Syracuse University. He's a proud Orange alum but also cheers for the Quinnipiac University Bobcats where he got his Master's degree.
You can usually find Matt outside enjoying the sun with his dog, Bella, or at a sporting event. He's happy to be a new resident of the Valley and looks forward to seeing everything it has to offer!
The latest from Matt Galka