Mesa PD: Armed robbery suspect found dead inside truck on Loop 202 in Mesa
MESA, Ariz. - Mesa Police responded to reports of an armed robbery suspect on Loop 202 Tuesday afternoon, the department said, and the investigation turned deadly.
Events unfolded on Loop 202 at the Broadway Road on-ramp around 3:30 p.m., said Mesa Police Sgt. Chuck Trapani, as undercover detectives were conducting surveillance on the suspect.
"During the surveillance operation the suspect was driving a white Chevrolet pick-up truck. While driving eastbound on Broadway Road the suspect exited Broadway onto the southbound on ramp of the Loop 202 Freeway in Mesa," Trapani said.
That's when the suspect stopped, got out of his truck and reportedly tried to carjack a driver in a sedan who was on the on ramp.
"The suspect was unsuccessful with the carjacking and quickly returned to his truck. At that time Mesa Police undercover detectives with the assistance from members of the U.S. Marshal's Office Fugitive Task Force contained the suspect's vehicle with their vehicles," Trapani said.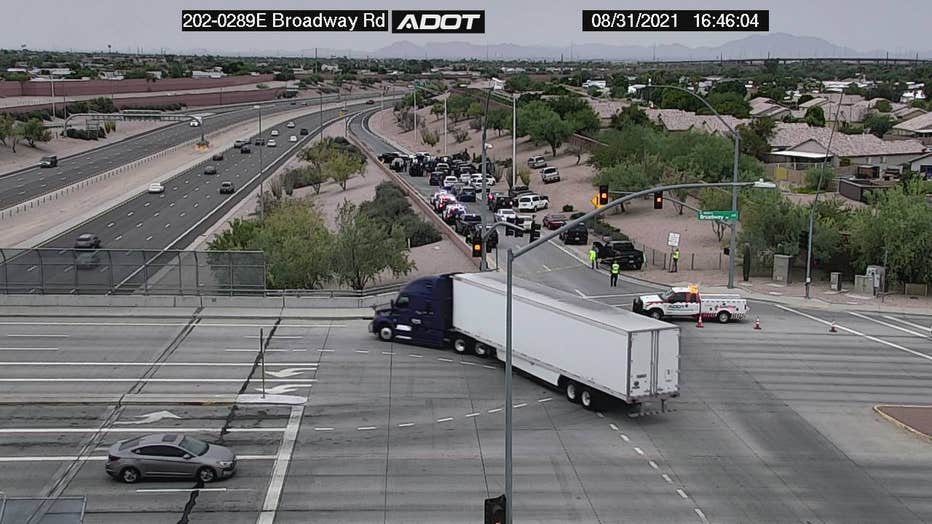 Mesa Police situation at Loop 202 and Broadway Road on Aug. 31. Photo courtesy of ADOT.
When authorities surrounded the suspect's vehicle to take him into custody, he was found unresponsive inside. The Mesa Fire and Medical Department responded to the scene and pronounced him dead.
"Upon further investigation into yesterday's incident at the Loop 202 Freeway and Broadway Road in Mesa, it was determined by Mesa Police investigators that the suspect took his own life by shooting himself with a handgun inside of the truck he was driving moments before police made contact with him," Mesa Police said on Sept. 1. "The handgun was located in his lap."
During their initial investigation, police said no officers opened fire on the suspect during the incident.
Police identified the suspect on Wednesday as 26-year-old Dakota Black, a Mesa resident.
If you or a loved one is feeling distressed, call the National Suicide Prevention Lifeline. The crisis center provides free and confidential emotional support 24 hours a day, seven days a week to civilians and veterans. Call the National Suicide Prevention Lifeline at 1-800-273-8255. Or text 741-741.
Related Stories:
Tune in to FOX 10 Phoenix for the latest news:
Download FOX 10 Phoenix apps for breaking news and weather alerts.