Dysart High School assistant football coach arrested, accused of sexual misconduct involving minor
EL MIRAGE, Ariz. - El Mirage Police say they've arrested a 24-year-old now-former employee at Dysart High School for alleged sexual misconduct involving a teenage student.
Nathan Jellicoe of Glendale is accused of 10 counts of sexual conduct and two counts of luring a minor for exploitation, says a police statement on Tuesday, Oct. 12.
"The El Mirage Police Department was notified by school officials immediately upon learning of allegations involving inappropriate conduct between Jellicoe and a 16-year-old student," read a portion of the statement released by El Mirage Police officials.
In a statement by Dysart Unified School District, it says it was informed on Oct. 12 about an "allegation of unprofessional conduct by a school employee involving a minor student."
Jellicoe was arrested on campus.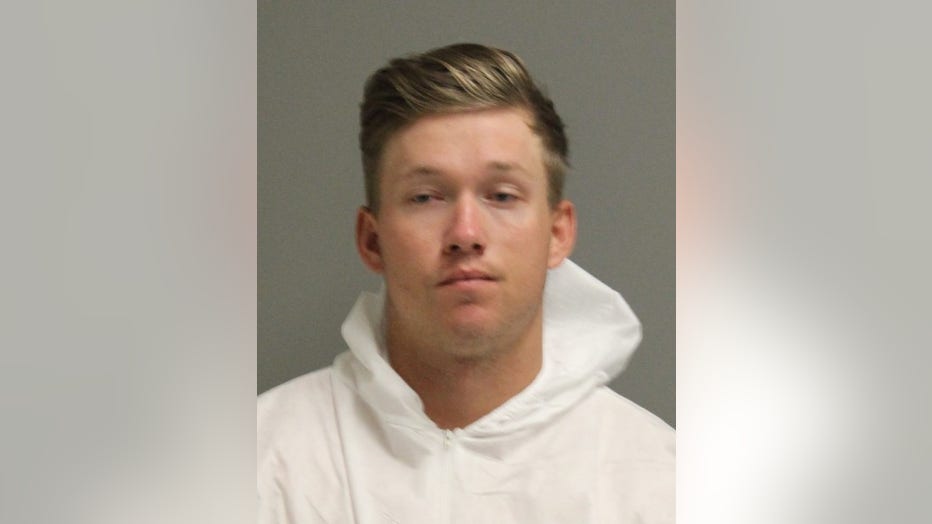 'Students need to report these things'
El Mirage Lt. Tim Mason held a press conference at 7:30 p.m. Tuesday, detailing the investigation into what he called a "sexual relationship" that took place from about Oct. 4 to Oct. 12.
The victim and Jellicoe reportedly exchanged text messages and some of them were shown to other students, Mason said. Adding that other students were the ones who reported the misconduct to the school.
Mason says Jellicoe and the victim met on campus at least five different times, and the crimes reportedly took place on campus.
"Students need to report these things … Without the students coming forward with this, this victimization could've continued," Mason remarked, adding that parents also play a crucial role in monitoring their child's activity on phones and social media.
"When you're a parent, you need to create and foster that environment where you're children aren't afraid to come forward," Mason said. He says the teen's parents are cooperating with the investigation.
Jellicoe, having been a security guard, gave him the opportunity to be in close contact with the victim, Mason said.
"He's in a position of authority, he's in a position of trust, therefore there is a particular statute that would be leveraged with the Maricopa County Sheriff's Office when he's booked," Mason said.
El Mirage Police officials say Jellicoe worked as an assistant football coach and a security guard at Dysart High. Dysart Unified officials say Jellicoe will not be returning to any district campus.
As for other victims, police are asking anyone who has information pertaining to other victims, to contact them immediately at 623-500-3000.
An investigation into Jellicoe is ongoing.
Watch the full Oct. 12 press conference:
Other Top Stories
Tune in to FOX 10 Phoenix for the latest news
For the latest local news, download the FOX 10 News app