El Mirage armed intruder incident: Police release 911 call, body camera video of incident at elementary school
EL MIRAGE, Ariz. - On Aug. 15, El Mirage city officials provided new updates in connection with an incident that resulted in the lockdown of a Dysart Unified School District elementary school.
The incident, according to prior reports, happened on Aug. 12, following reports of an armed man on campus. Three people were taken into custody after trying to get on campus during the lockdown.
The suspect who prompted the lockdown, according to investigators, fled from the scene as officers were arriving. He was eventually arrested, and is being evaluated by mental health professionals.
A "suspicious package" was located at the scene, according to police, but no details were released about the contents of the package. Children were later brought to their parents.
Identities released by police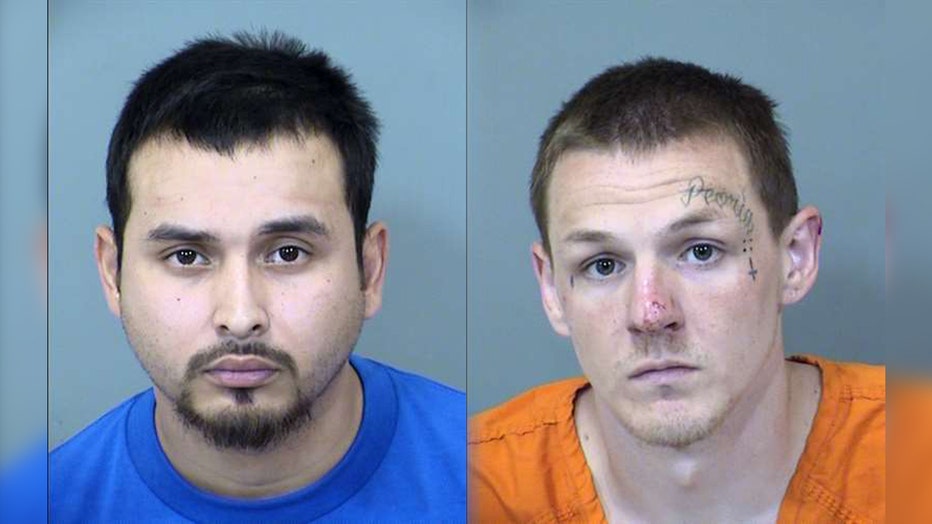 Vincent Castaneda (left) and Jonathan Davis (right)
On Aug. 15, El Mirage Police officials identified two people who were arrested for trying to get on campus during the lockdown.
The two, according to investigators, are 22-year-old Vincent Raul Castaneda and 22-year-old Jonathan Vincent Davis. Police also identified a third person, 48-year-old Darlene Gonzales, in connection with the incident.
"As officers continued to work on clearing the campus, parents began to arrive at the school while it was still in lockdown status," read a portion of the statement released by police on Aug. 15. "Several attempted to force entry into the buildings past officers. It was at this time that a male began an altercation with officers. Two other individuals, a male and a female, joined in the altercation and were tased by Officers. Two of those individuals were taken into custody."
Of the three people arrested, investigators say Castaneda is accused of possessing a deadly weapon on school grounds, obstructing governmental operations, and disorderly conduct. Davis, meanwhile, is accused of disorderly conduct.
The suspect arrested in connection with the lockdown incident itself was identified by police on Aug. 17 as 33-year-old Jermaine Johnathan Travis. Officials said Travis, who is reportedly homeless, was arrested at 2:36 p.m. on the same day of the incident.
"At the time of his arrest, Travis was not in possession of a firearm," officials wrote. "Due to the suspect showing signs of possibly having an intellectual disability he was transported to a local facility for evaluation. Charges of threatening and disorderly conduct are pending for his actions at the school."
Officials said Travis never made it into the school.
911 call, body camera video released
On Aug. 16, El Mirage Police released 911 calls and body camera video footage related to the incident that resulted in Castaneda and Davis' arrests. The video also showed moments of the confrontation that led to Castaneda and Davis' arrests.
In the video, police officers were seen running towards school grounds, and officers searched the campus and swept the hallway. They later determined the suspect was not on campus.
Upon hearing of the lockdown, many parents and family members rushed to campus, and officials said one of the first to arrive was Castaneda.
According to police, Castaneda approached the front officer, and told the school principal that he was here to pick up his little sister. The school's assistant principal told Castaneda the suspect was not inside, and then shook hands with Castaneda, and he walked back to his car.
However, more people started showing up, and the situation got more tense. Davis, who was one of the people showing up later, confronted police, and was asked several times to calm down and move away. Castaneda Gonzales later stepped in, but police say they also became confrontational. That's when police were directed to arrest Cataneda.
During Castaneda's arrest, a gun fell out of his waistband.
Gonzales speaks
On Aug. 15, we spoke with Darlene Gonzales about what happened.
"She texted me, and she said 'mom, we just went on lockdown. They said it's not a drill,'" Gonzales recounted.
Gonzales said she waited outside the school for about 20 minutes, until a speaker announced to parents that the lockdown was lifted, and school was back open.
Gonzales filmed what happened on Facebook Live. She said they could meet their child and sign them out for the day in the library, and she went inside with Vincent, her 22-year-old son.
"Kids just scattered everywhere, crying. Not knowing where to go," said Gonzales.
Things escalated, according to Gonzales, as they were heading to the library.
"All of a sudden, when I turn around, an officer came and socked my son in the side of his face," said Gonzales.
A handgun fell from her son. Then, Gonzales said police came for her when she was trying to protect her son.
"I went airborne and hit the ground so hard, that my head hit first and bounced up, and that's when another mother -- now looking back at the video, I went unconscious," said Gonzales.
Gonzales was transported to a local hospital as a result of the incident. Potential charges are pending against her.
Some expressing outrage following arrests
As news of the arrests spread, some parents are expressing their outrage over the police's decision.
"This is a prime example of why the badge is no longer respected," said Drayton Witt. "They're more interested in dealing with themselves instead of protecting and serving."
After the alleged failures of law enforcement during the school shooting incident in Uvalde, Texas, some parents are critical of the officers' action in this case.
"I got a phone call from my sister and I came right to the school," said Witt. "Instead of getting the kids out of the building because they didn't know where the situation was, they locked them in the freaking building."
Police Chief responds
El Mirage's police chief, Paul Marzocca, has spoken out about the incident, as well as police's response to the incident, on the department's Facebook page. The statement reads:
"Thank you all for your comments and concern. We can all agree, children are our top priority. We are moms and dads just like you.
As law enforcement, we must work everyday to earn your trust. What happened in Texas is foreign to what law enforcement in Arizona learn. As your Chief of over four years, I know our department is made up of warriors and guardians. We need to have the mindset to battle the evils that want to pray on our society, but must also have the compassion to help those in the worst of times.
We are made up from the public, therefore, we aren't perfect. I don't know any profession that has perfect people. Some call us first responders, but we really are the last responders. When all else fails, police must be there no matter the situation. We had very concerned parents respond, and as the school was secured and tried to get into the building while it was on lockdown, some even jumping walls. Fights and arguments even started between parents.
My heart sank today when I heard over the radio a call of 905, which means emergency assistance needed. Officers from everywhere responded. I learned a subject had pushed my officer in the chest with force and during the assault. A handgun was found on them. Two other people tried to protect this person from being arrested, and were also arrested. Just because one may not agree with a law doesn't give them a right to disobey whatever laws they don't agree with.
I read comments that we should just let them go. The answer to that is no. One doesn't get to create this chaos at a school in an emergency situation and walk away. If our officers do wrong, you can bet I will investigate and deal with the situation. In closing, I get it. You are parents, and you want what is best for your children and would do anything to protect them. We want the same! Let's work together. The police are the public and the public are the police."
Read More Arizona Crime Stories
(Click here for interactive map)