As Federal Reserve continues to raise interest rates, here's what you should know about its impact on Arizona
PHOENIX - The U.S. is still dealing with inflation, and in response, the Feds are raising interest rates in an attempt to combat the problem.
Higher interest rates may bring additional burdens to people, as the Federal Reserve Chairman, Jerome Powell, bluntly warned in a speech in August that the rate hikes would "bring some pain."
Here's what you should know on how higher interest rates can impact Arizonans.
Where do we stand, in terms of inflation?
According to reports from the Associated Press in October, the government reported that consumer inflation jumped 6.6% in September from 12 months earlier.
Overall, prices repose 8.2% in September compared with a year earlier.
What caused this spike in inflation?
By its own admission, the central bank underestimated the breadth and persistence of high inflation after the pandemic struck.
When the pandemic paralyzed the economy in the spring of 2020 and lockdowns kicked in, businesses closed or cut hours and consumers stayed home as a health precaution, employers slashed a breathtaking 22 million jobs.
Everyone braced for more misery. Companies cut investment and postponed restocking. A severe recession ensued.
But instead of sinking into a prolonged downturn, the economy staged an unexpectedly rousing recovery, fueled by vast infusions of government aid and emergency intervention by the Fed, which slashed short-term interest rates.
Suddenly, businesses had to scramble to meet demand. They couldn't hire fast enough to fill job openings or buy enough supplies to meet customer orders. As business roared back, ports and freight yards couldn't handle the traffic. Global supply chains seized up.
With demand up and supplies down, costs jumped. And companies found that they could pass along those higher costs in the form of higher prices to consumers, many of whom had managed to pile up savings during the pandemic.
How did inflation get so bad?
Critics blamed, in part, President Joe Biden's $1.9 trillion coronavirus relief package, with its $1,400 checks to most households, for overheating an economy that was already sizzling on its own.
Many others, however, assigned a greater blame to supply shortages, while some argued that the Fed kept rates near zero far too long, lending fuel to runaway spending and inflated prices in stocks, homes and other assets.
Are there signs that inflation is easing up?
In August 2022, it is noted that gas prices have been on the decline, and the cost of groceries could rise at a much slower level soon.
In addition, many supply chain snarls are loosening, with fewer ships moored off Southern California ports and shipping costs declining. That should help reduce the cost of furniture, cars and other goods. Prices for appliances are already falling.
However, there are also signs that inflation could stay high.
One trend that may be keeping Fed officials up at night is that companies are still hiring workers at a voracious pace — and are willing to pay more to find the people they need. In the April-June quarter, employees' wages and salaries, excluding government workers, jumped 1.6%, matching a two-decade high that was reached last fall.
Businesses typically pass on at least some of their higher labor costs to their customers in the form of higher prices. But if workers become more productive — if they use more technology, say, or a company streamlines operations — a business can pay more and make up for the higher costs through greater efficiency rather than through higher prices for customers.
Unfortunately, for the first half of this year, the opposite has happened: Productivity has tumbled and wages, adjusted for declining efficiency, have been growing at double-digit levels. Economists say that means further pay increases would have to be passed on to consumers through higher prices. And those price increases would fuel continued high inflation.
How will raising the interest rate actually deal with inflation?
According to the Federal Reserve Bank of Cleveland, which is one of the component members of the Federal Reserve System, the Federal Reserve sees an annual inflation rate of 2% as the right amount of inflation, and they seek to control inflation with interest rates: raising them to slow the economy and bring inflation down, and lowering them to stimulate the economy when inflation is too low.
What else are the Feds doing to lower inflation?
Officials with the Feds say starting June 1, they would allow up to $48 billion in bonds to mature without replacing them, a pace that would reach $95 billion by September.
At September's pace, its balance sheet would shrink by about $1 trillion a year.
The balance sheet more than doubled after the pandemic recession hit as the Fed bought trillions in bonds to try to hold down long-term borrowing rates.
Why not 0% inflation?
Officials with the Federal Reserve Bank of Cleveland say most central banks, including the Federal Reserve, do not aim to have zero inflation, as a modest amount of inflation will help buffer the economy from falling into deflation, or a decrease in price that could cause just as many economic problems, if not more.
How is high inflation affecting people in Arizona?
Besides paying more for various goods and services, high inflation is affecting renters.
According to figures, consumer prices in Phoenix rose 10.9% in March. The area's inflation is tracked every other month.
"The data is always backwards looking, so the data is just basically confirming what we already know, as consumers, what is happening," said economist Danny Court. "We're starting to see surcharges, gas and fuel surcharges added to the price of good and services that are already expensive."
Court believes gas prices will have the largest dent in people's lives.
"That has a ripple effect that we haven't quite fully covered," said Court. "It's affecting manufacturers. Anything that uses fuel."
Arizona State University Economist Dennis Hoffman says housing is also a factor.
"All these people want to move here, it creates this immediate excess demand for housing," said Hoffman. "So housing prices skyrocket quickly, that translates to rent."
"I struggle on a daily basis," said Lauri Gutmann, who rents a two-bedroom, 600 sq. ft. apartment in Phoenix. "I work hard, but while I'm working, in the back of my mind, I'm thinking what am I going to do?"
Gutmann said she and her son will have to move, as rent for their apartment, which stood at $970, is rising by $700.
"I'm a single mom, and I have only me to count on," said Gutmann. "I don't have two salaries. I have just my salary. How am I supposed to afford these crazy rents? It's unbelievable."
What about people who are buying houses?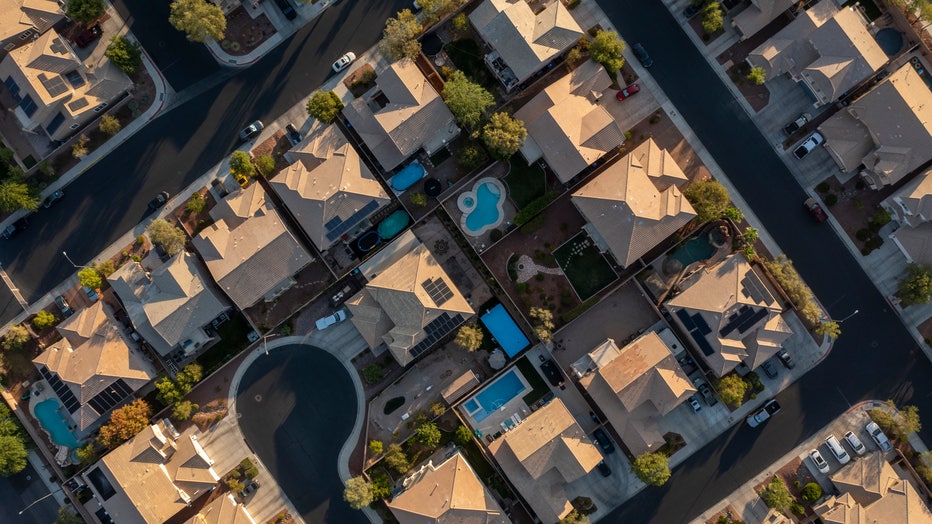 (Photo by David McNew/Getty Images)
Earlier in the year, experts say some people are already having to settle for smaller houses in cheaper areas, because housing prices have gone up so much in some parts of the country, including Phoenix.
Higher interest rates also mean that for some, it could be harder to get a decent home.
"We're in unprecedented uncharted waters for the first time in a long time," said Sullivan. "The Fed has to raise interest rates to combat inflation, and unfortunately, now it's going to kick out a lot of first-time homebuyers: people that make a good living, have decent credit, and they can't get under contract because the homes are appreciating faster than they can save, and the interest rates are eating into their debt-to-income ratio."
"There's uncertainty right now, a lot of turmoil and headwinds," said real estate agent Neil Brooks, in November. "I'm seeing a lot of uncertainty right now with buyers and sellers."
Brooks said higher interest rates affect first time homebuyers.
"The interest rates are getting higher. It's eating into their buying ability," said Brooks.
Brooks, however, say there are opportunities for first time buyers.
"Prices are coming down, and there's lots of concessions for buyers right now," said Brooks. "My buyers are not only concessions as far as closing costs paid. They are also getting repairs for the house that need to be done, and they're getting these homes way under the appraised value."
Some are waiting the market out. Jonathan Paul is one of them. He purchased a mobile home, after almost buying a home in New York state.
"It's a lot easier on me and my pocket book, and it's easier for my dogs," said Paul. "They can play in a different park every day, see new things, hike new trails."
Paul said he is loving life in his home, even if the home is not like the conventional ones.
"I think for the money aspect of it, and just being able to be where I want to be and doing what I want to do, that's probably what I like best," said Paul.
The Associated Press (AP) contributed to this report.
Other Housing News
Tune in to FOX 10 Phoenix for the latest news