Gov. Hobbs' press secretary resigns over 'transphobes' tweet following Nashville school shooting
PHOENIX - The press secretary for Arizona Governor Katie Hobbs has resigned after a controversial tweet posted the day of the Nashville school shooting.
Josselyn Berry was criticized online after she reportedly posted an image of an armed woman Monday night in a tweet about "transphobes."
"Us when we see transphobes," Berry's tweet read, including a GIF of a woman wielding two handguns. The image was from the 1980 movie "Gloria."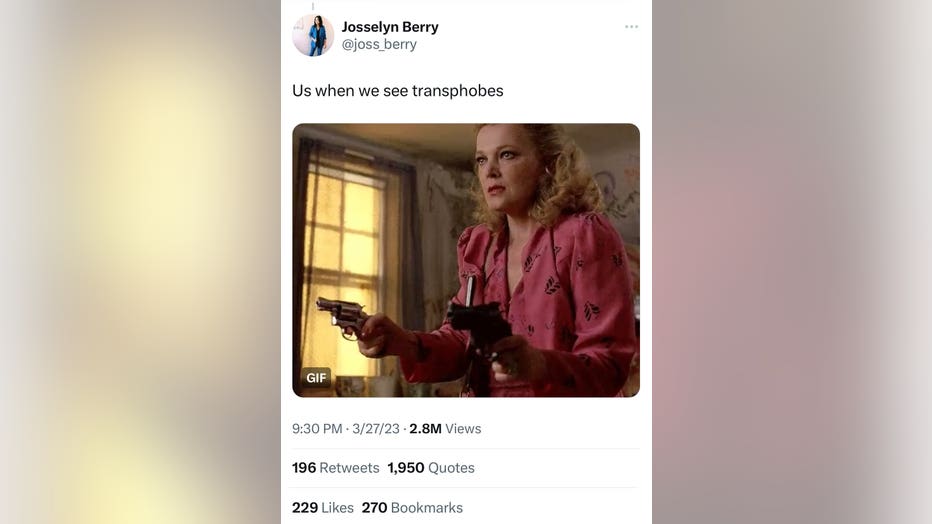 The tweet, posted to Josselyn Berry's account, has since been removed from Twitter.
That tweet was posted hours after the Covenant School shooting in Nashville that killed six people. 
Nashville Police gave unclear information on the gender of the shooter. For hours, police identified the shooter as a 28-year-old woman and eventually identified the person as Audrey Hale. Then at a late afternoon press conference, the police chief said that Hale was transgender. After the news conference, police spokesperson Don Aaron declined to elaborate on how Hale currently identified.
Authorities have not suggested a possible motive for the killings, although the shooter reportedly wrote a manifesto and drew maps of the campus.
Berry's Twitter post drew widespread criticism for appearing to promote gun violence. Twitter later removed the post with a notice saying it violated the platform's rules.
The tweet was part of a longer exchange between Berry and other Twitter users on "transphobic" progressives.
"If you work in the progressive community and are transphobic, you're not progressive. Period. End of story. It's not hard to understand but [your] bigotry masquerading as feminism absolutely is," Berry wrote. 
Republicans jumped on the now-deleted tweet, calling it tone-deaf and offensive.
The Arizona Freedom Caucus said the post was "un-American and never acceptable."
"Less than 12 hours after the tragic shooting in Nashville by a deranged transgender activist [Hobbs'] Press Secretary calls for shooting people Democrats disagree with," the Arizona Freedom Caucus tweeted.
Berry reportedly resigned Tuesday night and the governor's office said Wednesday that Hobbs had received and accepted the resignation.
The governor's office released the following statement: 
"The Governor does not condone violence in any form. This administration holds mutual respect at the forefront of how we engage with one another. The post by the Press Secretary is not reflective of the values of the administration. The Governor has received and accepted the resignation of the Press Secretary."
The Associated Press contributed to this report.