LIST: Coronavirus testing locations in Arizona
Flu, cold and coronavirus often share certain symptoms, but differences in intensity and how they appear can offer clues to which one is causing the misery. Doctors can test for the flu and get results within a day, but coronavirus testing is still limited by availability in the United States.
WHAT TO DO IF YOU'RE SICK
Don't go straight to your doctor's office -- that just risks making more people sick, officials urge. Call ahead, and ask if you need to be seen and where.
Fever, cough and noticeable shortness of breath -- "if you have those three components, especially if it's associated with some recent travel or someone you know who's been exposed to COVID-19, those things should prompt you to call for medical attention," said Dr. Gary LeRoy, president of the American Academy of Family Physicians.
"Mildly ill patients should be encouraged to stay home," the CDC's Dr. Sue Gerber told doctors on a conference call last week. People having difficulty breathing should seek care, and older people or those with other conditions should contact their doctors early in the course of illness, she said.
In Arizona, if you're experiencing COVID-19 symptoms, you can contact the following healthcare companies about getting a test:
Statewide
COVID-19 Surge Testing - Register for appointment: AZHealth.gov/SurgeTesting
Registration for COVID-19 Test - https://doineedacovid19test.com
CVS
On https://cvshealth.com/covid-19/testing-locations, enter your zip code for a list of nearby locations. You must register in advance at CVS.com to schedule an appointment. 
"For the safety of patients and providers, we are currently limiting testing to drive-up patients only."
More information: https://www.cvs.com/minuteclinic/covid-19-testing
Walgreens
Complete a screening survey to see if you're eligible for testing at https://www.walgreens.com/findcare/covid19/testing and follow the instructions they provide.
"At testing locations, patients must remain in their vehicle with the window rolled up and follow instructions from the staff. A Walgreens pharmacist will instruct patients on the self-administration of the COVID-19 test using a nasal swab."
Walmart
An appointment is required. For a map of locations and to register in advance, go to https://corporate.walmart.com/covid19testing.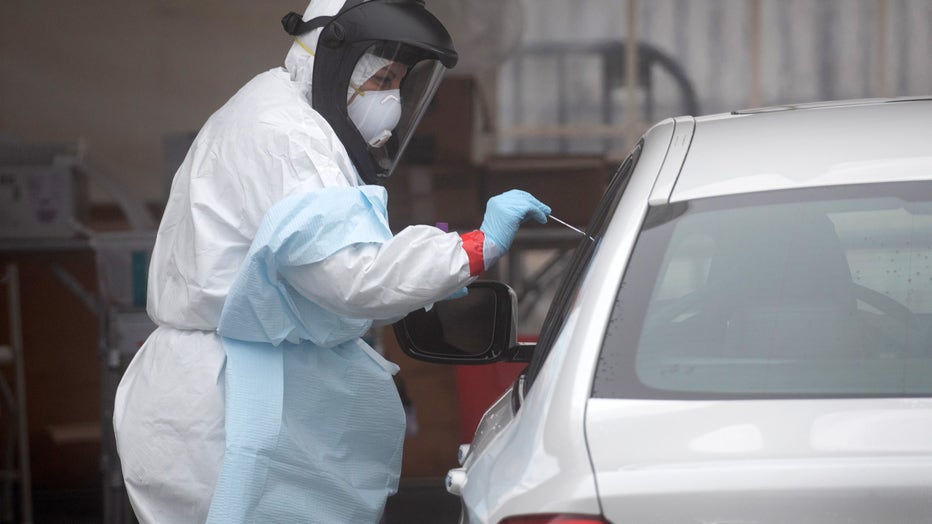 Health worker administers a test to a motorist at a coronavirus (COVID-19) drive thru testing location. (File photo by John Moore/Getty Images)
Banner Health - Phoenix metro and Tucson
Call 1-844-549-1851 Monday through Thursday from 7 a.m. to 6 p.m. and 7 a.m. to 5 p.m. on Friday. If a team member determines you meet the criteria for testing, you'll be scheduled for an appointment at one of their drive-through sites. The sites do not accept walk-ins and appointments must be made in advance.
MORE: https://www.bannerhealth.com/patients/patient-resources/covid-19
Abrazo Health
On https://www.abrazohealth.com/our-response-to-COVID-19, click on the COVID-19 Assessment Tool link to determine if you qualify for coronavirus testing. If so, they will recommend a virtual consultation at https://tenethealth.amwell.com.
Honor Health
If you have a fever of 100.4° or higher, a cough, or shortness of breath, call the nurse line at 480-587-6200 to be directed to the most appropriate place for care. 
"If you believe that you may have Coronavirus: Call ahead before going to any HonorHealth location. Please do not go to the emergency department for testing unless you are experiencing a life-threatening emergency."
Symptom checker, live chat, testing information: 
https://www.honorhealth.com/coronavirus-covid-19
Glendale
Rapid COVID-19 testing is available at the CVS near 43rd Avenue and Bethany Home Road. It is open by appointment only, beginning Friday, August 7.
MORE: https://www.fox10phoenix.com/news/cvs-offering-free-rapid-covid-19-testing-in-glendale
Mesa
Drive-up testing available for Maready Medical's existing and new patients. They require symptomatic patients to be seen first by virtual visits and if you meet the criteria, you can drive to their office located at 4135 S. Power Rd. #113. To schedule, call the office at 480-626-2444 or book online.
MORE: https://www.mareadymedical.com
Embry Women's Health is offering free 24/7 drive-thru testing at Mesa Community College.
MORE: https://www.fox10phoenix.com/news/covid-19-testing-location-at-mesa-community-college-open-24-7
Phoenix - Maryvale
Events will be held each Saturday and Sunday through August at the Watts Familly YMCA at 3825 N 67th Ave. from 6 a.m. to 2 p.m. Registration is required: https://embrywomenshealth.com/covid-19-testing-at-watts-family-maryvale-ymca
Phoenix - South Mountain Park and Maryvale High School
COVID-19 testing events will be held at these two locations and more information on how to be tested can be found here http://doineedacovid19test.com
Phoenix
Surge testing for COVID-19 begins on July 17.
"Appointments are available for drive-thru testing at two sites: South Mountain Park, 10919 S. Central Avenue, Phoenix, AZ 85042, and Maryvale High School, 3415 N 59th Ave, Phoenix, AZ 85033. Arizonans can pre-register at AZHealth.gov/SurgeTesting. Testing is free of charge and everyone who gets tested will also receive five cloth face coverings. Each site can accommodate 2,500 tests per day (5,000 per day combined). Appointments are open for the next 12 days," stated Gov. Ducey's Deputy Communications Director, Ben Petersen.
Read more about the event.
Scottsdale
AllCare is open Monday - Friday from 8 a.m. to 5 p.m. No appointments are necessary. Call 480-941-4400 for more information. The testing site is located at 6401 E. Thomas Rd., southeast corner 64th Street and Thomas Road.
MORE: http://www.allcaremedicine.com/
Tempe
Coconino County
Call 928-679-7300 Monday - Friday from 8 a.m. to 9 p.m. and 9 a.m. to 4 p.m. Saturdays and Sundays. The specimen collection site is 446 Fort Tuthill Loop in Flagstaff starting March 29 from 10 a.m. to 3 p.m. as supplies last.
MORE: https://www.coconino.az.gov/2294/COVID-19-Information
Pima County
Map of more COVID-19 testing locations from AZDHS:
For an upcoming coronavirus testing events calendar and to pre-register for a test, head to https://www.azdhs.gov/COVID19Testing.
_____
In order to protect yourself from a possible infection, the CDC recommends: 
Avoid close contact with people who are sick.

Avoid touching your eyes, nose, and mouth.

Stay home when you are sick.

Cover your cough or sneeze with a tissue, then throw the tissue in the trash.

Clean and disinfect frequently touched objects and surfaces using a regular household cleaning spray or wipe.

Cover your mouth and nose with a cloth face cover when around others

Wash your hands often with soap and water for at least 20 seconds, especially after going to the bathroom; before eating; and after blowing your nose, coughing, or sneezing.

Monitor your health daily
_____
Coronavirus COVID-19 symptoms
Expect a common cold to start out with a sore or scratchy throat, cough, runny and/or stuffy nose. Flu symptoms are more intense and usually come on suddenly, and can include a high fever. 
Symptoms of COVID-19 may appear more slowly. They usually include fever, a dry cough and noticeable shortness of breath, according to the World Health Organization. A minority of cases develop pneumonia, and the disease is especially worrisome for the elderly and those with other medical problems such as high blood pressure, obesity, diabetes or heart conditions.
RELATED: Is it the flu, a cold or COVID-19? Different viruses present similar symptoms
Right now there's one big difference between flu and coronavirus: A vaccine exists to help prevent the flu and it's not too late to get it. It won't protect you from catching the coronavirus, but may put you in a better position to fight it.
To protect yourself, wash your hands well and often, keep them away from your face, and avoid crowds and standing close to people.
And if you do find yourself showing any of these flu or coronavirus symptoms - don't go straight to your doctor's office. That just risks making more people sick, officials urge. Call ahead, and ask if you need to be seen and where.
Continuing Coverage: 
RELATED STORIES:
The Associated Press contributed to this report.