Man armed with knife shot dead by Mesa officers: police
MESA, Ariz. - A man who was armed with a knife was shot and killed by police officers on Monday night in Mesa, the department said.
According to police, the incident began at around 6:30 p.m. on Jan. 3 when officers responded to separate 911 calls at a mobile home park near the Loop 202 and McKellips Road.
"The first call stemmed from Caleb [Stanford] confronting several males with a knife and then leaving after breaking a vehicle's windshield," said Det. Richard Encinas. "The second 911 call involved Caleb approaching another male with the knife in his hand which resulted in the male firing a round from his gun into the ground near Caleb. As police were arriving, the male dropped the gun on the ground and backed away."
Once at the scene, officers saw Stanford, 26, standing in the middle of the street holding an 8-inch kitchen knife.
"Caleb initially responded to the officer's commands and began to lie down on his stomach but refused to drop the knife," Encinas said. "As officers were trying to talk to Caleb, he jumped up and advanced on officers still holding the knife."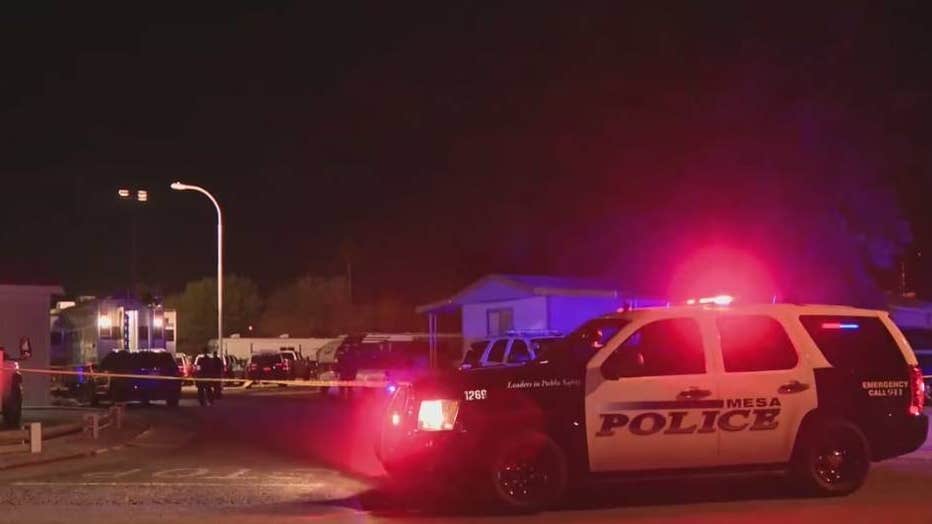 A man who was armed with a knife was shot and killed by police officers on Jan. 3 in Mesa, the department said.
After refusing officers' commands to stop, police opened fire on Stanford.
Stanford was taken to a hospital where he was pronounced dead.
No officers were injured.
Prior to this incident, police said they responded to several calls involving Stanford.
"In each instance, he [Stanford] refused to speak with officers and refused all help," Encinas said. "Yesterday, officers were able to speak with him, but again he refused to leave his trailer or accept any help."
This was the second police shooting involving Mesa officers on Monday. Earlier in the day, officers shot and killed a man who allegedly charged at them with an object that turned out to be a large framing square.
More Arizona crime news
Tune in to FOX 10 Phoenix for the latest news: