MCSO: Arson investigation underway after Glendale mobile home lit on fire
GLENDALE, Ariz. - Authorities are asking for the public's help in identifying a man who they say was caught on video moments before a Glendale mobile home went up in flames.
According to the Maricopa County Sheriff's Office, deputies responded just before 10:30 p.m. on Sept. 18 to the Hacienda Del Sol Mobile Home Park near 127th and Glendale Avenues for a "suspicious fire."
Firefighters also responded to the scene and extinguished the flames. The fire burned the mobile home, however, it was still considered to be livable.
No injuries were reported.
"A surveillance camera footage captured an unidentified male approaching the home," MCSO said in a statement on Thursday. "A short time later, a flash can be seen in the video and the unidentified male running from the area of the fire."
Fire left community on edge
The fire has left people living in the area on edge.
"It scares us, because a trailer could burn down within five minutes," said an area resident, identified only as 'Carla.'
"Literally lit the side of their house on fire right here, and the fire department told her that if they hadn't been home, within five minutes, their whole housed would have been gone," said another area resident, identified only as 'Tiffany.'
Tiffany lives a couple doors down from where the fire was burning. She said her fiance even discovered lighter fluid on their car.
"They threw it all over the back of my car, all up the back of it, and they made a trail up into the road so that they could light it without being seen from my security camera," said Tiffany.
Tiffany said she is concerned for her safety.
"It's incredibly scary, especially with having three young children," said Tiffany. "That's not the first incident that's happened in the neighborhood. We've had 9mms shot into our car, but arson is a whole other ball game."
If you have any information on this incident, you're asked to call MCSO at 602-876-TIPS or 602-876-1011. When calling, you should reference report number IR21-027263.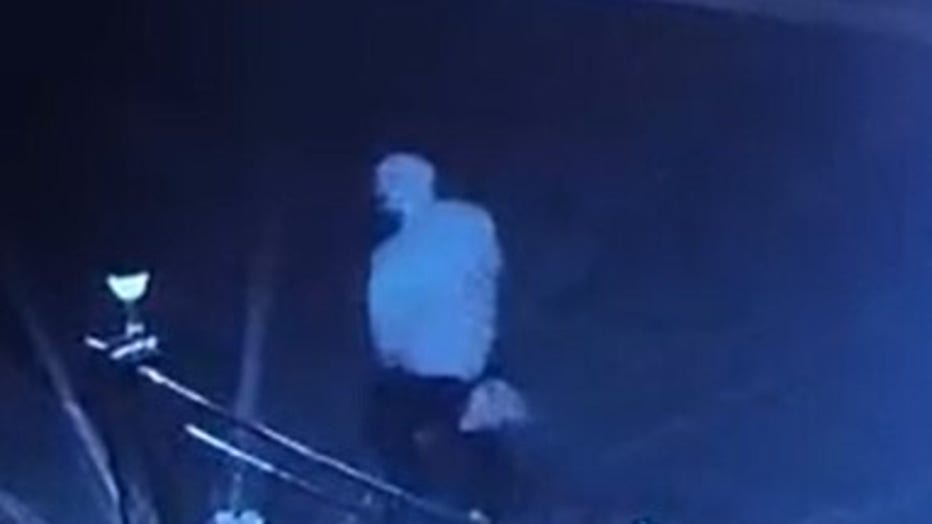 Authorities are asking for the public's help in identifying a man who they say was caught on video lighting a Glendale mobile home on fire. (Glendale Police Department)
Arizona Headlines
Tune in to FOX 10 Phoenix for the latest news
Download FOX 10 apps for local breaking news and weather