Navajo Code Talker remembered for service to community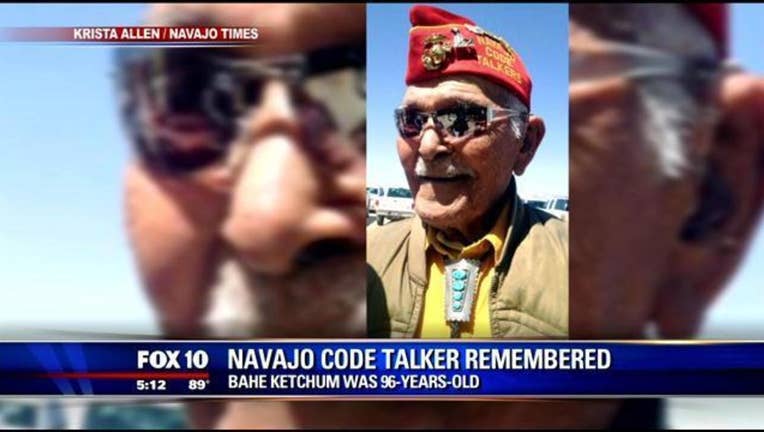 article
WINDOW ROCK, Ariz. (AP) - Flags will be lowered across the Navajo Nation until sunset Friday in honor of a Navajo Code Talker.
Tribal officials say Bahe Ketchum, of Kaibeto, died Monday in Flagstaff. He was 96.
Tribal President Russell Begaye commended Ketchum for defending the United States in World War II, using a code based on the Navajo language that stumped the Japanese.
Ketchum was among hundreds of Navajos who served as Code Talkers. He was part of the 6th Marine Division from 1944 to 1946.
Ketchum's son, Marvin, says his father was ready to board a train in Phoenix when he ran into an officer with the U.S. Marine Corps who suggested that he enlist. He remembered his father as a positive role model who thrived in community service.

"I join the entire state of Arizona in mourning the loss of Bahe Ketchum, a member of the legendary Navajo Code Talkers whose bravery, tenacity and resourcefulness saved the lives of countless men and women. Using their unique language skills, Bahe and his fellow Code Talkers devised the only allied code that the enemy was never able to decipher and played a critical role in speeding up our decisive victory over tyranny and oppression. We will forever honor Bahe's remarkable service and sacrifice for the cause of American freedom," stated Arizona Senator John McCain.