Play ball! Arizona spring training fans gather for new season
PHOENIX - With the Super Bowl now in the rearview mirror, it's time for some Baseball.
Feb. 24 marks the start of a new spring training season for Arizona, and baseball fans at two Cactus League games were still greeted with calm weather as a month of fun in the sun across the Valley kicked off.
Some of the baseball fans set up their home away from home at one RV resort in the Phoenix area, as they get ready not only for spring training, but for the World Baseball Classics.
"We've got a plan! We bought tickets for the March 9th game, Canada vs. Seattle," said Bev Collier from Canada. According to the MLB, there is only one franchise team in Canada: the Toronto Blue Jays.
"We follow the [Cleveland] Guardians from Florida to Arizona when they came for spring training," said Debbie Wolfe of North Carolina, referring to a team formerly known as the 'Cleveland Indians.'
Some fans could barely hide their joy at one stadium.
"I'll try not to cry because it's so cool to be here!" said 'Becky.' "I mean, look at it! Perfect day, and everyone is excited."
"This is our first time in spring training, so it's a new experience for us, and we're hoping to do this more often," said 'Leti.'
For some, a colder start to spring training this year
While the weather may have been calm, it was still cooler than usual in the Phoenix area on Feb. 24, and some of the fans certainly noticed the difference in temperatures.
"I've been coming down for 28 years or so, and this is the coldest I can ever remember it," said Wade Heyer of Seattle."
"It's cold to me. I'm used to being in the pool. 80 degrees. What happened?" said Wolfe.
"It's been better in years past than it has been recently, but it's still better than what we'd be having at home right now," said Timothy Lynn of Colorado.
The colder weather, however, won't stop the fans from enjoying the games.
"It's the energy, new season. Everybody's got hope. It's Baseball time," said Heyer.
New rules kick in this season
There are a few curveballs for the 2023 season that are meant to improve the game, such as bigger bases, no player shifting out in the field, and a 15-second pitch clock to speed things up.
Fans weighed in on the changes.
"I think pitchers need to hurry up," said 'Kevin.' "I think they should do something about the batters too. Let's keep the game moving."
"At the game, it's not an improvement 'cause it's awesome to be at the ball field, but watching anything on TV, it's just too long," said 'Kelly.'
Also Read: Spring Training 2023: Which teams are in the Cactus League & where do they play?
Read More Sports Stories
Read More Arizona Stories
Tune in to FOX 10 Phoenix for the latest news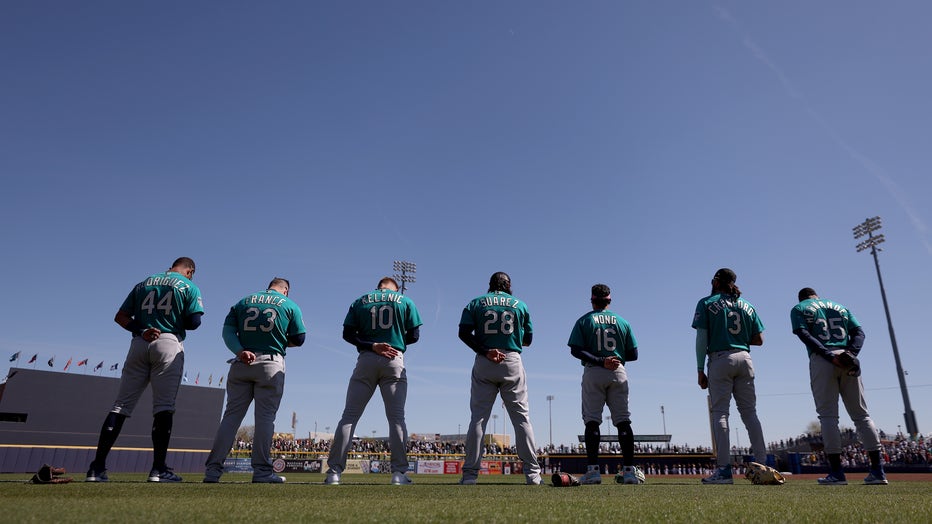 The Seattle Mariners lineup for the national anthem before playing the San Diego Padres during a spring training game at Peoria Stadium. (Photo by Steph Chambers/Getty Images)