Police: Arrest made in shooting that killed man at West Phoenix store
PHOENIX - FOX 10 has learned from Phoenix Police officials that a suspect has been arrested in connection with a shooting that left a 38-year-old father dead.
According to officials, 22-year-old Deon Finnley was arrested on Dec. 22, in an area near Roosevelt Street and Estrella Parkway in Goodyear. Finnley is accused of 1st-degree murder, drive-by shooting, and aggravated assault with a deadly weapon.
The shooting that killed 38-year-old Jorge Hernandez happened at a store on the night of Dec. 11. FOX 10 spoke with Hernandez's widow on Dec. 15, who said Hernandez was out buying milk for their baby when the shooting happened.
"I was at work and he calls me through the phone," said Marlene Jimenez. "He tells me that he needs me to go for the kids because he just got shot."
Jimenez says an hour after her husband went to the Family Dollar near 83rd Avenue and Indian School Road, he used all the strength he had to call her one last time.
"His last words to me were that I made him the happiest man these 10 years, and that he wanted me to take care of his kids for him and that he loved me so much," said Jimenez.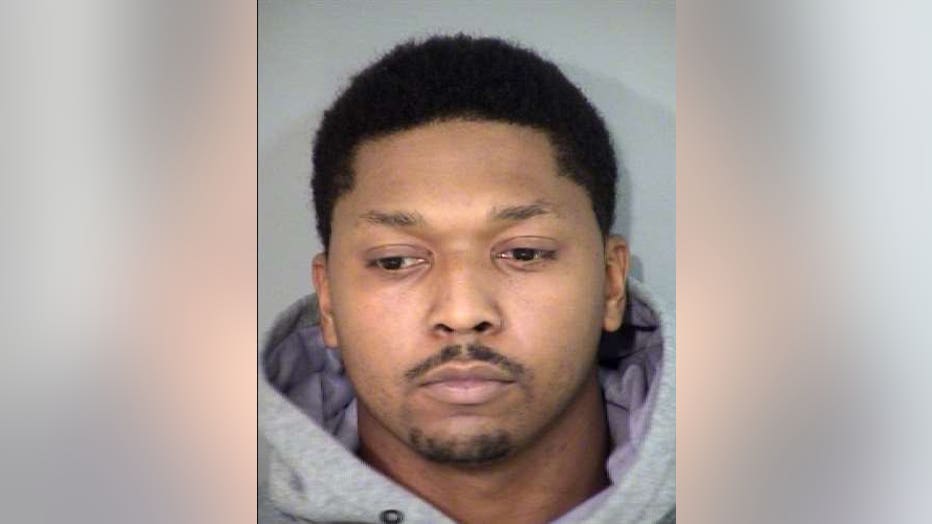 According to court documents, Finnley initially entered the store, bought something, and walked out. Moments later, investigators say he got into the passenger seat of a silver sedan.
Witnesses say Finnley was hanging out of the window and firing into the store as the car drove off.
Besides Hernandez, a woman in her 50s was also shot, but she survived.
Bond is set at $1 million for Finnley.
Widow reacts to Finnley's arrest
On Dec. 23, Jimenez reacted to news of an arrest being made in her husband's shooting death.
Jimenez said Dec. 23 was supposed to be a special day. It was Hernandez's birthday. He would have turned 39.
"He should be here with us celebrating, singing him happy birthday, hugging us, playing with his kids," said Jimenez.
Instead, Jimenez is still grieving her husband's death.
"I ask myself that every day, like, why? Why would you do that to someone?" Jimenez said. "I feel deep down in my heart even though he can be sentenced all his life, I still feel like my husband is not gonna have enough justice."
Hernandez's children are struggling to cope with his death, especially his four-year-old son.
"He sits in the door every day in the window, just staring out to see when his dad is gonna come," said Jimenez.
Tune in to FOX 10 Phoenix for the latest news
Get breaking news alerts in the FOX 10 News app. It is FREE. Download for Apple iOS or Android.