Robbery suspect armed with explosives opens fire on police helicopter in Phoenix, officials say
PHOENIX - A robbery suspect accused of shooting at a police helicopter was seriously hurt after being shot by a sergeant in north Phoenix.
The shooting happened on April 20 near 28th Drive and Cactus Road, and no officers were injured.
The incident reportedly began as an armed bank robbery in the area of 7th Street and Thunderbird, when the suspect walked into the bank armed with a gun, an explosive device, and a duffle bag. The suspect took the money, and left in his car.
Investigators say a witness started following the suspect, as well as a sergeant in an unmarked truck. A police helicopter that was nearby also started tracking the suspect.
The suspect, court documents say, got out of his vehicle at a strip mall near Cactus and Interstate 17, and fired 26 rounds at a police helicopter. That helicopter then had to make an emergency landing at a parking lot in the area. 
Afterward, the undercover sergeant that was following the suspect got out and fired at the suspect. 
The injured suspect got back into his car and drove away. He was later detained down the street, along with what officials described as a "live improvised explosive."
The suspect is identified as Charles Rock, 37.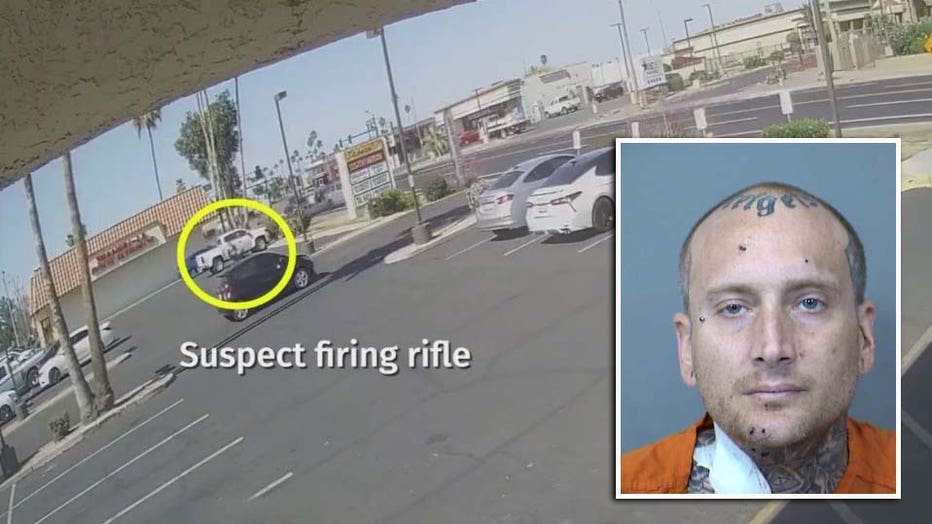 Charles Rock allegedly robbed a bank before firing at a police helicopter. Rock was shot by a Phoenix PD sergeant and taken into custody.
People in the area react to shooting
"Stuff like this just don't happen, you know," said Lou Stirling, who owns a restaurant and bar in the area.
Stirling recounting what happened at his business when the shooting happened.
"I was in the bar. There were customers in the bar. We heard two or three shots. We weren't sure what it was, and then, we heard rapid fire. It happened, stopped for a split second and started again. As soon as it stopped the second time, he took off out of the driveway, and that's how fast the police - couldn't believe how fast the police responded," said Stirling.
Stirling said as the shots rattled off, his customers and staff members quickly hit the ground. Some ducked for cover, while some hid in the bathroom, wondering what was going on.
"I just wanted to make sure my customers were safe," said Stirling. "It happened so fast, and we found out later he wasn't even shooting at us. They were shooting at the helicopter."
Stirling and others at the strip mall say they are still rattled by the ordeal.
"That's a lot [of bullets]," Stirling said. "What one guy was roaming around with that kind of firepower, you got to ask yourself why?"
Area where the shooting happened: