Court documents: More details revealed in Scottsdale short-term rental shooting
SCOTTSDALE, Ariz. - Two men are behind bars as Scottsdale Police say they're connected to a shooting at a short-term rental on Sept. 9 after being invited over by women from a nightclub.
According to court documents, Aron Melvin, 24, and Sincere Hooks-Lilly, 23, were invited over to a home in Scottsdale near Hayden and McDowell Roads after meeting five women at a Phoenix nightclub. Once they got to the house, Hooks-Lilly reportedly dunked one of the women in the swimming pool, "which caused her to be upset because she had just spent $200.00 to get her hair done."
An argument ensued between Hooks-Lilly and the women, ultimately ending in Hooks-Lilly using an electronic payment app to send the woman $100.
Hooks-Lilly and Melvin eventually left the home.
"As Sincere Hooks-Lilly and Aron Melvin drove back to San Tan Valley where they live the two began to talk about the matter and Sincere Hooks-Lilly became increasingly angry about having given a 100.00 to the female," read a portion of the court documents. 
The pair then turned around and headed back to the short-term rental home at around 4 a.m.
"Sincere Hooks-Lilly and Aron Melvin talked about getting Sincere Hooks-Lilly's money back and that is when Sincere Hooks-Lilly who had his backpack in the backseat retrieved the backpack and inside the backpack he grabbed a dark mask and a Taurus 9mm handgun and he gave these items to Aron Melvin," court documents read.
Hooks-Lilly then allegedly instructed Melvin to go into the home and use the gun to scare the women into giving him his money back by firing shots "to show them that he was serious."
Melvin allegedly went through the backyard, but the sliding glass door was locked. He then went around to the front and kicked in the front door.
The women were inside a locked bedroom and Melvin allegedly kicked in the door, pointed the gun at them and demanded money.
"The females began to yell and swear at Aron Melvin, who then decided to fire the handgun three times into the wall and floor in an attempt to scare the females," court documents read.
The women told Melvin they did not have any money, but instead, they offered their purses, to which Melvin declined.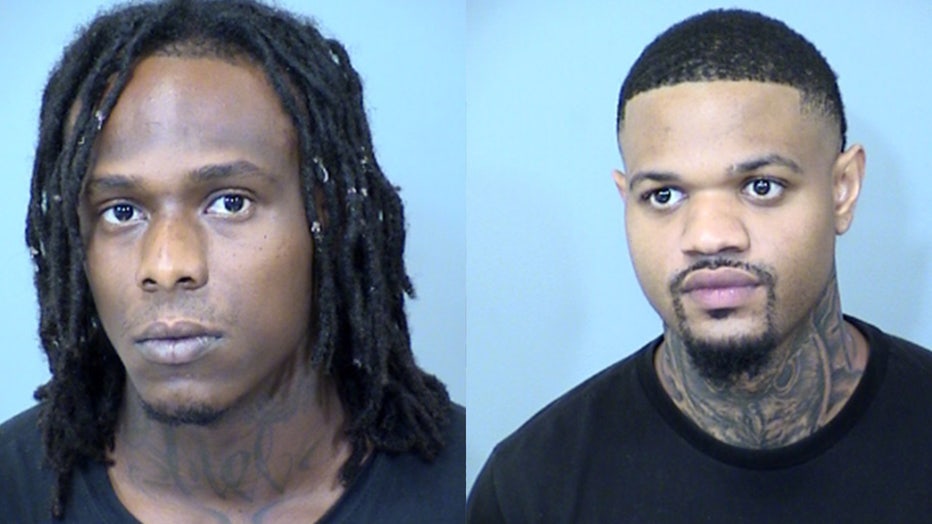 Aron Melvin, 24, and Sincere Hooks-Lilly, 23
Melvin then allegedly fired off five more shots, hitting one of the women in her buttocks, right hip and chest. The woman was later taken to a hospital with serious injuries. Police said she would eventually be released from the hospital.
During a traffic stop, Melvin and Hooks-Lilly were arrested by SWAT detectives later that afternoon.
Melvin allegedly admitted to his involvement in the incident and said he and Hooks-Lilly "talked and laughed about the shooting after they left and as they drove home."
During an interview with detectives, Hooks-Lilly said that Melvin left his wallet at the home and that they went back to get it.
"Sincere Hooks-Lilly indicated that as Aron Melvin exited the vehicle, he noted that he had the mask on partially but thought it was a style thing," court documents read.
Hooks-Lilly claimed he waited for Melvin in his car and was unaware of the shooting. He then drove Melvin home before going to his own home.
Hooks-Lilly also said he sold the .9mm weapon to Melvin days before the shooting and said he did not give Melvin any ammunition.
Police later executed a search warrant on Hooks-Lilly's home and found a backpack with a mask and an extended .9mm handgun magazine inside.
A Taurus .9mm handgun was later at Melvin's home, "which detectives believed had been used by Melvin during the shooting."
During another interview with police, Melvin claimed Hooks-Lilly planted the gun in his home.
Melvin and Hooks-Lilly are accused of attempted second-degree murder and other felony charges related to the incident.
A third person, Leon Morgan, who police say was at the short-term rental home prior to the shooting, was questioned, and then arrested on charges unrelated to the incident. He has since been released.
Tune in to FOX 10 Phoenix for the latest news: