Suspected DUI driver crashes into Tempe home, police say
TEMPE, Ariz. - A speeding driver is being accused of driving under the influence after crashing into a Tempe home overnight.
The collision happened in a neighborhood near Mill Avenue and Baseline Road early Friday morning.
Police say the driver of a truck rear-ended another car, struck a pole, and finally crashed through the front block wall of a home and into the house.
"It's just a loud bang, and literally I told my husband something happened. So we came out, and we saw the truck over across the street, and it was flipped sideways, smashed in," said Christine Rino, who called 911 before rushing over to the scene of the crash.
"The truck was smashed," said Rino. "There was no way anybody could get him out."
Rino and her husband, Dean, stayed with the driver before medics arrived and gave him water.
"He was in the vehicle, and he was pinned in there," said Dean. "He just kept saying 'help me,' and we were, like, 'just hold tight. Stay there.'"
The driver, identified as a 44-year-old man, was taken to Banner Desert Hospital, and he is expected to be OK. Police say the man will be arrested for alleged DUI
"You pay the price when you drink and drive," said Dean. "Sometimes, you pay the ultimate price, and somebody else pays the price for your drinking and driving, so you know that's not a good thing to do."
The house, meanwhile, sustained minor damage, according to officials.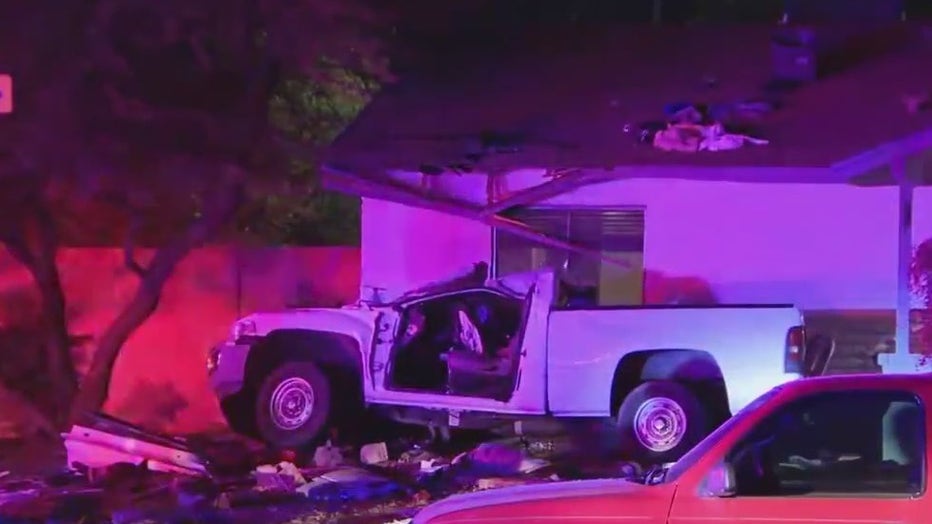 More Arizona headlines