'We are a border state – we are most impacted': Arizona sheriffs show united front on Title 42's end
MARICOPA COUNTY, Ariz. - Arizona sheriffs from Maricopa, Pinal and Yavapai counties showed a united front during May 10 press conference just a day before Title 42 is about to expire, likely sending thousands of migrants into cities across the state.
The sheriffs included Maricopa County's Paul Penzone, Pinal County's Mark Lamb, Yavapai County's David Rhodes. Coconino County Chief Deputy Bret Axlund also joined.
Title 42 allows Border Patrol to turn away migrants at the border in order to stop the spread of COVID-19. But the rapid removal process ends on May 11 just before midnight.
Governor Katie Hobbs announced Monday the state's plan to address the anticipated surge of migrants crossing the southern border.
"What started out as enforcing the laws and providing public safety has turned into a lot of other responsibilities. Now, we're not only expected to be responsible for violent and property crimes, but school safety for our children. Mental illness, drug addiction, homelessness, and now you see that issue at the border will become the responsibility of every local law enforcement professional in our nation," Sheriff Penzone said at the press conference.
The feds are criticized for not doing its job to secure the border, with Gov. Hobbs calling the response "inadequate."
"They are not enforcing the laws on the books," Sheriff Lamb said. "This is a federal issue."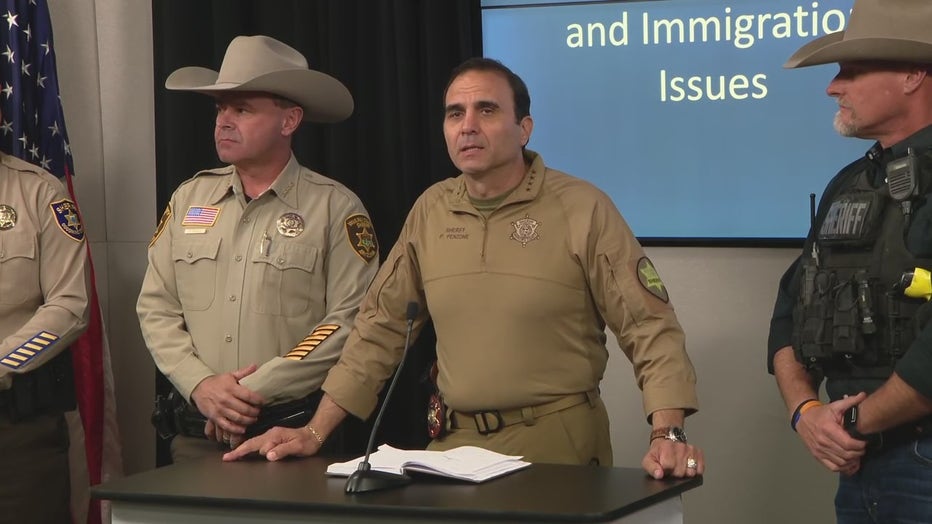 Yavapai County Sheriff David Rhodes, Maricopa County Sheriff Paul Penzone, Pinal County Sheriff Mark Lamb
He says Border Patrol Yuma sector had 800 people in custody by 9 a.m. on May 10, with another 400 waiting on the other side of the border wall. 
"This is not about politics, this is about putting people first," Sheriff Lamb said, referring to securing the border and not allowing drugs, namely fentanyl, to be trafficked. He says at least 50% of drugs coming into not only Arizona, but the U.S., are from Mexico.
'We are a border state – we are most impacted'
MCSO, Sheriff Penzone says, is under two court orders that don't allow his office to enforce any immigration enforcement. A migrant would have to commit a local or state crime to be detained and/or arrested.
Sheriff David Rhodes says some Arizona counties are in partnership with ICE, so that when a migrant is here illegally and committed a crime, the agency can be notified to start a possible deportation process.
Sheriff Lamb says his office's thought process is that when they're taking down trafficking and smuggling operations, they're saving lives.
The state will be coordinating the transportation of migrants around and out of Arizona, meaning bussing migrants to different locations. The Arizona Department of Emergency Management will coordinate emergency shelter for the migrants, as they await departure from Arizona.
Every day, 200 migrants are dropped off at Sky Harbor International Airport in Phoenix, many fleeing violence, and looking for a new start.
Sheriff Lamb says the migrants are treated well, and they "do what they can" in an extremely hard situation. He says, although he prides Arizona on the humane treatment of migrants, still, it's the federal government's job they're doing.
He gave a short story about a woman who was crossing into the U.S. that he said had about 50 pills in a bag of hers. She was asked what they were, and she answered morning after pills.
She allegedly said she had them because she knew she was going to be raped in the process of heading to the border.
He told the story to prove the level of inhumane treatment migrants are getting while on their journeys, comparing it to the humane treatment in America, which he says is often negatively politicized.