Turf Paradise: Plans to close Phoenix racecourse reversed in 11th hour announcement
PHOENIX - There is a new development to the future of a decades-old racecourse in Phoenix that was originally set to shut down on Sunday.
According to our original report on Sept. 18, officials with Turf Paradise said the racecourse's owner, Jerry Simms, has announced his retirement after 23 years of operating the venue, and as a result, live racing was set to cease, effecting Oct. 1.
In addition, it was announced that simulcasting of other races at 27 Off Track Betting (OTB) sites throughout Arizona will also cease, and the OTB sites shuttered, due to the firm's decision to terminate its contract with the Arizona Horsemen Benevolent and Protective Association (AZ HBPA).
On Sept. 27, however, it was announced that the AZ HBPA's contract with Turf Paradise was extended until Nov. 12, and that a live horseracing meet is scheduled to start in early January 2024.
At the time the closure was announced, the racecourse's general manager, Vincent Francia, said he was hopeful the sun has not set on horse racing in Arizona for the last time.
"I don't see it as the end of horse racing," said Francia. "I see that Arizona horse racing is in transition."
Racecourse has operated for decades
According to Turf Paradise officials, the racecourse opened in 1956.
In recent years, however, the racecourse has experienced a number of issues.
In August 2020, the Associated Press reported that the racecourse canceled its 2020-2021 racing schedule due to effects from the COVID-19 Pandemic.
In February 2022, we reported on concerns raised by animal welfare advocates over the high rate of horse deaths at the racecourse. According to the racecourse's general manager at the time, 11 horses died during racing, eight died in training, and five died in the barn area since the November 2021.
"More horses die on this race track than any other track," said horse racer Maggi Moss, in our February 2022 report. "When that happens, it should alert people that horses are in danger of racing here because of the track condition, because of a lack of supervision of drugs being used, a lack of checking horses before the race. There's good people at Turf Paradise, but it is in dire need of overhaul to protect the horses."
Turf Paradise officials said two state vets and a track vet examine all horses before the race, and necropsies are done on fallen horses.
Plans proposed for Turf Paradise site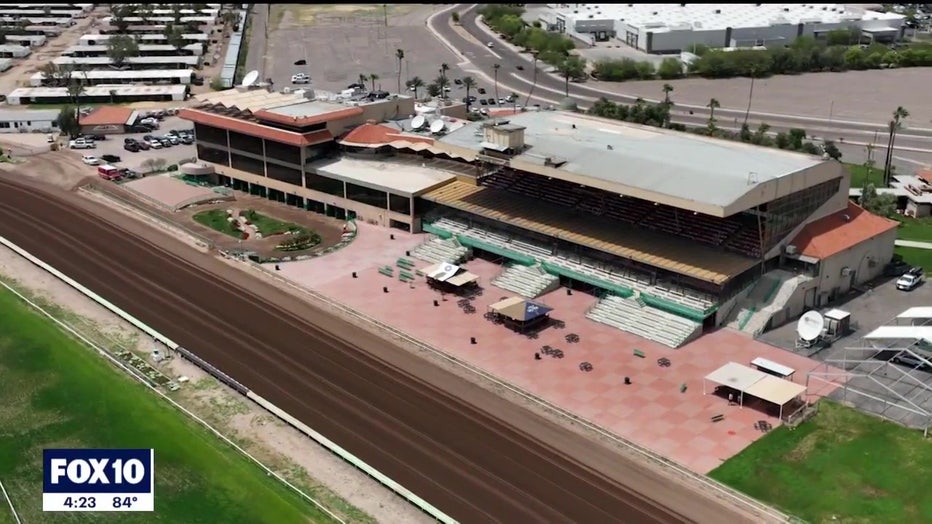 A number of plans have been proposed for the Turf Paradise site.
According to an Aug. 21, 2023 article published by the Orange County Business Journal, a Newport Beach-based company called CT Realty submitted plans for a 2.6 million square foot industrial and data park center in the area of the racecourse.
"There were three prospective owners looking," said Francia. "The one owner who dropped out on September 15, he was looking to do a combination of both. - race a couple of meets, and see if it worked for him - but he's primarily an industrial developer. So, he was looking at the land. There's 213 acres here, and truly a prime location."
The two remaining prospective owners are interested in keeping Turf Paradise as a racecourse.
Closure could have impacted Arizona's economy
At the time the closure was announced, Francia said the annual $91 million economic impact from the track, as well as the visitors it brings to the Phoenix area, will come to a screeching halt.
"We don't want to lose our home track. We also don't want to lose people, all the people that have lived here for years to produce horses for that track," said Stacy Campo, who is a thoroughbred trainer.
Officials with businesses that support Arizona's horseracing industry said at the time that Turf Paradise's closure would have been devastating for their future endeavors.
"We're going to stick together as family. We're not letting anyone feel they need to just dump their horses, and that's a scary aspect," said Campo. "If he's not going to run it, there could be a chance people are, like, what are we going to do with our horses. Do we sell them or get rid of them? Or call it quits?"
Where the racecourse is located