Two Phoenix officers hurt in alleged DUI crash while investigating another fatal collision
PHOENIX - Phoenix Police say an impaired driver crashed into a police cruiser while investigating a fatal crash near 75th Avenue and Indian School Road on Jan. 9, injuring two officers.
Officers were responding to the area after a car reportedly traveling over 75 miles per hour down 75th Avenue hit a man who was crossing the street, police say.
The victim was identified as 31-year-old Cesar Santos. He died at the scene.
The driver, 21-year-old Alejandro Bautista, was booked into jail and faces a manslaughter charge. Officers say there was evidence that showed Bautista had been street racing.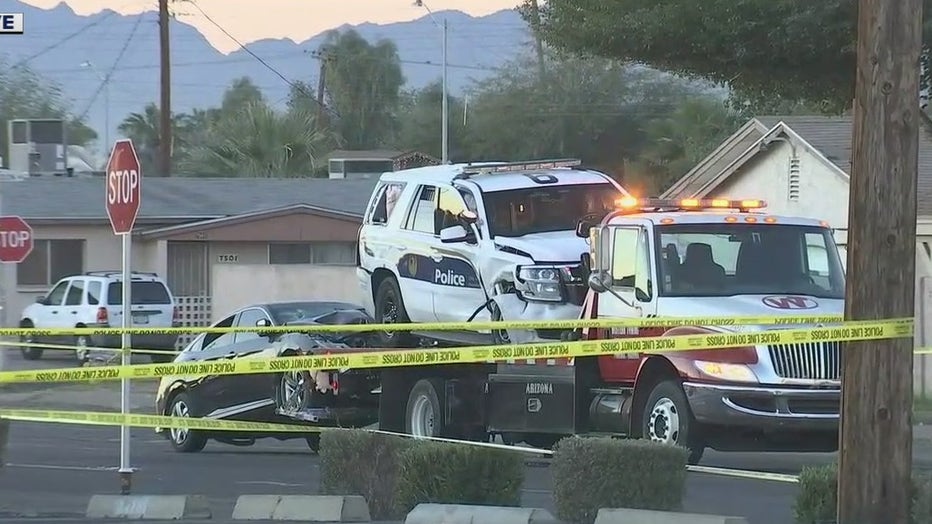 Damaged Phoenix Police cruiser.
While the investigation was underway, traffic barricades were set up around the scene. A police cruiser had been parked north of the barricades as a security measure, officials said.
Two officers were inside the car when another vehicle driving northbound down 75th Avenue crashed through the barricades, hitting the cruiser head-on.
The two police officers were hospitalized with non-life threatening injuries, police said. The driver reportedly showed signs of impairment.
The 21-year-old driver was arrested for driving under the influence. Their identity was not released.
The investigation is ongoing.
On New Year's Day, another cruiser was struck by a wrong-way, alleged drunk driver and that officer still recovering from the crash.
Based on these crashes, police say the bigger message is, "Don't drink and drive. You know, there's so many additional resources for you not to make that choice and the moment that you decide to get behind that wheel, you will change your life. You will change the life of others."