Vandals cause 'extensive damage' to Mystery Castle near South Mountain; suspects wanted
PHOENIX - Phoenix police are looking for answers after Mystery Castle, which sits at the base of South Mountain, was vandalized over the weekend.
Photos shared by the Phoenix Police Department's Twitter account showed broken windows and items scattered inside and outside the historic landmark, which is located near 7th Street and Dobbins.
The castle, an iconic Phoenix landmark that dates back to the 1930s, received an "extensive" amount of damage, police said. The Mystery Castle Foundation told FOX 10 that items had also been stolen from the tourist attraction.
The popular castle was expected to reopen on March 9, but has been forced to stay closed to continue making repairs. 
In total, officials said the landmark was broken into three times last week.
"I mean this is criminal damage, beyond. I mean, I'm heartbroken," said Linda Spears, vice president of the Mystery Castle Foundation. "We got hit again, probably Friday night. Again, no substantial damage. Some rocks thrown, but last night, somebody had a party here, and it's just destroyed the interiors."
Spears says they kicked down doors, broke through windows, kicked out a support beam and left the historic landmark on South Mountain destroyed. They're estimating more than $100,000 worth of extensive damage was caused.
"So it's not like we can go to a hardware store and buy replacement pieces. It's a private foundation, privately funded, so we depend on tour revenue to keep the foundation going and open for tours and so this has closed us down for the immediate future," Spears said.
Some history on the castle – A Seattle man moved to Phoenix after finding out he had tuberculosis. He began building the house from found or inexpensive recycled materials with the intention of giving it to his daughter.
"He used goats milk for the mortar in the rocks. Again, it's just stuff that can't be replaced," Spears said. "It's so disheartening because it's someone who decided to just come in with total disregard for someone else's property, and they were vicious about the attack."
Anyone with information is asked to contact Silent Witness at 480-WITNESS.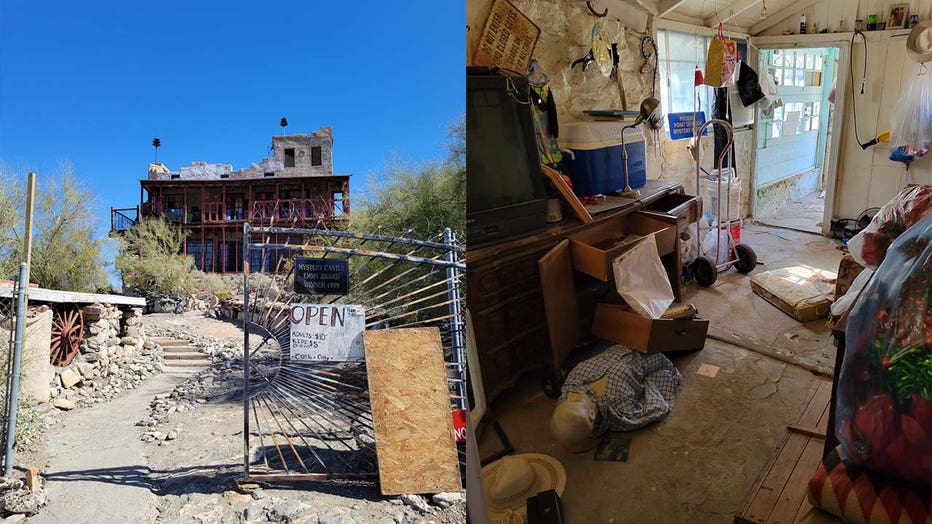 Vandals caused "extensive damage" at Mystery Castle, police said.
More Arizona headlines
For the latest local news, download the FOX 10 News app.
Tune in to FOX 10 Phoenix for the latest news: