Woman found dead, another injured in Phoenix house fire; arson investigation underway
SCOTTSDALE, Ariz. - Phoenix Fire crews say a woman's body was found in a home near 64th Street and Greenway Road after a fire broke out Saturday morning.
Firefighters were called to the north Phoenix home after smoke was seen coming from the bedroom window.
By the time crews arrived, the house was in flames.
"Crews quickly extended hose lines for search rescue [and] land fire attack," said Capt. Todd Keller with the Phoenix Fire Department. "A ladder company was sent to the roof for vertical ventilation and a coordinated attack with the engine."
During the search and rescue, firefighters found a dead woman inside the home. Her identity was not released.
Another woman was taken to the hospital for minor smoke inhalation.
Officials say this is being investigated as an arson.
"With every fire, especially when there is a loss of life, we have to make sure that it isn't done on purpose, which would be considered arson, and so, that's where the investigators from the Phoenix Fire Department come in. They really are the experts in making sure that, 'hey, where's the source of this fire? How did it happened?'" said Sgt. Mercedes Fortune with the Phoenix Police Department.
Neighbors react
As the investigation continues, people living in the neighborhood are reacting to what happened.
Rick Dawson said he was outside his home early in the morning, and heard his neighbor, who he knows as Mrs. Smith, telling him to call 911.
"That's what hurts the most: watching how badly she suffered," said Dawson.
The neighbor said her house was on fire, and that her daughter was in her room. Dawson said he called 911 just before 6:00 a.m., and while neighbors waited for first responders to get in, he went into the house, hoping they could get the woman out of the room she was in.
"I got a few steps into the door. You could feel the heat from the room, and I had to take a left and when I entered, the smoke bank was eye-level. I went to where the woman was, but the heat was intense and you could see the smoke billowing out of there," said Dawson.
The smoke got so intense that those who tried going in were rushing to get out.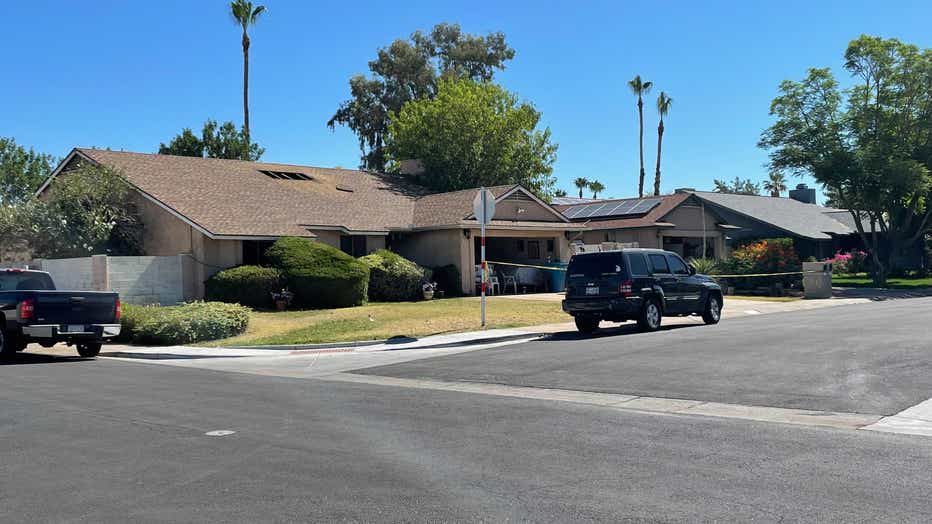 Scene of a house fire near 64th Street and Greenway
More Arizona headlines
Tune in to FOX 10 Phoenix for the latest news
For the latest local news, download the FOX 10 News app