2 men arrested after Phoenix chop shop bust by DPS investigators, officials say
PHOENIX - Officials with the Arizona Department of Public Safety say they have arrested two men in connection with a chop shop operation in Phoenix.
In a statement posted to the department's Facebook page on March 29, officials said the arrests came after detectives with DPS' Vehicle Theft Task Force executed a search warrant in an industrial area northeast of 35th Avenue and Buckeye Road. As detectives served the search warrant, they found five stolen vehicles as well as a utility trailer.
"Two of the vehicles, a 2006 Chevrolet pickup truck and a 2006 Chevrolet Tahoe, were recovered partially intact. Three stolen vehicles, including a 2012 Dodge Charger, a 2000 Chevrolet pickup truck, and a 2012 Chevrolet pickup truck, were found intact," read a portion of the statement.
The two men arrested were identified by DPS officials as 48-year-old Martin Valencia and Marco Guzman. Valencia is accused of theft, trafficking stolen property, conducting a chop shop, and other drug-related offenses. Guzman is accused of conducting a chop shop and trafficking stolen property.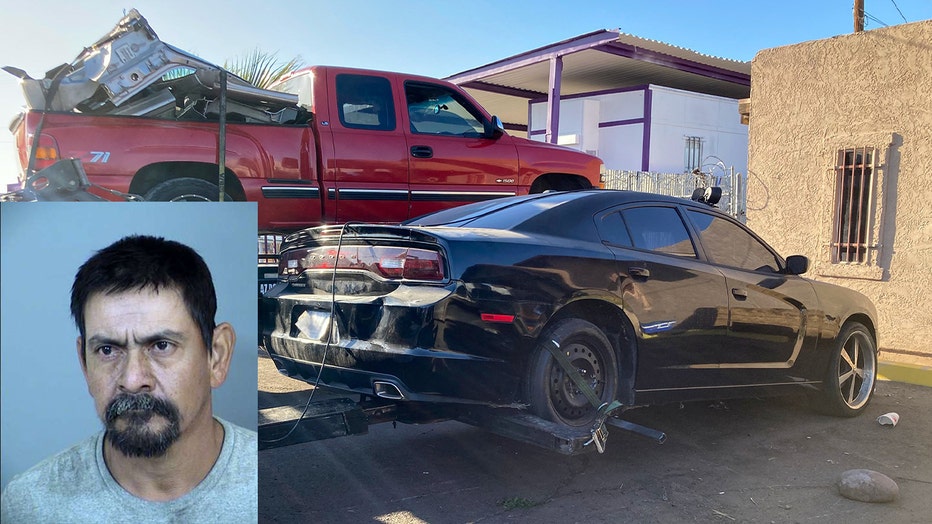 A photo showing some of the recovered cars from the chop shop operation that was busted by DPS officials. One of the suspects, Martin Valencia, is featured in a photo on the bottom left. (Courtesy: DPS)
Other Arizona Crime Stories
Tune in to FOX 10 Phoenix for the latest news