Catalytic converter theft crime spree: 3 men arrested in Chandler, police say
CHANDLER, Ariz. - Three men were arrested in connection to a string of catalytic converter thefts in Chandler, police said.
According to Chandler Police, officers responded to Alma School Road and Chandler Boulevard on Feb. 27 after a person said they interrupted three suspects from stealing a catalytic converter from his vehicle. During the attempted theft, the suspects reportedly pointed a gun equipped with a laser sight at the victim before leaving the area in a black BMW.
"I yelled like, 'Hey!' and I saw a gentleman turn around with a gun pointed at me," said the victim, Luis Alejandro. "So I just raised my hands, stepped back, tried to take cover."
Alejandro is a landscaper who is now missing a $1,500 part from his work truck.
"I work outside – it's not nice you know," he said.
Police located the BMW on Chandler Boulevard and tried to pull it over, but the BMW did not stop.
The suspects then abandoned the BMW in a commercial parking lot near Gilbert Road and Chandler Boulevard.
"With the description from the victim, police searched local businesses and located and arrested the three suspects," police said in a news release. The suspects were identified as Robert Canez, Jesus Banuelos, and Tevon Kroncke.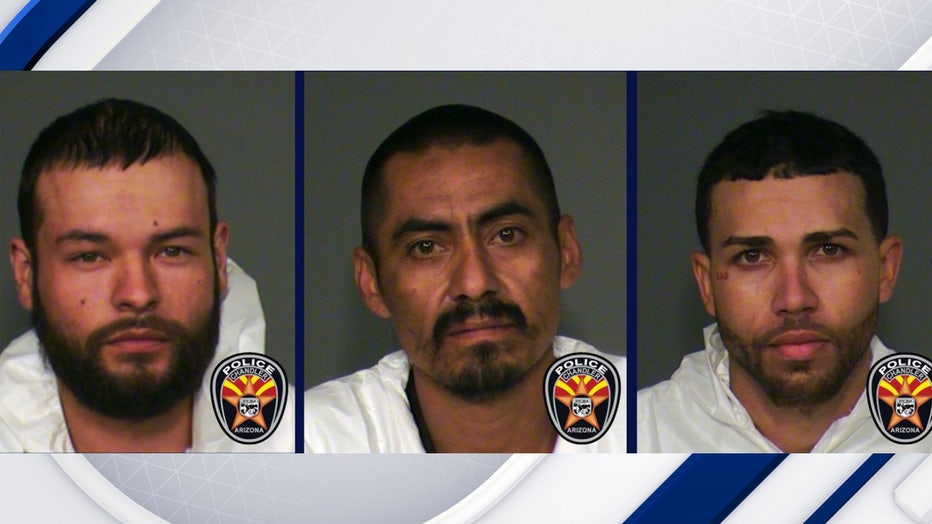 Robert Canez, Jesus Banuelos, and Tevon Kroncke were arrested in connection to a string of catalytic converter thefts in Chandler, police said.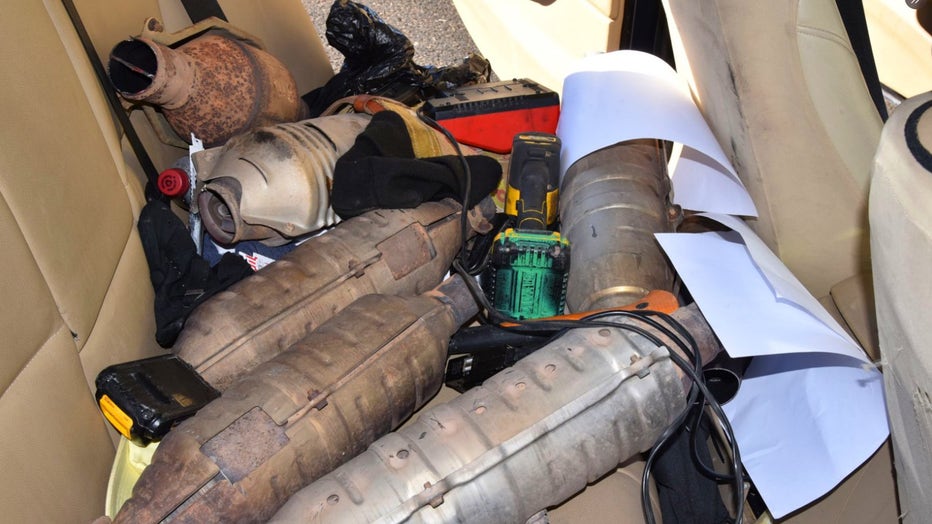 Ten catalytic converters, a gun, and a battery-operated saw were found inside the BMW, police said.
"Chandler Police connected Canez, Banuelos, and Kroncke to two other catalytic converter thefts that occurred on February 27, 2022, within the City of Chandler," police said. "Chandler Police continue to investigate Canez, Banuelos, and Kroncke for multiple catalytic converter thefts in the City of Chandler and around the Valley."
Suspect admits money is a motive for the theft
When Chandler Police detectives question three suspects in a crime spree involving catalytic converter thefts, one of the suspects, identified as Tevon Kroncke, said money is the motive.
"Basically, went out to make a little money," said Kroncke.
Another suspect, Jesus Banuelos, said he never cut a catalytic converter off until that morning.
"This is my first cut ever, so…"
"OK, how'd you know how to cut it off?" said Detective Cassandra Ynclan.
"I'd been watching," said Banuelos.
"You'd been watching what?" said Det. Ynclan.
"Watching everyone else cut," said Banuelos.
The third suspect, identified as Roberto Canez, did not talk much to police.
Suspects accused of multiple offenses
All three suspects were booked into jail and are accused of armed robbery and burglary. Banuelos is also accused of multiple drug charges after police said he had fentanyl in his possession upon his arrest.
Police say they have arrested nine suspects in connection to catalytic converter thefts over the past 30 days.
"It's a problem right now," said one officer. "We've made arrests, we've done everything, and they just keep coming back. Like, we've arrested so many of these guys. We've done details, saturation details, where we've done detectives in plain clothes working neighborhoods and we get em', and then we take one out, and another pops up. It's like weeds, basically."
Officials with Chandler Police have said that the department took 22 reports of stolen catalytic converter incidents in 2020. That number increased by nearly 1,800%, to 404 in 2021.
More Arizona crime news
Tune in to FOX 10 Phoenix for the latest news:
Get breaking news alerts in the FREE FOX 10 News app. Download for Apple iOS or Android.