Chaos at the Canal: Sober living home activity investigated at Mesa luxury condos, city says
MESA, Ariz. - Arizona Attorney General Kris Mayes has called the crackdown on fraudulent rehab facilities a game of "whack-a-mole."
Providers of Medicaid services are popping up across the Valley with a scheme to target Native Americans battling addiction.
A Mesa community in particular has had enough of a new condo complex that police continuously respond to.
Residents who live in the area of Baseline and Power roads are fed up just months after the opening of what appeared to be a luxury-style townhome complex. They believe the sober living scheme is now on their doorstep, and exposing a lack of regulation and oversight.
'One of the biggest scandals in the history of the state of Arizona'
On May 16, Gov. Katie Hobbs held a press conference on the scheme.
"They entice them with drugs to stay in there, alcohol, methamphetamine," said Lieutenant Governor Monica Antone of the Gila River Indian Community during the conference.
"They're allowed and sometimes encouraged to continue using drugs and alcohol. Often, they're not allowed to leave the facility or contact relatives," Hobbs said.
"I don't think it's too much to say this is one of the biggest scandals in the history of the state of Arizona when it comes to our government," Mayes remarked.
In the press conference, they announced the suspension of payments to more than a hundred Medicaid providers – accused of exploiting the system known as Arizona Health Care Cost Containment System, or AHCCCS, fraudulently billing the American Indian Health Program for hundreds of millions of dollars.
But is it too late to stop the "bad actors" promising treatment to indigenous people from reservation to reservation? Instead, trafficking them to homes and motels only to keep them intoxicated while the checks roll in.
'… they were in an experiment'
"Almost any time of the day you will see multiple people out drinking, smoking, loud," a neighbor said who lives next to the "Canal on Baseline" condos in Mesa.
This resident wants to remain anonymous for safety reasons, and we'll call her "Crystal."
Crystal says since the community opened just months ago, there's been constant activity of alcohol and drug abuse outside.
"We had called the cops a couple of times for people in the gutter passed out, or we had thought dead," she said.
For Crystal and her neighbors, it's no longer a shock to see empty bottles of liquor left by the canal. She says Mesa Police are at the community routinely.
We asked Mesa Police for the numbers.
As of May 21, police have responded to "Canal on Baseline" more than 150 times for various calls for service since November 2022.
An average of 22 calls per month.
"The other day our neighbor went through and was talking to them, and they said they were in an experiment," Crystal said.
Between three specific units we'll call "x, y, and z" for safety reasons, Mesa Police has responded nearly 30 times for issues ranging from aggravated assault to family fights and suicide.
A flyer is being handed out to residents impacted, citing heavy police presence, alleged break-ins, public intoxication and vandalism – asking community members to call out city officials.
"It's crazy that it's happening and nothing is being done to stop it," Crystal said.
Who owns these condos?
The city of Mesa sent out a statement that says in part, "Mesa is actively investigating resident complaints about alleged sober living homes through a multi-department approach involving police, code, and planning. The city has been providing information to the state to help stop behavioral healthcare fraud and to help ensure Mesa operators abide by state laws and regulations."
FOX 10 looked into who owns the condo units.
We learned a couple dozen are owned by Samir Holdings, Inc.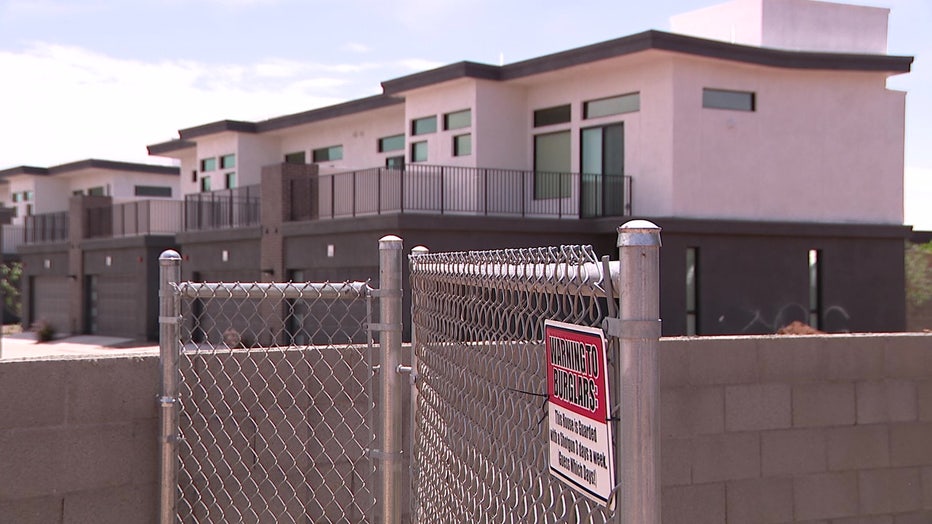 In an email, Samir Sawhney, a managing member of the company, tells us the complex is "not operating as a sober living home" or "engaging in illegal activities."
He says the condos are in compliance with city codes, but there are units leased for behavioral health clinics.
Sawhney tells FOX 10 that a majority of the calls for service are "not serious" and a number of them are attributed to seven units and those tenants have been evicted over the past few months.
Again, the city is investigating to learn the root of the alleged criminal activity and is in contact with the AG's office and Arizona's Department of Health Services (DHS).
We've reached out to DHS about this location, and its response was, in part, "Unfortunately because this is an ongoing investigation … we are unable to comment at this time."
On the agency's website, DHS is releasing a three-part blog on how it's addressing and regulating these homes.
Need help or have a tip?
You can call 2-1-1 and press 7 for more information and/or to report abuse. You can also visit this website.