'Treated like animals': Pastor kept patients in unsanitary home while brokering them for thousands, AGO says
PHOENIX - Robert Kayongo is in Arizona with ties to California, but now he's linked to healthcare fraud, reportedly making at least thousands of dollars off vulnerable Native Americans.
A deal involving eight patients would have made Kayongo more than $30,000 a month. But, that deal was made up by special agents and ultimately led to the pastor's arrest.
FOX 10 spoke exclusively to the facility that says Kayongo offered clients in exchange for cash.
Bishop or broker?
It's a half hour before noon on Aug. 31 outside a Dunkin' Donuts in Chandler near Riggs Road and Arizona Avenue. 53-year-old Robert Kayongo is met by special agents with the Arizona Attorney General's Office just feet away from his van.
A probable cause statement says Kayongo wanted to meet there to close a deal with someone who actually was an undercover agent.
Investigators say Kayongo is a patient broker in a scheme targeting vulnerable people who need behavioral health treatment, offering food and housing at unlicensed sober living homes.
Location of where Robert Kayongo was arrested on Aug. 30, 2023. This is near Riggs Road and Arizona Avenue
In this scheme, as long as a patient is enrolled in the American Indian Health Program under Arizona's Medicaid agency, their ID is used to fraudulently bill the state for therapy services rarely provided.
But, what would Kayongo admit to investigators about the alleged business he ran outside of church hours?
'I told him it was illegal to do that'
Video from the Revival Power Ministries Facebook page shows Kayongo praying and preaching to his congregation.
The church is based in the Los Angeles area, but Kayongo can also be watched virtually on his own Facebook profile, speaking to followers. 
Back in early August, without notice, Kayongo walked into Recovery Syndicate, a behavioral health outpatient facility in Chandler, using his title as a pastor.
"He had stated that he had a church in California and one here in Arizona," Lucinda Anderson said. She's the director of business development at Recovery Syndicate.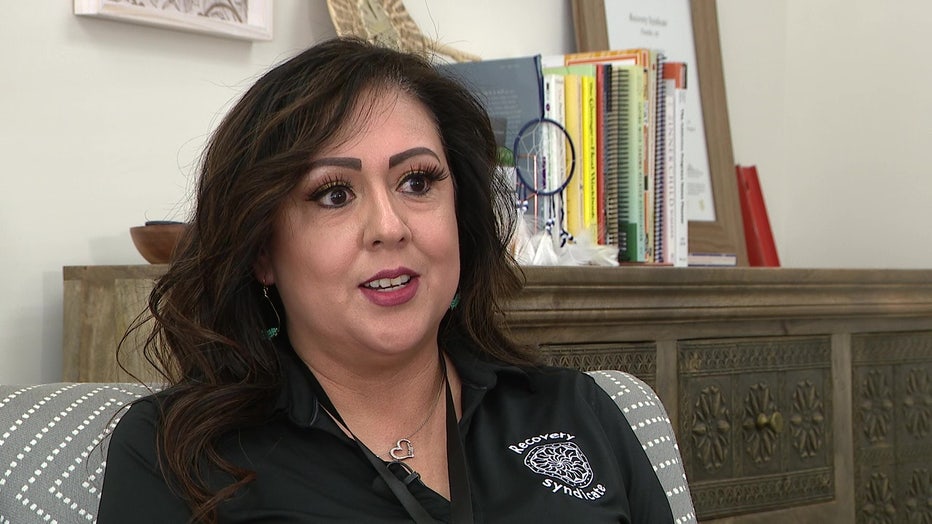 Lucinda Anderson, director of business development at Recovery Syndicate
He met with management and the owners.
Court documents say Kayongo claimed to help indigenous people across the Valley, partnering with programs to house "clients" in the Chandler area.
The pastor offered five patients in exchange for "financials," Anderson said.
"My initial response was to have him repeat it because I just wanted to make sure what he said, and again, he said we could help him out financially and that's when I told him it was illegal to do that," she said.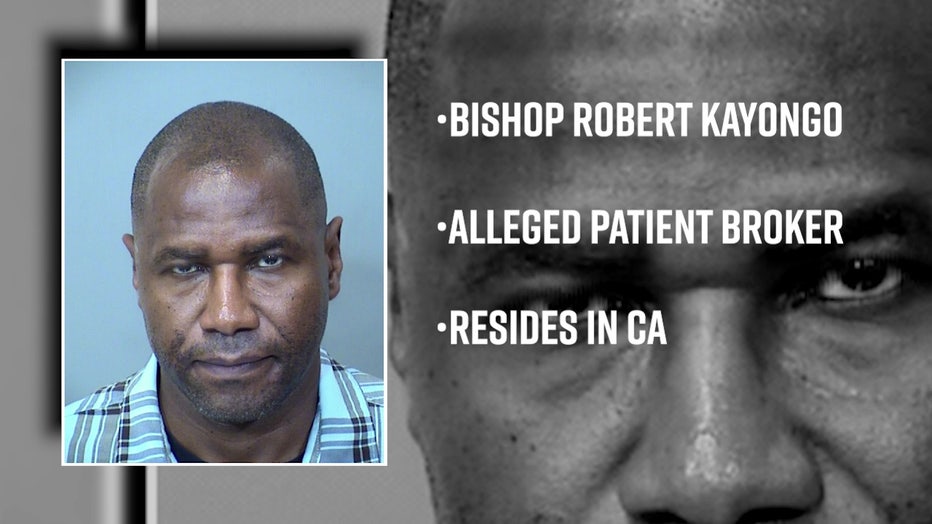 Kayongo initially told ownership his sober living home was licensed, but later admitted it was not, investigators say.
"Our owner Bob Fox had just basically had enough and told him to grab his stuff and leave the building, but not so eloquently," Anderson said.
That's when Recovery Syndicate submitted a complaint against Kayongo to Arizona Health Care Cost Containment System, Arizona's Medicaid agency.
Anderson says Recovery Syndicate complies with the law as the state cracks down on fake rehab centers for Medicaid fraud, suspending payments to more than 200 providers in 2023 alone, resulting in hundreds of displaced clients who may have never been through a legitimate treatment program.
"Just trying to show people that we're meant to do good. All of us are in recovery and so it's a struggle, it's a struggle. And so, we understand that a lot of people don't trust, so we can work on that every single day," she said.
Read more
'They are being treated like animals'
Less than three weeks after he was kicked out of Recovery Syndicate, the attorney general's undercover agent called Kayongo telling him about a behavioral health outpatient facility set to open that is in need of patients.
Investigators say Kayongo proposed eight to ten clients and both parties decided on $750 per patient, per week.
The next day, court docs reveal Kayongo texted the agent claiming the price didn't make "economic sense" for him and needed $1,050 per patient per week, which they agreed to.
"I've heard so many different prices. This by far is probably the largest," says Reva Stewart, an advocate for Native Americans being targeted for Medicaid fraud.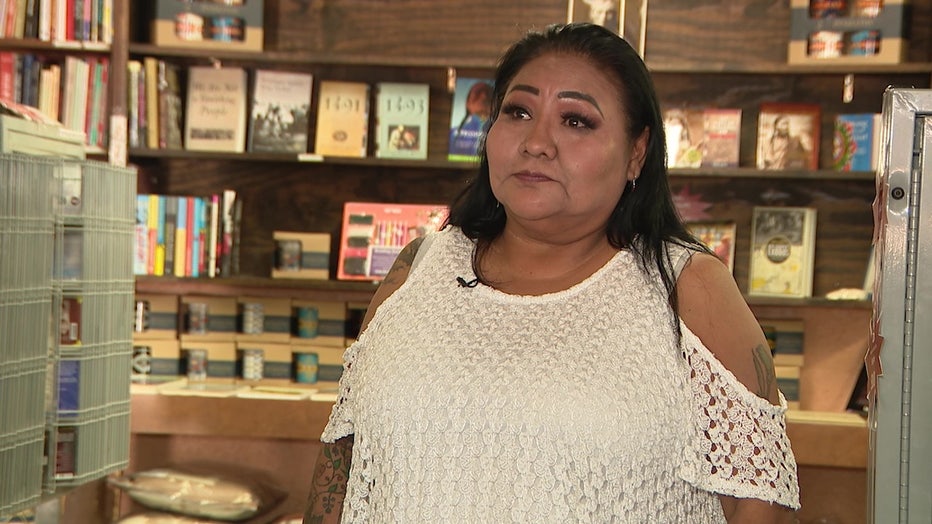 Reva Stewart, an advocate for Native Americans in Arizona
Her organization "Stolen People Stolen Benefits" does outreach to help displaced people who have been kicked out of fake rehab centers coming off the state's crackdown.
"So you hear from the relatives on social media that say, 'Well, I'm in this home and I can't leave,' so even if you do drive by these homes, there's no movement, but yet you see that they're going into these homes," Stewart said.
According to the AGO, Kayongo's sober living home is named "Shared Love," which is not found in the Arizona Department of Health Service's database.
The LLC is registered to a property in Avondale, but that's not where authorities found eight patients after arresting the bishop.
A search warrant served at a Chandler home near Riggs and Cooper roads led agents to a makeshift room in the garage equipped with a bed, TV, microwave and a small window air conditioning unit that didn't work.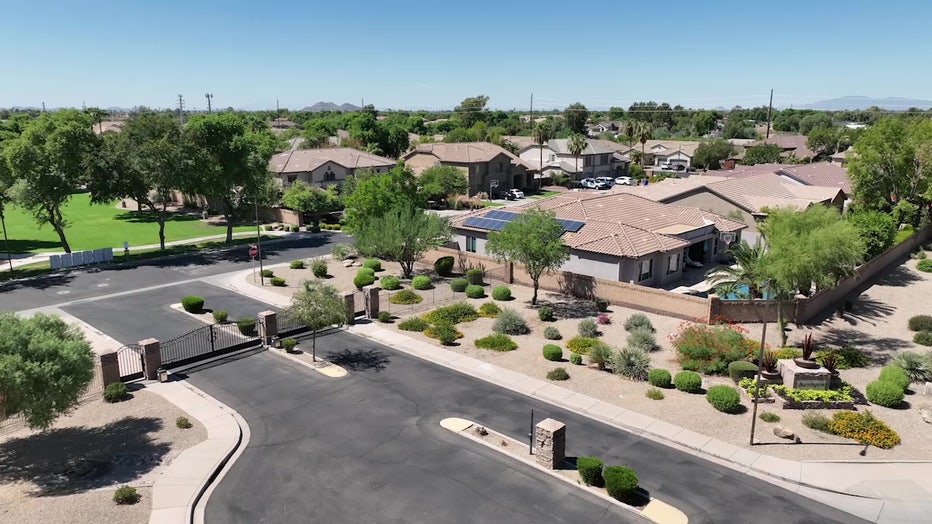 Neighborhood of the home that was searched in relation to the investigation into Kayongo. This is near Riggs and Cooper roads
Investigators say the home was unsanitary and smelled like sewage.
"They are being treated like animals. It makes me angry to the fact that you can treat our relatives this bad, cattle them into at home and allow them to live like this while you're out there brokering them," Stewart said.
The property under investigation is owned by Eucalyptus Chandler, LLC which is registered to an address of a property owned by Chestnut Gilbert, LLC, according to the state's corporation commission.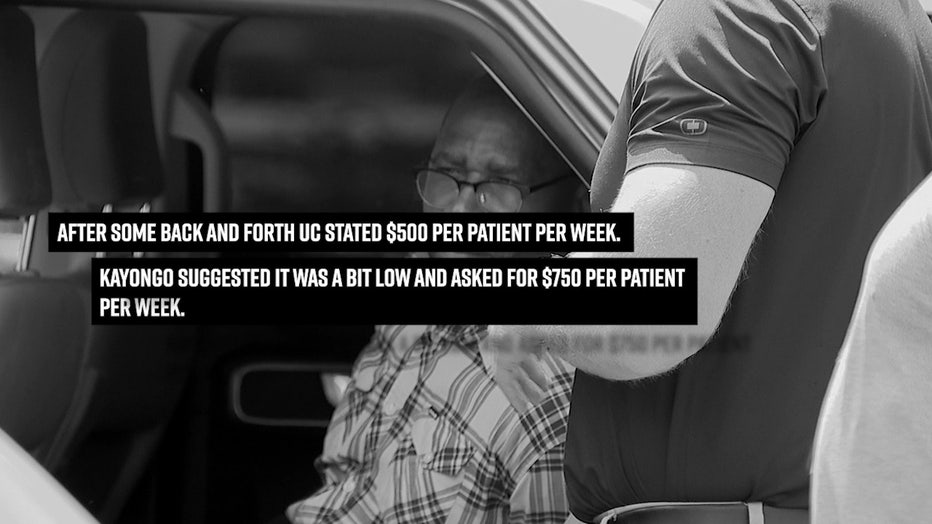 'Let it be an example to other people'
Kayongo has been charged by a grand jury. He's accused of conspiracy and attempting to commit patient referral fraud. He posted a $50,000 bond.
His phone went to voicemail when FOX 10 called for comment.
According to AGO investigators, the pastor admitted to doing business with three other behavioral health clinics and operating a "transitional home" since last October.
Authorities say Kayongo received $150 per patient, per day from facilities – claiming patients on the American Indian Health Program had more value.
"It makes me upset because it's hurting our people. Knowing that that's still going on, I'm happy that they arrested him and let it be an example to other people that want to try to do that," Anderson said, visibly emotional. 
FOX 10 also reached out to Revival Power Ministries for comment.
Its full statement reads, "Bishop Robert Kayongo is a faithful servant of God in our communities locally and internationally with a big heart to help the poor of the poorest. During Covid pandemic, he fed over 2000 families in the Los Angeles area. He often leads a team called Timely God Led Club to help people with disabilities. So he is a well intentioned man and can't have intent to hurt humans. As a ministry we know that he must have gone to Arizona to work for the love of humanity and moral standards he stands for."
If you have any tips on possible fraud, you can report it by filling out the form at https://www.azahcccs.gov/Fraud/ReportFraud/onlineform.aspx or you can also visit https://www.azag.gov/complaints/mfcu