Jimmy Carter: Former Arizona Attorney General remembers encounter with former President
PHOENIX - President's Day is a time to reflect on the people who helped shape the country we have today.
The holiday was originally established in 1885 in recognition of President George Washington's birthday, but nowada ys, President's Day is popularly viewed as a day to celebrate all presidents, both past and present.
For one person in Arizona, President's Day has a special meaning.
"I have collected political buttons all my life," said former Phoenix mayor and former Arizona Attorney General Terry Goddard. "I have always been interested in politics and politicians, and somehow the buttons become the symbols that you keep year after year."
Goddard has seen a few presidents over the years.
"Guess I didn't get to meet [John F.] Kennedy, but I did meet [Lyndon] Johnson," said Goddard. "Never met [Ronald] Reagan, but then of course, [Jimmy] Carter. [Bill] Clinton, [Barack] Obama, [Joe] Biden, and then going back, I met [George W.] Bush."
Of all the presidents he has met, there is one who Goddard particularly admired: Carter.
"I think Jimmy Carter embodies not only what a great president should be, but what a person should be," said Goddard. "He was a wonderful humanitarian. He was somebody who lived his life to the full."
In light of news that Former President Carter is entering hospice care, President's Day feels a little different for 2023.
Meanwhile, support for Former President Carter is pouring in, from former President Bill Clinton tweeting "On this President's Day, I'm thinking of President Jimmy Carter," to President Joe Biden tweeting, in part, "We admire you for your strength and humility you have shown in dificult times."
Goddard, on this President's Day, is remembering the brief brush he had with former President Carter.
"I was in Atlanta. I was taken out to a Habitat for Humanity site to meet the President and Mayor [Andrew] Young. Sort of shouted out to this crew of people who were on the roof of a house being built and said 'President Carter, this is Terry Goddard' and Jimmy Carter waved his hammer and went 'hi,' and went right back to hammering, so I thought that said so much about him and his whole life after being president, was one of service and an incredible example for the country."
In 2017, former President Carter was honored by ASU's Sandra Day O'Connor School of Law when he accepted the O'Connor Justice Prize at the Arizona Biltmore.
Read More Arizona Stories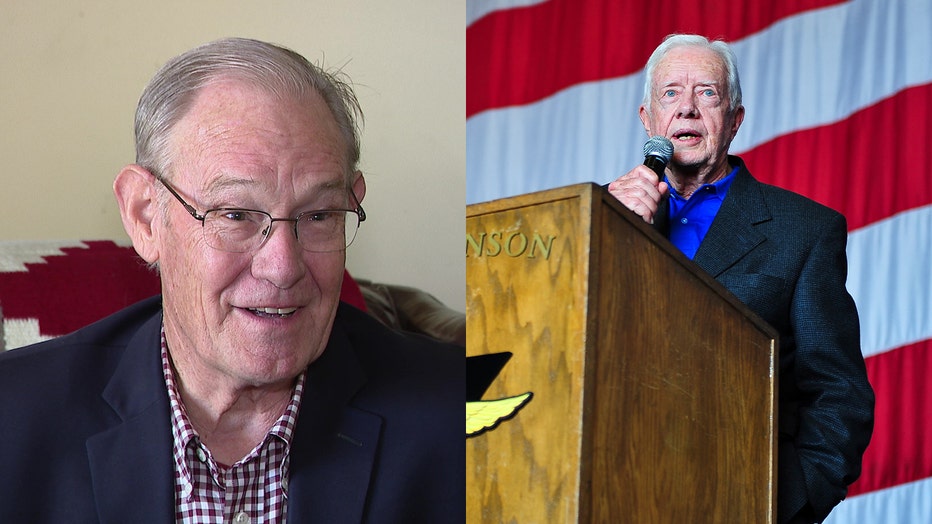 Former Arizona Attorney General Terry Goddard (left) and Former President Jimmy Carter (right)