Judge issues ruling after grandparents of J.J. Vallow file motion to be allowed in court: Latest updates
PHOENIX - Police found the remains of 16-year-old Tylee Ryan and her brother, 7-year-old Joshua "JJ" Vallow, on June 9 after months of searching. They hadn't been seen since September 2019, and investigators said the children's mother, Lori Vallow Daybell, and her husband, Chad, both lied to police about their whereabouts.
We're tracking the latest developments in Vallow's case:
April 6
March 31
The lawyer for Larry and Kay Woodcock, the grandparents of J.J. Vallow, has filed a motion to allow the Woodcocks to be allowed in the courtroom and represent their grandson during Lori Vallow's trial, which starts April 3 in Idaho.
March 22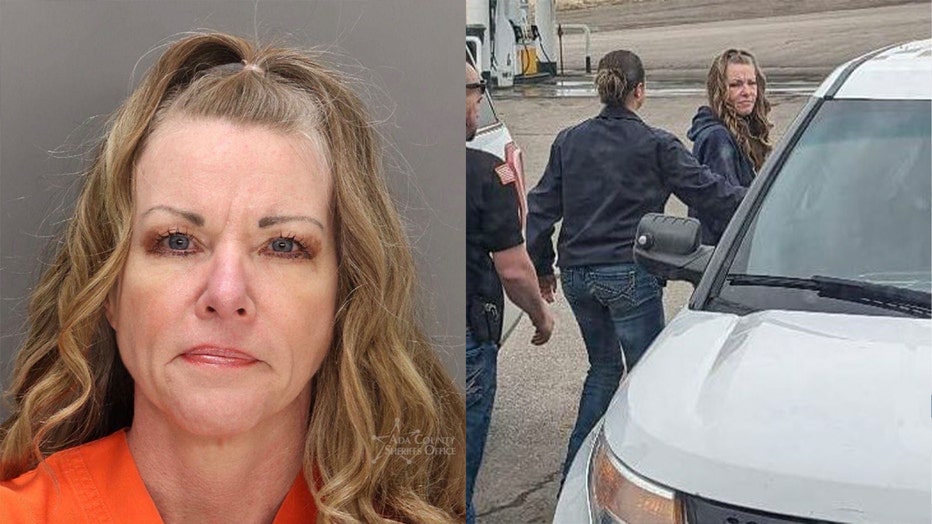 A mugshot of Lori Vallow (Left. Courtesy: Ada County Sheriff's Office) and Lori Vallow, as she was being taken to Ada County Jail (right)
We have learned that Vallow is now in a county jail in Idaho's Ada County, which is where Boise is located.
Vallow was transported to the Ada County Jail as her trial approaches. Under an order of transport, she was to be taken to Ada County before Mar. 25.
Officials with the Ada County Sheriff's Office have also released a new mugshot for Vallow.
March 21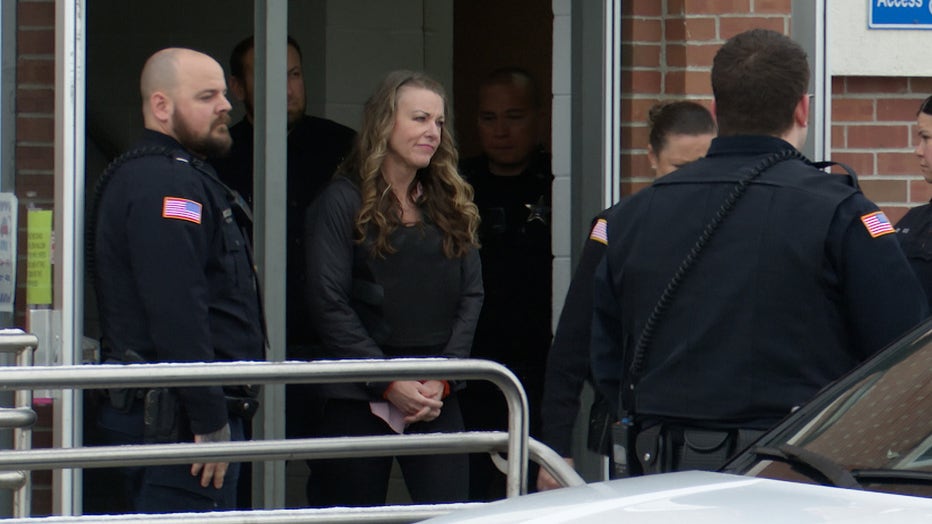 Lori Vallow leaving an Idaho court on March 21. (East Idaho News)
Judge Steven Boyce has granted Lori Vallow's motion to dismiss the death penalty in her case. Vallow's trial is scheduled for April 3.
"Vallow's defense cited 'media saturation' of the case, multiple discovery violations, Vallow being mentally ill, and the state's lack of chemical drugs to do an execution," FOX 10's Justin Lum tweeted. "Less than 2 weeks away from her trial, Vallow won't face death if convicted."
March 15
"#LoriVallow: State objects to defense's motion to exclude evidence from 13th discovery disclosure. Prosecutors list names of witnesses interviewed by FBI, saying reports were disclosed before 2/27/23 deadline. Some familiar names if you follow the case closely," FOX 10's Justin Lum tweeted.
March 7
Attorneys for Lori Vallow are fighting to take the death penalty off the table ahead of her upcoming trial, which is scheduled for April 3. Her legal team cited Vallow's mental illness and claims it's a "troubling thought that the government would want to kill a mentally ill person."
March 2
Idaho Judge Steven Boyce severed the Lori Vallow and Chad Daybell case, according to East Idaho News. Vallow's trial date remains set for April 3. Daybell's trial date has been vacated.
Daybell has waived his right to a speedy trial and his attorneys said they needed more time to review DNA evidence that recently came back from testing. But Vallow has not waived her right to a swift trial and so her case must proceed as planned, Boyce said.
"I have to balance these rights of these defendants in this case," Boyce said. "Severance is the only option I see."
Both of the defendants have pleaded not guilty to murder, conspiracy and grand theft charges in connection with the deaths of Vallow's children. They are also charged in connection with the October 2019 death of Daybell's late wife, Tammy Daybell. They could face the death penalty if convicted.
Prosecutors had previously pushed for the couple to be tried together, citing in part the expense of holding two trials that are each expected to take weeks. But the judge noted the prosecutors didn't give the DNA evidence — a hair found at the crime scene — to the defense attorneys in a timely matter. Daybell's attorney, John Prior, said he needed to have his own testing done on the hair because the results could be crucial to Daybell's defense.
"That evidence provides, at least from my perspective, an explanation potentially of where Mr. Daybell and I are going to go in this particular case," said Prior. "I need to have an opportunity to test that evidence."
Prosecutors say the couple used doomsday-focused religious beliefs to further a plan to kill Vallow's two children and Daybell's previous wife as part of a plot to steal social security funds and insurance money.
Idaho law enforcement officers started investigating the couple in November 2019 after extended family members reported that the children were missing. During that period, police said the couple lied about the children's whereabouts. Their bodies were found buried later on Daybell's property in rural Idaho.
The couple married just two weeks after Daybell's previous wife, Tammy Daybell, died unexpectedly. Tammy Daybell's death was initially reported as due to natural causes, but investigators had her body exhumed after growing suspicious when Chad quickly remarried.
Vallow is also separately charged with conspiracy to commit murder in Arizona in connection with the July 2019 death of her previous husband, Charles Vallow. He was shot and killed by Lori's brother, Alex Cox, who claimed it was self-defense.
The Arizona legal proceedings are on hold while the Idaho case is underway.
The Associated Press (AP) contributed to this report.
February 23
February 14
January 26
January 19
A judge denied Chad Daybell's request to move the trial to next year and to sequester the potential jury for two months, according to East Idaho News.
Meanwhile, Lori Vallow's lawyers wanted an in-person meeting between her and Daybell to talk about a settlement as well as defense strategies, but that too was rejected.
The trial remains set for April 3.
MORE: Idaho prosecutors oppose motion by 'Cult Mom' Lori Vallow Daybell to hold 'strategy session' with husband
January 6
January 5, 2023
December 8
A trial date for Lori Vallow and her husband, Chad Daybell, has been set for April 3, 2023. Vallow and Daybell are accused of conspiring and killing Vallow's children and Daybell's ex-wife.
November 17
November 16
A judge has determined that Lori Vallow is once again competent and fit to stand trial in the murders of her two children and Chad Daybell's ex-wife, Tammy.
The stay on her case has been lifted, and the trial will be rescheduled.
November 12
A judge in Idaho is considering splitting up the trials for Chad Daybell and Lori Vallow.
Daybell's attorney reportedly asked a judge that his client be tried separately from Lori. They said the two would present defenses that are opposed to one another.
October 31
October 6
A new development tonight: Lori Vallow's case has been suspended by a judge. This impacts the triple murder trial against the former Chandler mother whose children were later found dead in Idaho.
This puts a pause on all future proceedings for the same reason as the first time: Vallow's mental competency.
Court documents say until Lori Vallow's competency to stand trial can be determined, her case is suspended. Her trial, along with her co-defendant and husband Chad Daybell was set for January 9, 2023. It's officially been vacated.
The so-called "Doomsday" couple are facing murder charges in the deaths of Vallow's two children and Daybell's first wife.
Authorities discovered the remains of 7-year-old J.J. Vallow and 16-year-old Tylee Ryan in Daybell's backyard, several months after they were reported missing. Investigators say the husband and wife used unorthodox spiritual beliefs to justify the killings back in 2019.
It's important to note that earlier this week, Vallow's lawyers motioned for the trial date to be continued and they also asked for a stay on the case. Much of that motion was redacted, but her defense hinted at the issue of "mental condition."
Just last week, Daybell motioned to separate his case from Vallow and also move the trial date to no earlier than October 2023.
Remember, Vallow was deemed incompetent and unfit to proceed with her case back in May 2021. She was treated by the Department of Health and Welfare for nearly a year until being "restored to competency."
FOX 10 spoke briefly to J.J.'s grandmother, Kay Woodcock over the phone. She's disappointed, but didn't seem surprised, saying she has been waiting for what seems like forever for this trial.
Daybell has a hearing set for next Thursday, when a host of motions and issues will be heard.
September 23
Judge bans cameras from Lori Vallow's murder case
An Idaho judge has banned cameras from the courtroom in the high-profile triple murder case against a mother and her new husband, saying he fears the images could prevent a fair trial.
Seventh District Judge Steven Boyce made the ruling on Friday, saying that news organizations will no longer be able to shoot still photography or videos inside the courtroom in the criminal case of Lori Vallow-Daybell and Chad Daybell. The couple are charged with conspiring to kill Lori Vallow-Daybell's two youngest children and Chad Daybell's late former wife, and the strange details of the case have drawn attention from around the world.
September 8
Lori Vallow: 'Doomsday Mother' smirked, smiled during court appearance
April 20
Lori Vallow, Chad Daybell appear in court – Court enters 'not guilty' plea on Vallow's behalf
Chad Daybell and Lori Vallow appeared in Idaho courtrooms for hearings in the deaths of Vallow's children.
On April 19, Vallow was arraigned on charges related to the disappearance and deaths of JJ Vallow and Tylee Ryan. Her attorney asked for a "not guilty" plea to the charges against her: two counts of first-degree murder, one count of conspiracy to commit murder, two counts of criminal conspiracy, and one count of grand theft. 
Lori Vallow Daybell and her new husband, Chad Daybell, were both at the courthouse in the eastern Idaho town of St. Anthony for separate court proceedings: Lori Daybell for an afternoon arraignment that was delayed for months while she underwent treatment at a mental health facility, and Chad Daybell for a morning hearing over the trial venue.
The case against Lori Daybell was stalled after a judge found her mentally incompetent to aid in her own defense and ordered her to undergo treatment at a mental health facility.
April 11
We have learned that prosecutors in Idaho have filed a notice of intent to seek the death penalty for Lori Vallow, who is charged with conspiring with her new husband to kill her two children.
This decision comes after a judge has decided that Vallow is now fit to participate in her own court proceedings.
The case involving Vallow, which first began as the disappearances of two children with Phoenix area ties - Joshua "JJ" Vallow and Tylee Ryan - has since uncovered a complex sequence of events that have garnered national and international media attention.
Here's what you should know about the case.
Prosecutors intend to seek death penalty for Lori Vallow: here's what you need to know about the complex case
Tune in to FOX 10 Phoenix for the latest news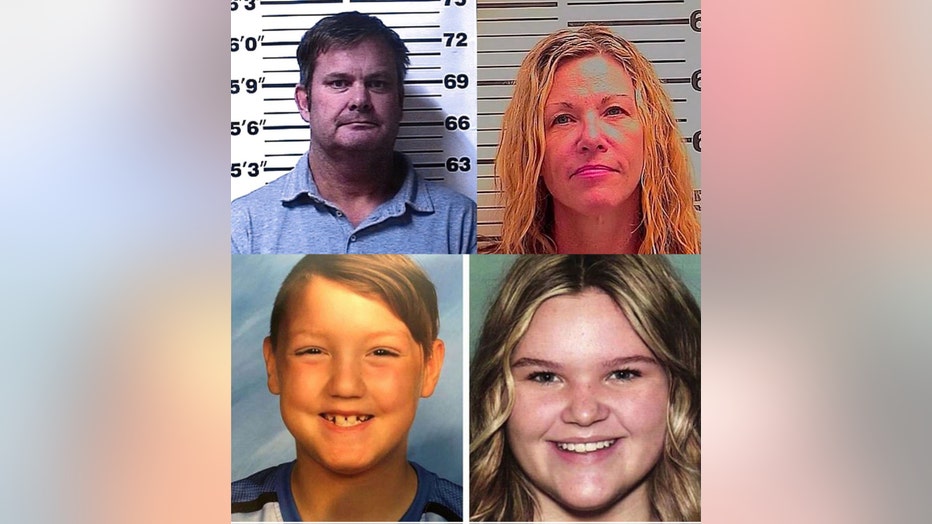 Chad Daybell, top left; Lori Vallow, top right; JJ Vallow, bottom left; Tylee Ryan, bottom right.