Missing man's body found – his car was discovered burned in north Phoenix on New Year's Day
PHOENIX - The search for a Phoenix man who went missing on New Year's Eve has ended on a tragic note.
Benjamin Anderson, 41, was last seen at his home the morning of Dec. 31, according to a missing persons flyer shared on social media. His car was found burned early Saturday morning near Interstate 17 and Dunlap. The burnt car was found by Anderson's friends.
Sgt. Calbert Gillett with the Maricopa County Sheriff's Office confirmed on Jan. 3 that his body was found the same day he went missing, and a homicide investigation is underway.
"On Friday, December 31st, 2021, MCSO responded to the location of Table Mesa Road, west of I-17, for a body found in the desert. The MCSO Homicide Unit assumed the investigation, and today the identity of the decedent was identified as 41-year-old Benjamin Anderson," Gillett said in a Jan. 3 news release.
Anderson was previously reported as a missing person to the Phoenix Police Department.
Friends, family members searching for answers
As homicide investigators look for leads, friends say circumstances surrounding Anderson's disappearance are very suspicious.
A friend of Anderson recounted the search efforts.
"We started New Year's Eve looking for him," said a friend of Anderson, identified only as 'Aimee.' "Searching, speaking to Lexus, trying to get them to tell us where the car was."
Friends say they hit roadblocks when asking the luxury carmaker and Phoenix Police to use the GPS tracking ability on Anderson's vehicle to locate it.'
"Rage, anger, upset, frustration," said Aimee. "It kept us going from 6:30 p.m. New Year's Eve night until 11:00 a.m., New Year's Day."
While Aimee was among the group of friends that eventually received the location of Anderson's Lexus, it was too late. Anderson's body would eventually be found 30 miles north of where the burnt car was found.
Friends and family members say they are baffled.
"I don't understand. I can't grasp why someone would do something to such a kind person," said Aimee. "When he would see someone, he would always offer help. He would always offer support,  and I think maybe he'd offered help or support to someone not so great."
Anyone with information on this incident is asked to call MCSO at 602-876-TIPS or 602-876-1011.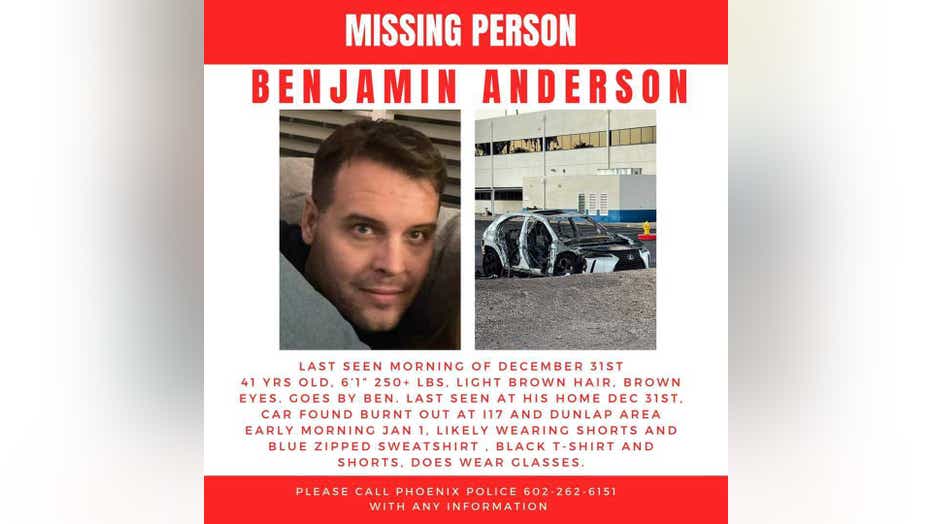 Missing persons flyer for Benjamin Anderson
More Arizona headlines
Tune in to FOX 10 Phoenix for the latest news