Over 4.5M fentanyl pills, 3K pounds of meth seized in Phoenix area
TEMPE, Ariz. - Arizona officials held a news conference on Feb. 23 to discuss the findings of a recent investigation in the Valley that resulted in the seizure of a large amount of drugs.
"The sample you see here today is staggering," said Interim Tempe Police Chief Josie Montenegro.
According to a news release, over 4 and a half million fentanyl pills, and 3,000 pounds of methamphetamine were recovered during "a large-scale interagency narcotics investigation in the Valley."
In addition to the fentanyl pills, 140 pounds of fentanyl powder, over 135 kilos of cocaine, 35 kilos of heroin, 49 guns, and over $2 million in cash were seized.
"The fentanyl in this room alone contains over 30 million lethal doses," said Cheri Oz, the Special Agent In Charge of the DEA in Phoenix.
"Had these seized not been made, these substances would be poisoning members of our community, including our youth and our vulnerable population," Interim Police Chief Montenegro said.
The total street value of the drugs seized is over $13 million.
"While busts like this don't fully solve the problem that we face, getting as many of these drugs off the streets as possible will undoubtedly save lives," Attorney General Kris Mayes said.
Officials grappling with drug problem in Arizona
In 2022, over half of the fentanyl pills seized by DEA agents were seized in Arizona, meaning the state is a major distribution site. Officials say their work is far from over.
"It is trickery, it is deception, it is death," said Oz.
Oz said there is still an ongoing threat in Arizona from one cartel in Mexico.
"Our primary driver, our primary threat here in Arizona is the Sinaloa Cartel," said Oz.
"We are not going to give up until we defeat them," said AG Mayes. "This is a war, and we are going to win the war against the Sinaloa Cartel."
Mother who lost daughter to accidental overdose speaks out
On Feb. 23, we spoke with a parent who lose her daughter to fentanyl.
"She was just a very, very special person," said Misty Terrigino.
Terrigino's 17-year-old daughter, Kaylie, was an honor roll student, and had a zest for life.
"She was fearless, she was funny. She was the friend everybody would want to have," said Terrigino.
Terrigino said her life was forever changed one morning, when she opened Kaylie's bedroom door in their Pinal County home.
"As soon as I grabbed the doorknob, I had the most sinking feeling," said Terrigino. :I knew something was terribly, terribly wrong."
Authorities believed Kaylie died after purchasing and taking a laced pill on Snapchat.
"She died in the safest place I thought she would be: at home, in her room," said Terrigino. "My daughter, she mattered. She was important to a lot of people, and I don't want her to be forgotten."
Officials say people should talk to their kids, friends and neighbors about the dangers of drugs. Meanwhile, many on the frontline of the battle say it will be a years-long battle to try and root the drug out from the various communities.
More Arizona headlines
Tune in to FOX 10 Phoenix for the latest news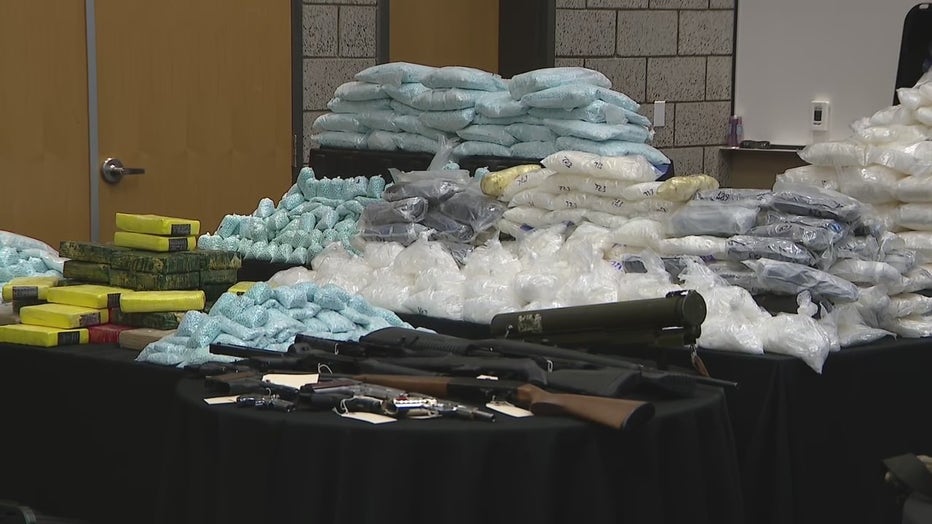 According to a news release, over 4 and a half million fentanyl pills, and 3,000 pounds of methamphetamine were recovered during "a large-scale interagency narcotics investigation in the Valley." Additionally, large quantities of heroin, cocaine, and