Phoenix man found dismembered inside home, 2 suspects arrested
PHOENIX - Two suspects have been arrested in connection with the death of an 80-year-old Air Force veteran whose decomposing body was found dismembered in his Phoenix home, according to authorities.
Phoenix police said Thomas Wallace, 58, was being held on $1 million cash bond on suspicion of second-degree murder, concealing a dead body, theft of means of transportation and trafficking in stolen property while Ramona Gonzalez remains jailed on suspicion of fraud and theft.
The victim's body was found on Nov. 1 just before 2:30 p.m. during a welfare check of a home near Indian School Road and 27th Avenue.
Authorities said Wallace, 58, was formerly roommates with the victim and Gonzalez also stayed off and on at the home of the victim, whose name hasn't been released yet.
It was unclear Sunday if either suspect has a lawyer who can speak on their behalf and Gonzalez's age wasn't immediately available.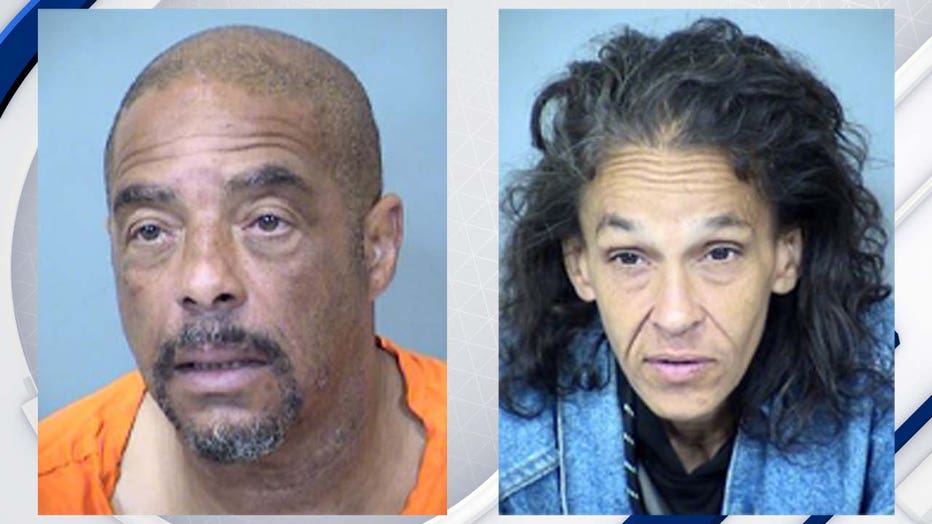 Thomas Wallace, Ramona Gonzalez
Court documents reveal grisly details
WARNING: GRAPHIC DETAILS BELOW
According to court documents, family members were worried after the victim had not been in touch with them for about a month.
"Family was concerned because [the victim] had diabetes and might have passed away in the residence," court documents read.
When officers arrived at the scene, neighbors told them they hadn't seen the victim in three to four weeks.
Officers forced entry into the home and noticed "a strong foul odor" inside. Officers found two black trash bags in a bedroom and after cutting them open, they found the victim's body.
Homicide investigators were called in and discovered blood on the living room ceiling and on several walls and furniture, and the victim's detached head was found in stacked layers of linen.
Police said the cause of death will be determined by the Maricopa County medical examiner's office.
Suspects had lived at the home
During their investigation, police learned a woman, now identified as Ramona Gonzalez, had moved into the home with the victim last year.
"She reportedly relapsed on illicit drugs, would pawn [the victim's] possession, and routinely steal his vehicle," court documents read.
After moving out of the home last February, she moved back into the home in March. In April, she had another man move into the home. That man was identified as Thomas Wallace.
After the murder, the victim's missing pickup truck was later found by undercover detectives at a motel near Interstate 17 and Indian School Road.
Under surveillance, police saw Gonzalez enter a motel room, which was later found to be rented to Wallace.
On Nov. 3, Gonzalez and Wallace were taken into custody at the motel.
Wallace refused to speak to police and requested an attorney. 
Suspects allegedly pawned victim's belongings
Investigators learned Wallace had pawned items on Oct. 26, including a chainsaw, a hedger, and a bag containing a camera.
After vising the pawn shop, investigators reviewed surveillance video showing Wallace and the woman entering the store with a box containing a chainsaw, hedger, and camera bag.
Wallace sold the items for $50. The woman who was with Wallace was also holding an arrow, which she tried to sell for $200, but the pawn shop manager declined.
Investigators got ahold of the items that were allegedly sold by Wallace. The victim's business card was found inside the camera bag.
Police say "an odor of decomposition" was coming from the items. Crime scene personnel processed the items and found what appeared to be torn flesh, torn ligaments, and biological matter on the chainsaw.
"It's sick," said Minoca Moreno, who lives in the area where the incident happened. "It's sick to do something like that to another human being."
Wallace is being held on a $1 million cash bond.
Woman denies involvement
During an interview with detectives, Gonzalez allegedly told police she was currently not staying at the victim's home because of Wallace's behavior.
She said she tried to contact the victim so that she could go back to the home to retrieve her things, but she could not get in contact with the victim.
The woman said she and a friend broke into the home and found the victim's body.
"[The woman] inferred that [Wallace] killed the victim," court documents read.
Additionally, the woman claimed that her friend had a recording of Wallace talking about the murder. Police spoke to the woman's friend, who said they saw blood inside the home leading to the bedroom where the victim was found dead.
The Associated Press contributed to this story.
Related reports: