911 call, bodycam footage of deadly Phoenix Police shooting of stabbing suspect
PHOENIX - Police are releasing more about the deadly officer-involved shooting that happened near 30th Avenue and Coronado in Phoenix on Feb. 7 and on Feb. 22, they released the 911 call and footage of the incident.
According to police, the incident began to unfold at around 1 p.m., when a woman was stabbed. Officers who responded to the scene saw a male with a sharp object in his hand.
"An officer told the male to drop the knife several times. The male walked towards the officer with the knife raised and the officer responded by shooting the male with his firearm," read a portion of a statement released by police.
The suspect, according to police, was taken to the hospital following the shooting, where he died. He has been identified as 30-year-old Emilio Chamizo. The woman who was stabbed reportedly suffered multiple stab wounds, and police officials say she is listed in critical but stable condition.
In earlier statements, police officials say no officers were injured. The officer involved in the shoot has since been identified as a 29-year-old man.
Investigators were on scene well into the night.
"In these types of situations, we want to make sure we have enough area secured for the purposes of the investigation," said Sgt. Phil Krynsky with Phoenix Police. "As officers and detectives make their way through, we can start opening things up."
Bodycam footage and a 911 recording were released by the department just over two weeks later and they show what led up to the shooting, the actual shooting, and the aftermath. Phoenix Police's full video can be viewed here.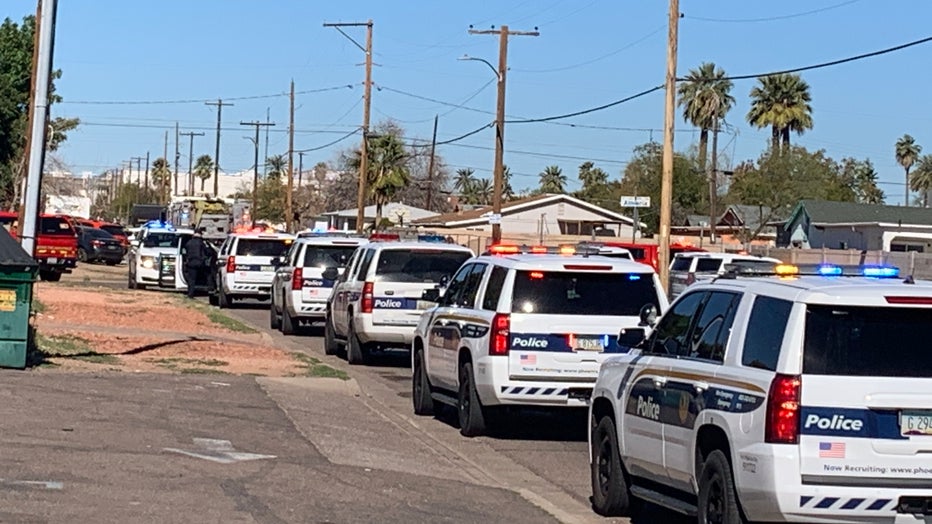 Phoenix Police officer-involved-shooting scene on Feb. 7, 2022. (Credit: Rick Davis)
More Arizona crime news
Tune in to FOX 10 Phoenix for the latest news:
Get breaking news alerts in the FOX 10 News app. It is FREE! Download for Apple iOS or Android.