Search warrant executed on Chandler home after outcry over animal welfare; 55 dogs seized, owner arrested
CHANDLER, Ariz. - For some time, animal advocates and neighbors in Chandler have been demanding action, saying dozens of dogs with special needs are being neglected and living in filth. On the night of Sept. 22, several dogs were removed from a home near Cooper and Pecos roads.
When a FOX 10 crew neared the area of the home earlier in the week, the smell coming from the residence was overwhelming.
Chandler Police previously said they were aware of the situation and were investigating. Days later, they secured a search warrant to rescue the pets inside. A camera near the home captured sights of tarps covering the front entrance of the home, along with tape.
Police initially treated the call as a HAZMAT situation due to reports of fumes and the smell. As they took an inventory of the animals inside, they learned there were 55 animals. They did not release details about the animals' conditions.
Arizona Humane Society says many of them needed immediate medical attention. Sadly, some dogs will have to be euthanized.
Arrest made
On Sept. 23, Chandler Police said April McLaughlin, the person responsible, had been arrested after learning more details from animal care experts.
McLaughlin was given a $2,500 cash-only bond. The house will be condemned.
Prosecutors told the judge during her first court appearance that the Arizona Humane Society came to her home in August, but she wouldn't let them in.
This time, authorities reportedly found dogs who were unable to move, sitting in their own waste, with no access to water.
Firefighters had to use breathing apparatuses to enter the home. The air quality was so bad it was determined to be unbreathable.
As for McLaughlin's mother, authorities say she was also inside the home. She's been moved from the home and is currently safe.
The judge also said if McLaughlin posts bond, she can't possess any animals.
When FOX 10 Investigator Justin Lum spoke with the owner of Special Needs Animal Welfare League before the rescue of the dogs, she said her name was Sydney McKinley. We have since learned through several advocates, however, that the owner of SNAWL, McLaughlin, goes by multiple aliases.
Those aliases include the name Sydney.
Court appearance + documents
Please be forewarned that the information in the document below is graphic and disturbing.
The probable cause affidavit revealed the 55 special needs dogs were removed from the cluttered 950-square-foot home, reportedly living in conditions of filth and squalor.
Officers described seeing dogs in cages stacked on top of each other, caked with urine and feces. The documents stated that many animals suffered open wounds and required immediate medical attention.
Investigators wrote in the report that the dogs appeared to not have any access to water, and once removed from the home, they drank for several minutes.
Prosecutors say for at least two years, McLaughlin's elderly mother lived inside the home with her. The entire time, officers say she slept on the couch as the home's rooms were full of dogs.
Officers say they also found five dead puppies inside a freezer next to frozen microwave meals that McLaughlin told officers her mother ate.
In an interview, police say they asked McLaughlin if she thought this was a problem, to which she reportedly responded no.
Advocate, others speak out
As flashing police lights and fire trucks filled the neighborhood, it marked a moment of bittersweet relief for Lisa Walter with the Good Dog Food Bank.
"It's good something is finally occurring," said Walter. "It's a shame it's taken this long. It's abhorrent. It's beyond reprehensible."
Walter, along with dozens of other animal advocates, said they have warned the Chandler city officials about the home since early September, fearing that dozens of vulnerable dogs are inside.
"I'm so happy, but also so sad that these dogs had to go through this as for long as they did," said Shira Scott Astrof.
Astrof flew in on Sept. 22, looking for her disabled dogs Bailey, Chester, and Rudy. She said she thought the dogs she initially rescued would be safe, but claims her phone calls remain unanswered.
"It's the ultimate betrayal," said Astrof.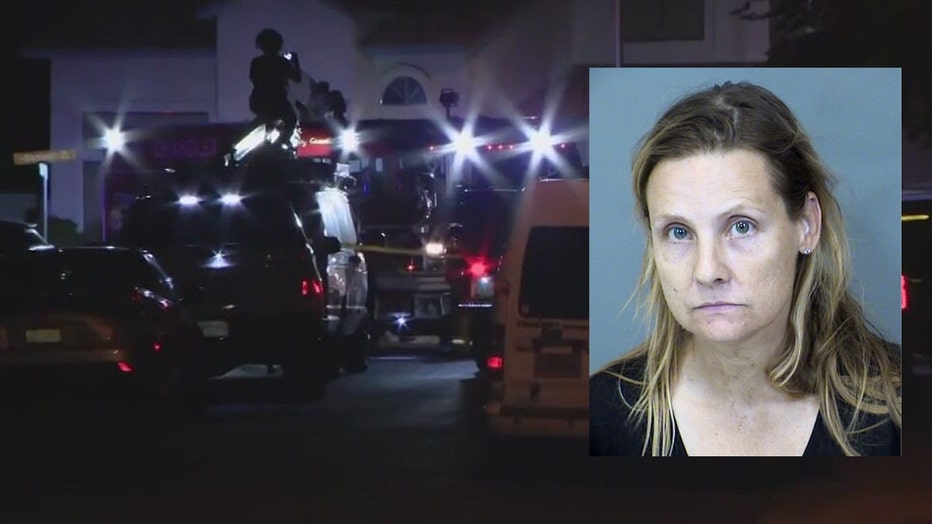 Statement from Chandler PD:
"On September 23, 2023, the Chandler Police Department received new information from a veterinary professional regarding the conditions of three animals from this residence in the 1700 Block of East Kesler Ln in Chandler. This information prompted a search warrant to be served on the residence to check the welfare of the animals living in this home.
Upon entry, the Arizona Humane Society removed and took custody of 55 dogs from this residence for medical attention and care.
The homeowner has been identified as April McLaughlin. She was arrested and is being charged with 55 counts of animal abuse-neglect. (ARS: 13-2910.A1) a class 1 misdemeanor 55 counts of cruelty to animals-failure to provide medical care (ARS13-2910.A2) a class 1 misdemeanor and 1 count of vulnerable adult abuse (ARS 13-3623.A2) a class 2 felony.
This investigation has been conducted in cooperation with the Arizona Humane Society and the Maricopa County Attorney's Office."