Teen dead following police shooting in Glendale, officials say
GLENDALE, Ariz. - Officials with the Glendale Police Department say a teen is dead following a shooting involving a detective on July 6.
The shooting happened in a residential neighborhood near 61st Avenue and Bethany Home Road, and the scene remains active hours after the incident.
According to investigators, the incident began with a report of a stolen vehicle earlier in the day. Officers later tracked down the car to an apartment complex in the area where the shooting eventually happened.
When the car was found, officials say a 15-year-old boy was driving it, and a 16-year-old was in the passenger seat.
"They contacted the driver. That suspect told them he had a gun in the car," said Sgt. Randy Stewart with Glendale Police. "The officers told him not to reach for the gun, and as the officer went to take him into custody, a little struggle ensued. [He] broke away and reached back to the vehicle, where the handgun was at, and that was when one of the other detectives shot."
After that, officials said the 15-year-old continue to put up a fight, and once again reached for the gun. That was when the detective fired on the teen, for the second time. 
"The officer did strike him, and the officers and detectives on scene immediately tried performing life-saving efforts," said Sgt. Stewart.
The suspect was initially taken to the hospital in critical condition, but he later died from his injuries.
According to Sgt. Stewart, stolen vehicle cases can be very dangerous, and often linked to other crimes.
"They are very dangerous for us, which is why we'll usually do some type of high risk stop, and that's what these detectives were trying to do," said Sgt. Stewart.
An investigation is ongoing, and police officials say they are going to collect surveillance video from the area.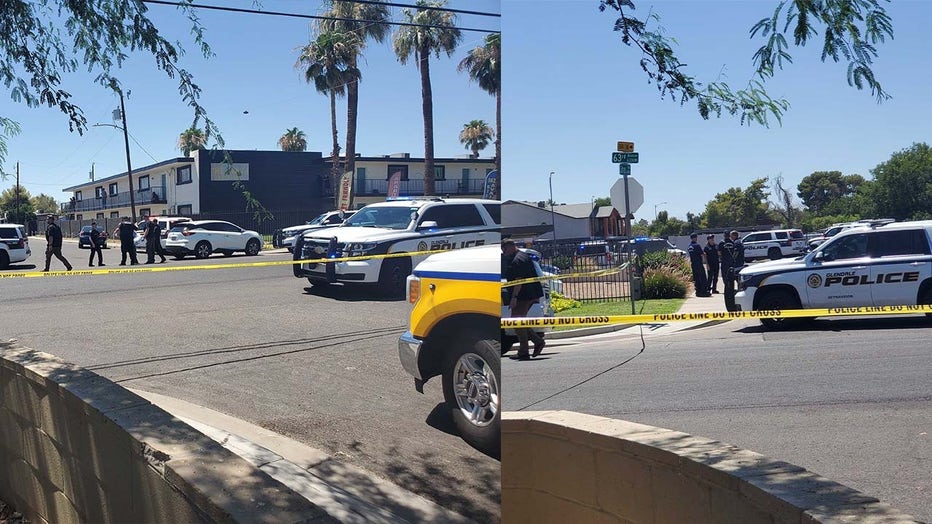 Photos taken at the scene of a police situation in Glendale on July 6, 2022 (Courtesy: Alan Melquiades)
Other Arizona Crime Stories
(Click here for interactive map)