'We made some mistakes': Scottsdale PD disciplines officers in connection to woman's hit-and-run arrest
SCOTTSDALE, Ariz. - The Scottsdale Police Department has disciplined some of its officers following an internal investigation into the arrest of a woman in connection to an alleged hit-and-run.
Woman claims she was wrongfully charged by police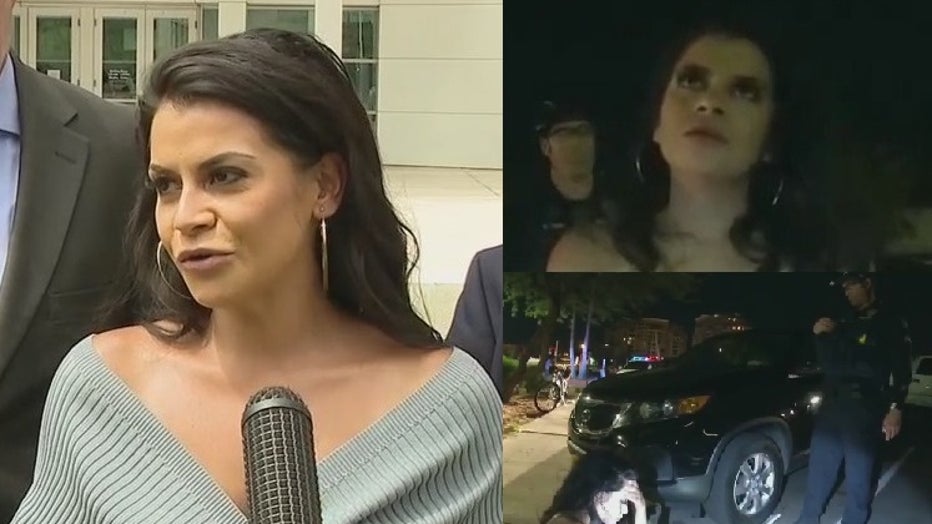 Yessenia Garcia says she was wrongly charged by the Scottsdale Police Department despite evidence she wasn't involved in a hit-and-run crash and is now suing the department.
Yessenia Garcia said she was wrongly charged by police despite evidence that she wasn't involved in the incident on May 24, 2020.
Garcia had just returned to the parking lot from the Hi Fi Club, and learned that her car's windshield was damaged. Garcia and her boyfriend then flagged down police, who responded to a hit-and-run crash less than a mile away. She was questioned by police for the collision.
""Over the course this evening how much alcohol would you say you've consumed?" an officer was heard asking, in body camera video.
Garcia was arrested for hit-and-run, however, surveillance video from the area shows Garcia's car parked for hours. Surveillance video also shows that while Garcia was at the club, a man jumped on her car and appeared to smash the windshield.
The charges were eventually dropped, but on August 2021, Garcia filed a federal lawsuit against the department for the arrest. According to court documents, Garcia is seeking at least $300,000.
"Ms. Garcia might be sitting in prison as we speak right now, but thank goodness, there was surveillance video to clear her name," said Garcia's attorney, Ben Taylor.
Scottsdale Police officials say prior to the arrest, officers did not have access to the video due to 'technical difficulties.'
Police: We made some mistakes
On Jan. 11, police said in a news release that although there was probable cause for Garcia's arrest, some of the officers involved in the incident "should have conducted a more thorough follow-up investigation consistent with the standards of our organization.
"The employees who were found to have violated policy or fell short of department expectations received some degree of discipline or counseling depending on the severity of their policy violation," Scottsdale Police said in a statement. "The most serious of this discipline included one employee receiving a 40-hour suspension and another employee receiving a 20-hour suspension, both of which are unpaid."
"We made some mistakes plain and simple, and the involved employees have been disciplined for those mistakes," Chief Jeff Walther said. "We are not infallible and any expectation of such is unrealistic. I remain committed to maintaining a strong culture of accountability, transparency, and professionalism. When employees fall short of those standards, there are consequences. Those consequences will always be in line with the level of misconduct identified. In this case, I am confident in the investigation's findings and that our employees did not demonstrate malice or ill intent. I know that does not change how the events unfolded that evening or how Ms. Garcia was affected, and for that she has my most sincere apologies."
Garcia's attorney, Benjamin Taylor, released a statement that reads:
"It's more like a dog and pony show when you just do a slap on the wrist," said Taylor. "Anybody that's been wrongfully accused of a crime and their mugshot has been shown. This definitely hurts your reputation. It will hurt Ms. Garcia's career for the rest of her life."
Arizona Headlines
Tune in to FOX 10 Phoenix for the latest news: