Woman dead, 4-year-old girl critically injured in Phoenix crash; suspect arrested
PHOENIX - Police say a man has been arrested after causing a crash Tuesday night in Phoenix that left a woman dead and her 4-year-old daughter critically injured.
According to the Phoenix Police Department, the crash happened just after 8 p.m. on April 12 near 32nd and Southern Avenues when 18-year-old Eulalio Juarez Rodriguez was driving a Chevrolet Camaro and crashed into a Hyundai.
"Detectives learned the operator of the Camaro, 18-year-old Eulalio Juarez Rodriguez, was estimated to have been traveling west on Southern at more than 115 miles per hour 2.5 seconds before the collision, and 88 mph a half of a second before the impact," Sgt. Ann Justus said in a statement.
The speed limit in the area is 45 mph. The force of the crash caused the Hyundai to crash into a wooden power pole.
The driver of the Hyundai died at the scene. She has not been identified. The woman's daughter was taken to a hospital in extremely critical condition.
Rodriguez was arrested and booked into jail. He is accused of manslaughter and is being held in jail on a $100,000 bond.
Police say impairment is not suspected to be a factor in the crash.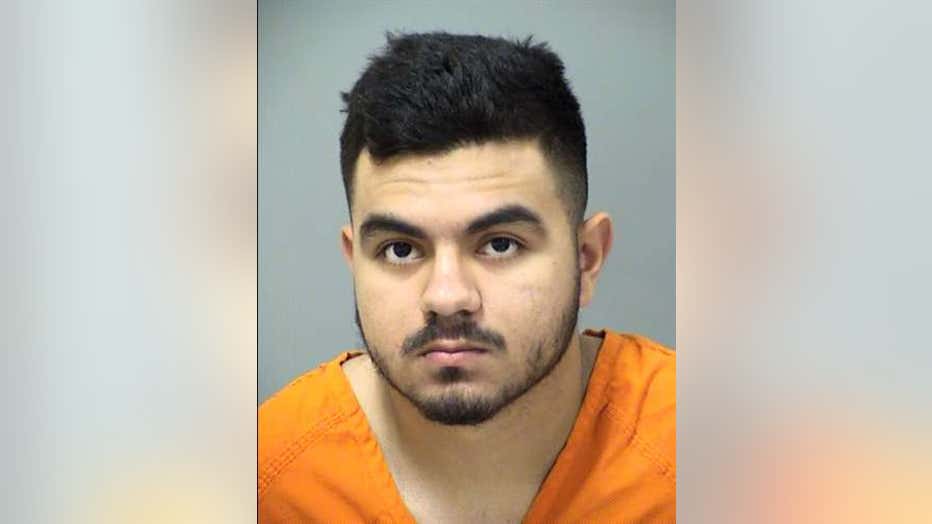 Police have not identified the victims, but family and friends have released their names and are asking for help and for prayers.
Elizabeth Peña says her best friend Katrina Dean was killed in the crash.
"Just disbelief. I got the call that she was gone," she said. "That's my sister. That's my sister."
Peña says she just talked to her best friend hours before losing her.
"His actions resulted in my best friend dying for the rest of my life and my goddaughter fighting for her life and that hurts," Peña said.
Her goddaughter, Aubrielle, has a breathing tube, swelling in her brain, and a fracture in her thigh. She was also born with heart issues and already had open-heart surgery prior to the crash.
"She's a fighter, she's done it before, and I know she'll pull through. She'll do it again, she has to. She has to come back to us," Peña said.
Aubrielle is a fun, loving girl who loves her mom very much. Peña is asking people to pray for Aubrielle.
GoFundMe: https://www.gofundme.com/f/kmkwch-katrinas-funeral-expenses
Other Top Arizona Stories
Tune in to FOX 10 Phoenix for the latest news