Woman leads Arizona deputies on high speed I-10 chase with 2 babies, 2 migrants in car
PHOENIX - A 19-year-old woman is in custody after reportedly leading Arizona authorities on a high-speed pursuit through the Phoenix metropolitan area - and deputies say she had her babies and a pair of undocumented immigrants in the car.
The incident began after a Pinal County sheriff's deputy tried to pull over a Dodge Charger that was "driving erratically" on Interstate 10 near milepost 204 at around 2 a.m. on Friday, officials said.
"The vehicle sped off and a pursuit ensued," read a statement from the Pinal County Sheriff's Office.
A Hyundai traveling "in tandem" with the Charger then reportedly tried to run the deputy's vehicle off the road twice during the pursuit.
Deputies called off the original pursuit and continued to chase down the Hyundai, which reportedly was driving at speeds of up to 130 miles per hour.
Officials said the female driver of the Hyundai tried to run down deputies setting up spike strips along the freeway.
Eventually, the woman's car ran over some spike strips near I-10 and the Loop 202 interchange in Phoenix, and the chase came to an end at an apartment complex at 7th Street and Mulberry.
Authorities discovered that the female driver was smuggling two undocumented immigrants along with her 1-year-old and 5-month-old child.
"Both children had full soiled diapers and reeked of urine and feces," court documents read. "Their diapers were full and seeping out from the diapers."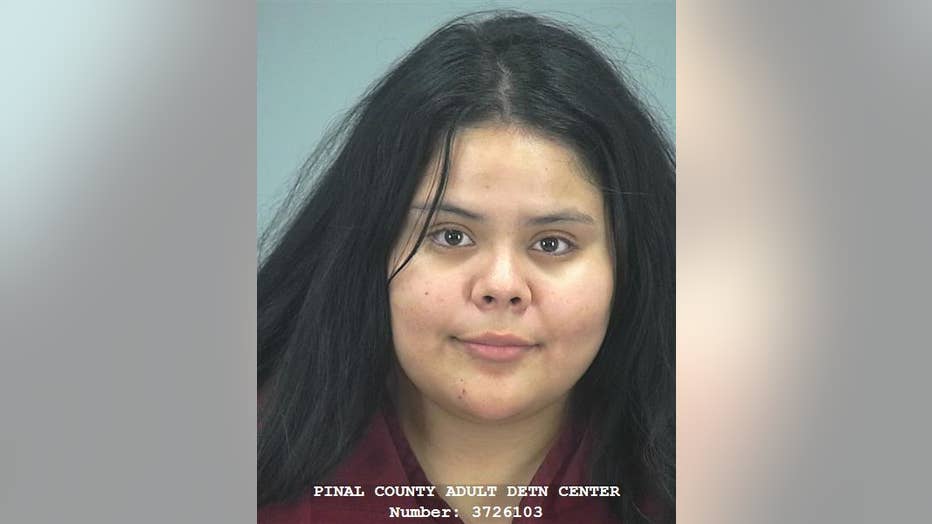 The driver was identified as 19-year-old Alma Rodriguez Dominguez. 
Officials say Dominguez is not an Arizona resident and has ties to Mexico, Texas and New Mexico. She reportedly tried to remove her handcuffs twice during the arrest.
"They're paying between $1,000 to $2,000 per person to pick up," Pinal County Sheriff Mark Lamb said. So this gal is going to lose out on her big payday, and lose her children most likely, and she's gonna be charged with a lot of crimes."
Deputies say Dominguez's children were uninjured and are now in the care of law enforcement. The migrants were turned over to ICE.
Dominguez was booked into Pinal County Jail. She faces aggravated assault, unlawful flight, endangerment and child abuse charges.
No injuries were reported.
"Either you're very desperate or very naive to think you're going to get away with it, so this is a very sad situation overall," said Jesus Vasavilbaso, a public information officer with the Tucson Sector of the U.S. Border Patrol.
Border Patrol agents say this is a daily occurrence in southern Arizona, and most times, the young drivers are recruited by strangers on social media.
"They say all they saw was a message on social media to go pick up these people and bring them to the Phoenix area where they will meet at a parking lot and do an exchange for the people, and they get money," Vasavilbaso added.
 
Tune in to FOX 10 Phoenix for the latest news:
More Arizona headlines