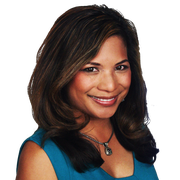 Nicole Garcia has been part of the FOX 10 News team since 2013.
As a general assignment reporter, Nicole has been at the forefront of several breaking and national stories - from mystery murder investigations, scandalous trials, and bizarre crimes.  But she's also covered amazing stories of survival, miraculous recoveries, communities coming together, and acts of human kindness here in Arizona as well.  
Her television broadcasting career began at UCLA, where she majored in Communication Studies and graduated Cum Laude. Nicole served as the News Director for their student-run news program, Bruin News, and also worked in Washington, D.C. as an intern White House correspondent. She also worked behind the scenes at KABC in Los Angeles for several years.
Then it was off to the Lone Star State where she worked as an anchor/reporter at KAMR, in Amarillo, Texas. Her most memorable story in Amarillo, was when she volunteered to get tasered by police for a demonstration - ouch. Thankfully, she survived to tell about it.
Nicole worked for nearly a decade at KMPH in Fresno, California, where she was an anchor and reporter. She covered everything from high profile crime and court cases, to citrus freezes, wildfires, and the start of waterfall season at Yosemite National Park. She also personally witnessed an execution at San Quentin. She was nominated for an AP Award for her live blog during the murder trial of a woman accused of killing her husband by stuffing him in a vat of acid.
Nicole and her son love travelling and playing with their dogs.  She'll always be a born California girl, but over the years, has adapted to the desert heat and is proud to call Arizona home.
If you have any story ideas, please e-mail her at nicole.garcia@foxtv.com.
The latest from Nicole Garcia