Arizona court rules that City of Phoenix must keep 'The Zone' free of the homeless
PHOENIX - A court in Arizona has issued a ruling in connection with a lawsuit over a portion of the city known as "The Zone."
According to court documents, The lawsuit, officially known as Freddy Brown, et al. v. City of Phoenix, was filed over allegations that Phoenix city officials "created, maintained, and/or failed to abate a public nuisance" at The Zone.
"Plaintiffs base their action on allegations, many of which are undisputed, that there is a substantial portion of homeless individuals that have moved into the area and set up semi-permanent tent encampments on the public sidewalks, public grounds, and public rights of way," read a portion of the court documents. "Plaintiffs allege, inter alia, that the City refuses to enforce criminal and 
quality-of-life laws prohibiting loitering, disturbing the peace, drunken and disorderly conduct, drug use, domestic violence, and obstruction of streets, sidewalks, and other public grounds inside the Zone."
Read More: Homeless Crisis
In the documents, the court states that there was limited homelessness in the area prior to 2018, and that residents generally considered the area safe. However, beginning in the 2018-2019 timeframe, the city "intentionally stopped - or at least materially decreased - enforcement of criminal, health, and other quality of life statutes and ordinances in the Zone."
The judge in the case said there has been a "dramatic increase" in violent crime at The Zone since 2018, in addition to increased public drug use, and biohazard involving human waste, food waste, trash, and certain drug paraphernalia.
A judge on April 28 denied Phoenix's request for a stay after the city filed a notice of appeal.
Ruling lists a number of requirements for City of Phoenix
Under the ruling, the City of Phoenix is ordered to not continue maintaining a public nuisance on the public property in the Zone, and maintain its public property in the area to a condition that is free of:
Tents and other makeshift structures in the public rights of way
Biohazardous materials including human feces and urine, drug paraphernalia and other trash
Individuals committing offenses against the public order
"The City shall devise and carry out as soon as is practicable a plan that achieves compliance with this Order," read a portion of the court documents.
In addition, the city is also ordered by a judge to cease what they deemed as arbitrary enforcement of the city code against an entity known as Phoenix Kitchens over artistic sculptures that were installed next to the entity's building.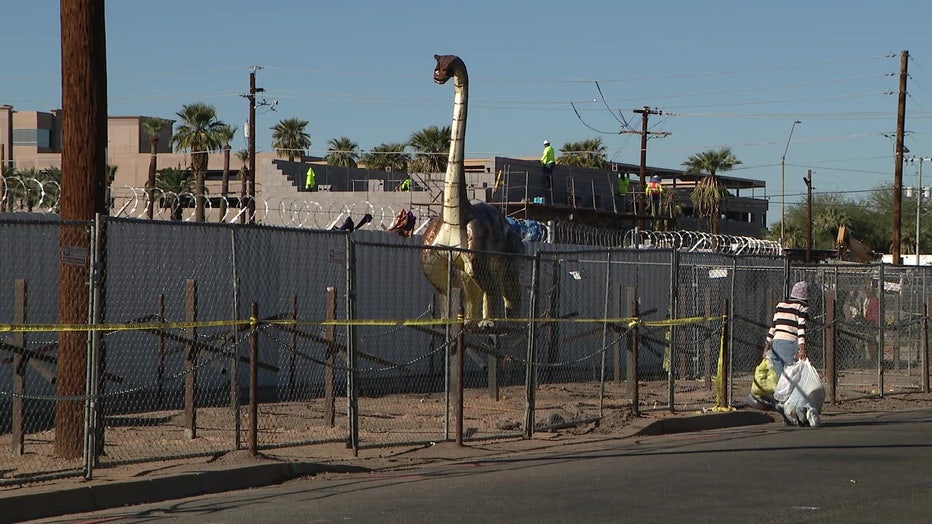 Artistic sculpture installed in an area of Phoenix known as The Zone.
"The existing sculptures shall remain in place until the City has abated the public nuisance in the Zone or until further order of the Court," read a portion of the documents.
The judge in the case also asked city officials to be prepared to demonstrate at a bench trial on July 10, 2023, the steps they have taken, and the "material results it has achieved toward compliance with this Order."
The ruling came months after a federal judge imposed a number of restrictions on Phoenix officials with regard to homeless sweeps at The Zone. That ruling, which was issued in December 2022, preliminarily banned Phoenix city officials from:
Enforcing camping and sleeping bans against individuals who practically cannot obtain shelter, as long as there are more unsheltered individuals in Phoenix than there are shelter beds available.
Seizing any property of the homeless without providing prior notice, unless the property is reasonably believed to be abandoned, presents an immediate threat to public health or safety, or is evidence of a crime of contraband.
Destroying seized property without maintaining it in a secure location for a period of less than 30 days.
Read More: Judge lays down restrictions as Phoenix resumes homeless camp sweeps
People in 'The Zone' Speak Out
In the hours after the court ruling, people in the area, both those who are homeless and business owners, are speaking out.
A woman named 'Sarah,' who lives in The Zone, said she is coming to terms with the ruling.
"It's horrifying this is where people call their homes and where they feel comfortable within this space," said Sarah.
Joel Coplin, who has lived in and owned his art gallery in the middle of The Zone for the last five years, said he hopes the decision will bring back beauty to the area, and restore business.
"I have an interview [on Mar. 28] with somebody who doesn't even want to drive in there because they are frightened," said Joel Coplin, who owns a business in The Zone.
Joe Faillace is also a business owner in The Zone and says, "There has to be a solution, there has to be a hard solution. I think it's been four years, and it's not getting better. I think people realize that now."
Faillace is one of the business owners who sued the city.
He says in the last three years, he's watched the homeless encroach on his sub shop and slowly destroy his business.
"We don't feel protected. We don't feel safe. We don't feel like the city cares because they don't. I've been to umpteen meetings and that's why we sued six or seven months ago. At that time it had almost been three years," Faillace said. 
In the parking lot of his business, we met Jessie, who came to The Zone three weeks ago with her disabled husband. They were evicted from their Mesa apartment and had nowhere to go.
"Thank God this was here for us to have a place to go," she said.
Faillace says he has compassion for the homeless who want to work and improve their lives, but he worries that more people have become satisfied with just getting by.
The city of Phoenix says it has done a lot of work to help ease the crisis in The Zone by building new beds, reaching out to people with services and getting them moved out. But, that doesn't ease the frustration of a homeowner who is part of the lawsuit trying to force Phoenix to clean up the area.
Jordan Greenman has planted cacti in front of his house in downtown Phoenix because he says it keeps the homeless from lying down there. He lives less than a half a mile from The Zone homeless encampment and is frustrated with how slowly the city of Phoenix is moving to deal with the crisis.
"The city has had several opportunities to fix even small issues in this area like the gated alley, and they haven't and because of that, the neighbors are suffering and the unhoused are suffering," Greenman said.
Last year, a trashcan fire Greenman believes was started by a homeless person spread into his neighbor's home and destroyed it. A gated alley might have prevented that, but he says the city hasn't moved on that yet.
"We see that money has been sent we," Greenman said. "Can't tell where it's been spent.
Greenman, an attorney, says the city should be spending money proactively to address the homeless crisis.
City officials speak out
Phoenix Vice Mayor Yassamin Ansari represents District 7 where The Zone is located. She says the city is working hard, but it's a group effort.
Meanwhile, we spoke with Phoenix Mayor Kate Gallego on the issue, on Mar. 30.
"It's an all-hands-on-deck moment," said Mayor Gallego. "I'm hoping this will be a moment where we can find long-term solutions to a growing problem."
Mayor Gallego said the city has been doing enhanced cleanup around The Zone, and 70% of people there have accepted services.
"We are trying to develop different solutions, so that more people will accept services," Mayor Gallego said.
The city is also asking other levels of government to step up, especially with the summer heat approaching. The mayor says she asked the state as to what they can do, in terms of indoor locations for people.
"The City of Phoenix is a major shelter provider for jurisdictions far beyond Phoenix," Mayor Gallego said. "We have hundreds of people who come to our community because we provide the highest level of services."
However, Mayor Gallego says she wants individuals to get better services closer to their last known residence, because that's often where their social network is.
"People come to Phoenix to seek services when they are victims of domestic violence from all over Northern Arizona, because individuals don't have services in Northern Arizona. It's an honor for me that we can help people in their time of greatest needs, but the better outcome is if they can get services closer to home," said Mayor Gallego.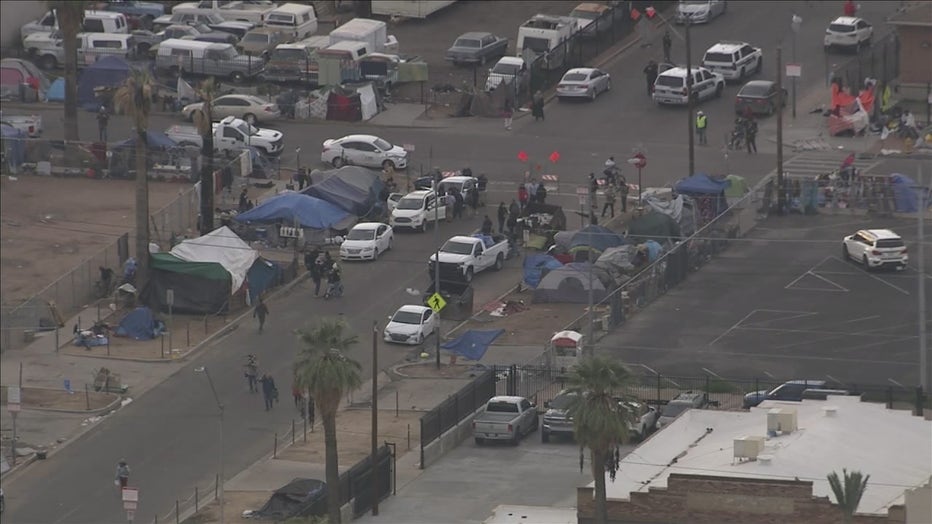 A second round of cleanup was underway on Jan. 4 in the downtown Phoenix homeless encampment known as "The Zone."
Services will continue in "The Zone"
Nonprofit organizations who help the homeless in The Zone are having to come up with ways to help those who live here once they move.
"What we need to figure out right now is that that space hasn't been sufficient to serve all of those people. People are outside because they have nowhere else to go," Shannon Clancy, CEO of St. Vincent de Paul said. "Really think that this is an opportunity for our whole community to come together and to recognize that we really don't want to be a community where people do have to live outside."
Nonprofits like St. Vincent de Paul and Central Arizona Shelter Services offer resources to those experiencing homeless in the area. Both say those resources will still be available.
"We'll support if structured encampment sites are opened. We'll come alongside and provide those services. We're a service provider that's willing to help in any way to get more folks off the streets," said Lisa Glow, CEO of CASS.
She says last year, they served 30% more people than the prior year. Their 600-bed emergency shelter in The Zone is at capacity, but they're looking to expand with plans to open 170 beds for seniors in July at a different location.
"The crisis is growing so quickly that it is really hard to have as rapid of response because the crisis keeps growing, the need keeps growing, so we have to grow in order to respond," Glow said.
Clancy says, although the area will be cleared, there is still a need to offer meals in the area for those living in nearby shelters.
"Now we have half the number of shelter beds that we need in the community at the last point in time count, so how are we going to address that in the community in terms of giving people places that they can come inside?" Clancy asked.
A statement from the Human Services Campus reads, "The Human Services Campus is providing and will continue to provide a broad range of services for individuals experiencing homelessness who want to access them. The Brian Garcia Welcome Center at the campus is open 24 hours a day, 7 days a week for intake and individualized assessments to determine which services offered by our 16 partner agencies on the campus are needed. Our goal is very clear: to help individuals move from street to home through accessible, affordable housing and/or to reconnect them with family and friends."