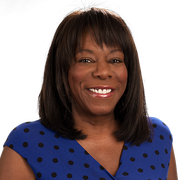 Linda Williams
Anchor/Reporter
Linda Williams joined the FOX 10 News team in 1981.
Linda co-anchors the weekend editions of FOX 10 News broadcasts - Saturdays and Sundays from 5 pm to 6 pm and 9 pm to 10:30 pm.
Williams began her broadcast career in 1979 at the PBS station here in Phoenix. In 1981, she joined FOX 10 News. She worked her way up from tape editor to general assignment reporter to news anchor.
A native of Boston, Massachusetts, Williams moved to Phoenix in 1973. Linda graduated from Arizona State University with a degree in Broadcast Journalism in 1981.
Linda enjoys watching her two children grow, tracking the stock market and traveling. Linda is involved in various contest events, from reading to classes at Valley schools and encouraging young people to seek a career in Broadcast Journalism.
The latest from Linda Williams
Alzheimer's disease robs millions of people of their memory and their lives, and even after years of research, there's still no cure. A Phoenix-based company thinks it may have discovered a treatment that stops, even reverses the process. 
While California firefighters are working to put out the quickly growing Palisades Fire, officials say Arizona can learn from the wildfire. 
It has been more than a month since a teenager with autism ran away from her home in Glendale, and her family says they aren't giving up the search.
The Maricopa County Board of Supervisors met behind closed doors Monday to discuss the next step following the arrest of County Assessor Paul Petersen. 
Authorities have released new details surrounding a human smuggling scheme involving Maricopa County Assessor Paul D. Petersen, who was arrested in California Tuesday night.
A family wants answers after a man died while in Phoenix Police custody following an incident over the weekend at a convenience store. FOX 10's Linda Williams reports.
Arizona's Attorney General is taking aim at a home warranty company that has been the target of thousands of complaints from people across the country.
It's been 10 days since Alicia Navarro left her Glendale home and seemingly vanished. Her family continues to look and spread the word, hoping someone can help bring her home safely.
It turns out the hard pounding rain the Valley received Monday does more than flood freeways and make the desert bloom. So, Arizona Game and Fish officials issued a warning Tuesday.