Tropical Storm Hilary to bring rain, possible flooding to Arizona
The West Coast is bracing for Tropical Storm Hilary, and Arizona residents are bracing for the risk of dangerous flash flooding.
Hurricane Hilary weakened to a Category 1 as it approached Baja California in Mexico Sunday morning and downgraded further to a tropical storm before reaching southern California. But it still has potential to bring a historic amount of rain to the Southwest.
The western reaches of Arizona are the most at risk for flooding and high winds, and residents are preparing for the storm. The Mohave County Sheriff's Office has issued evacuation orders for parts of Lake Mead due to flooding risks.
"With high winds, we want to anchor everything down that we can. Put everything away. Furniture, anything that could become a flying object," said Tony Badilla, the Yuma County Emergency Management Director.
The county gave out thousands of sandbags Saturday and is asking everyone to stay inside once the storm hits.
The National Weather Service is warning parts of western and northern Arizona of the possibility of tornadoes. There's a 2-4% possibility that it could occur in areas including Kingman, Lake Havasu City and as far east as Flagstaff.
"The National Weather Service just issued a High Wind Advisory for us. We'll have winds up to 65 mph. Obviously, we're gonna have up to an inch and a quarter of rain," Badilla said. "So we're expecting the worst and preparing for that, so we'll see how this plays out [Sunday]. They did put a slight warning out for possible tornadoes along the Colorado River area, which is our area."
The Phoenix area could see widespread rain heading into Sunday evening and overnight Monday, but the brunt of the storm will be felt further west. The highest potential for flooding will start at 3 p.m. through midnight, according to the National Weather Service.
Latest forecast
You can check the latest weather conditions by visiting the FOX 10 Phoenix weather page, or download the Free FOX 10 Weather app, which is available on Apple iOS and Android.
Latest updates
Aug. 21
1:01 p.m.
Thunderstorms developing this afternoon will be capable of producing damaging wind gusts. The greatest risk will be just east and southeast of Phoenix. Storms will still be capable of impacting the greater Phoenix area, with stronger impacts favoring the east Valley. - @NWSPhoenix
9:07 a.m.
Light rain continues to push north through South-Central AZ this morning. Rainfall amounts have been mostly under 0.10 inches. The rain is expected to continue for another 1-3 hours. - @NWSPhoenix
6:03 a.m.
Radar Update | 600 am: Light rain showers will continue for the next few hours from Phoenix eastward into Gila County. Up to a tenth of an inch of rain is possible, along with a rumble of thunder, particularly east of Globe. - @NWSPhoenix
6:01 a.m.
Remnants of "Hilary" will continue to bring moisture into northern Arizona. Greatest coverage for showers/thunderstorms will be over Coconino County and Yavapai County today. We'll stay in an active monsoon pattern through the week, so stay tuned for updates! - @NWSFlagstaff
7 p.m.
Fast moving repeat thunderstorms are tracking northwestward over portions of Gila County. Expect this to continue for at least another hour. Affected areas include, but are not limited to, the San Carlos Reservation and Globe. - @NWSPhoenix
4:30 p.m.
Winds continue to gust over 60 mph in Imperial and Yuma Counties. Blowing dust has reduced visibilities below 1/4 mile at times. Dangerous driving conditions are expected over the next hour or two. Please avoid travel if possible. - @NWSPhoenix
4:05 p.m.
Rainfall today has been focused over California with ongoing flooding in desert and mountain locations. The map shows rain totals from the past 12 hours. Remember, runoff can travel far from the location where the rain fell. - @NWSPhoenix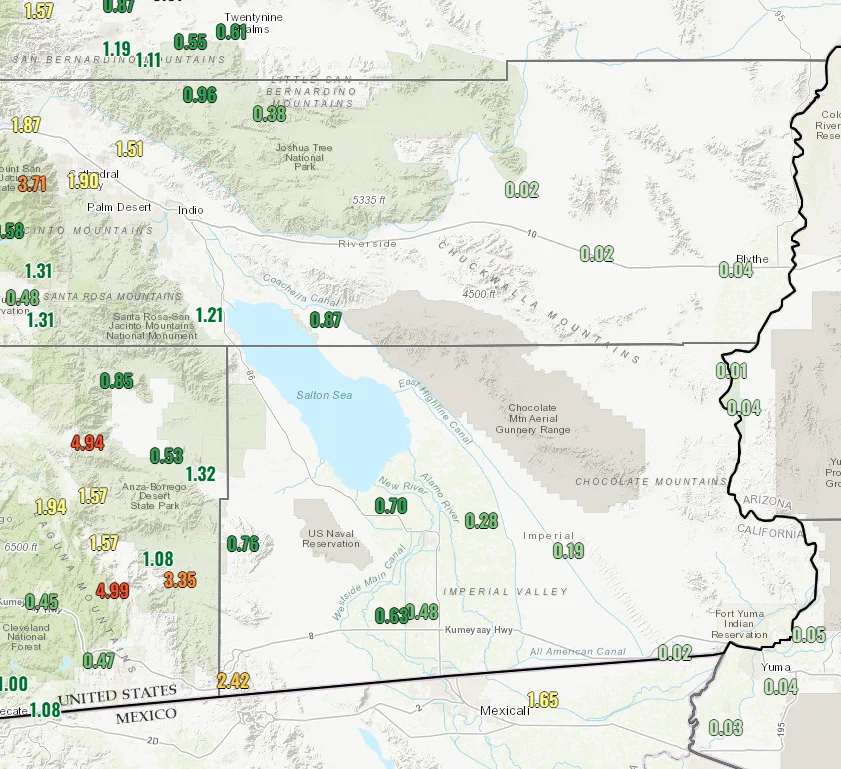 3 p.m.
Bands of heavy rainfall continue across southeast California. There have been reports of rockslides, flooded roads, and water rescues. Please avoid travel through this area if possible! - @NWSPhoenix
1:43 p.m.
Multiple threats from Tropical Storm Hilary including high winds, flash flooding, and severe weather continue across our region through tonight. Please take action if any warnings are issued for your area! - @NWSPhoenix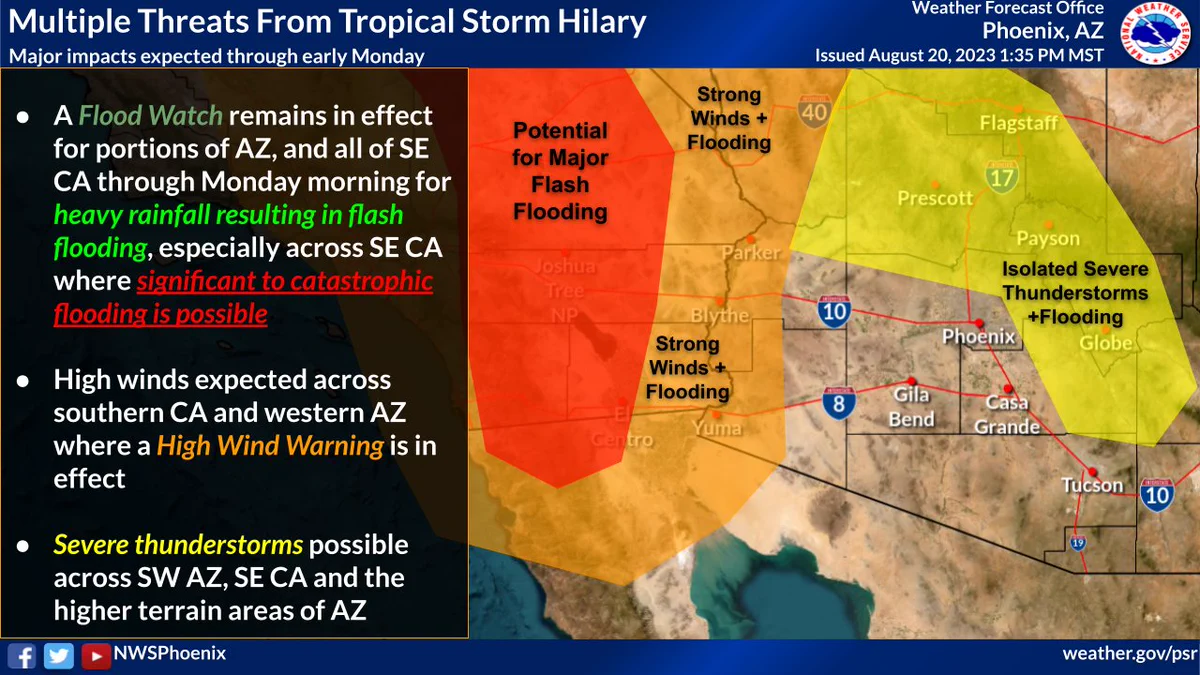 12:40 p.m.
Strong winds have been recorded in the Yuma area. Winds are currently gusting over 60 mph with reduced visibilities being observed due to blowing dust. A Blowing Dust Advisory is now in effect. - @NWSPhoenix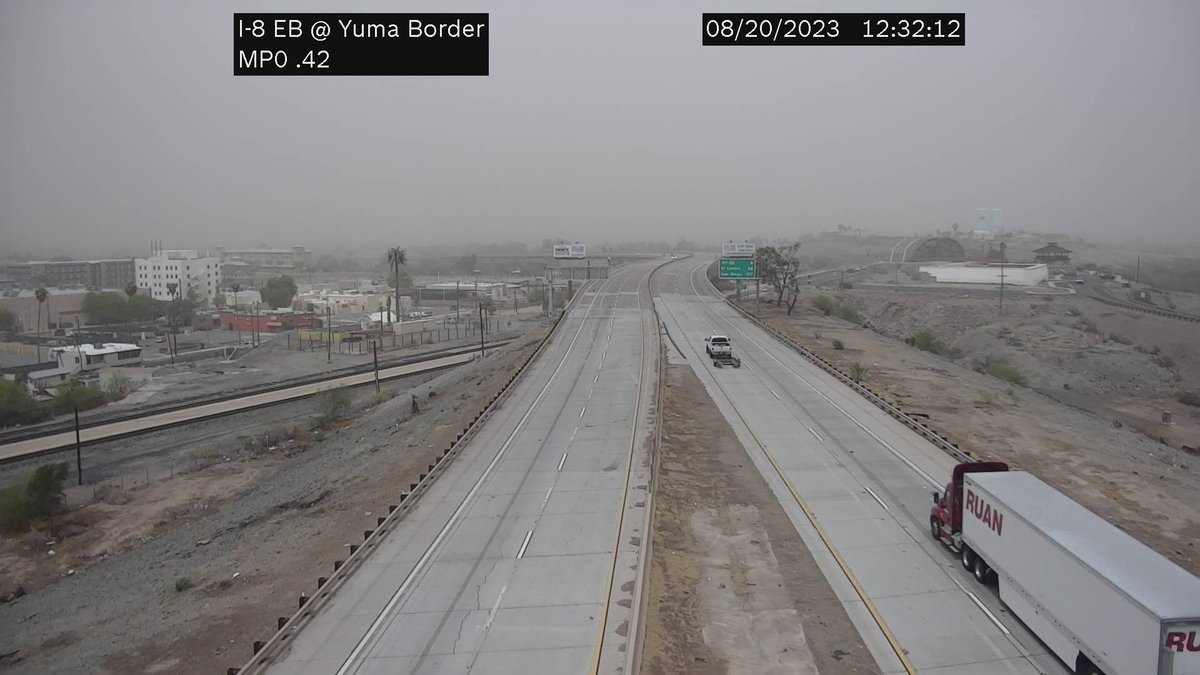 12 p.m.
A GO Evacuation Order is being issued for Temple Bar and Willow Beach area of Lake Mead National Park.
Due to flooding risks from Tropical Storm Hilary, National Park Service is requesting that everyone in the area evacuate to higher elevations. - Mohave County Sheriff's Office
11:27 a.m.
Severe thunderstorms associated with Tropical Storm Hilary will be possible across our region today. There is a slight risk for damaging winds and isolated tornadoes across southeast CA and southwest AZ. Elsewhere, damaging wind gusts will be the main threat. - @NWSPhoenix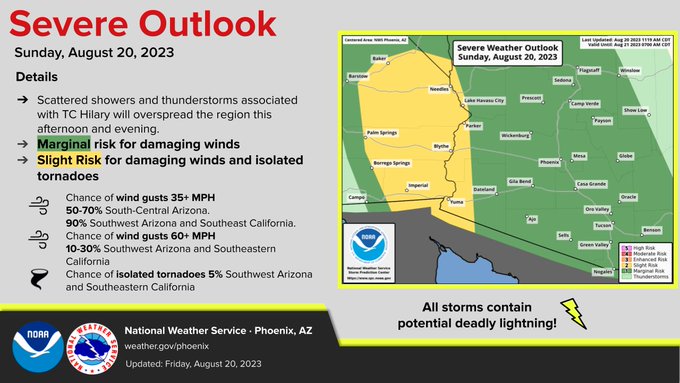 11 a.m.
#Hilary makes landfall in northern Baja California. Tropical storm conditions and heavy rains already affecting portions of the southwestern United States. - @NHC_Pacific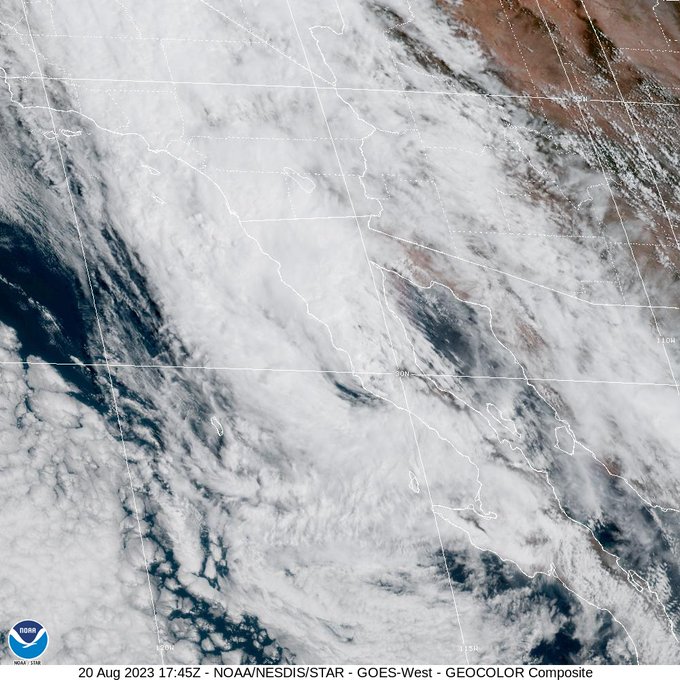 10 a.m.
Becoming windy with strong storms and heavy downpours in the region today through early Monday. - @MaricopaFlood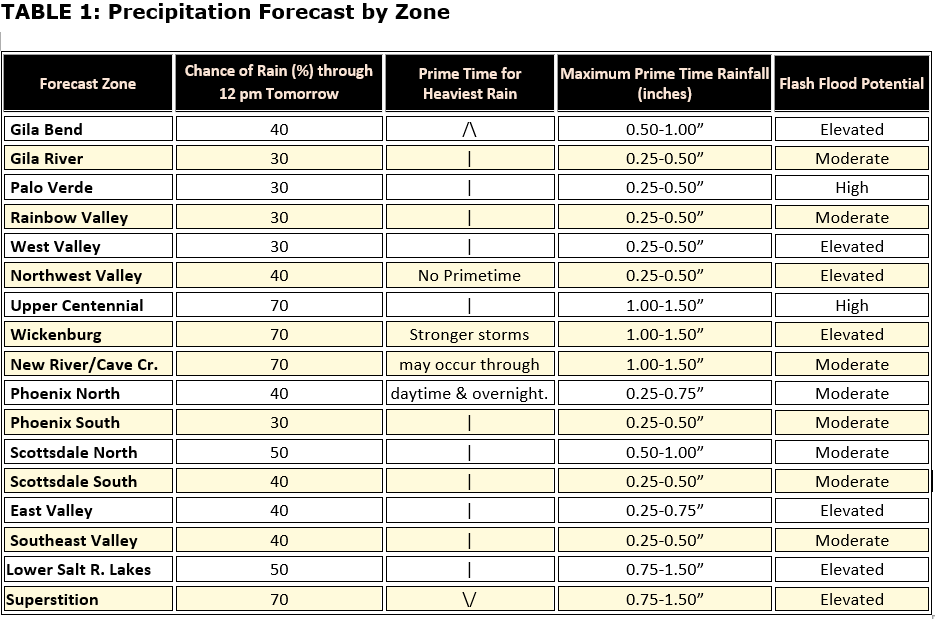 8:55 a.m.
The Storm Prediction Center has issued a marginal risk of Severe Weather across much of N. AZ, including a 2-4% probability of a tornado within 25 miles of any given point for areas shaded in green on the left-hand side map. - @NWSFlagstaff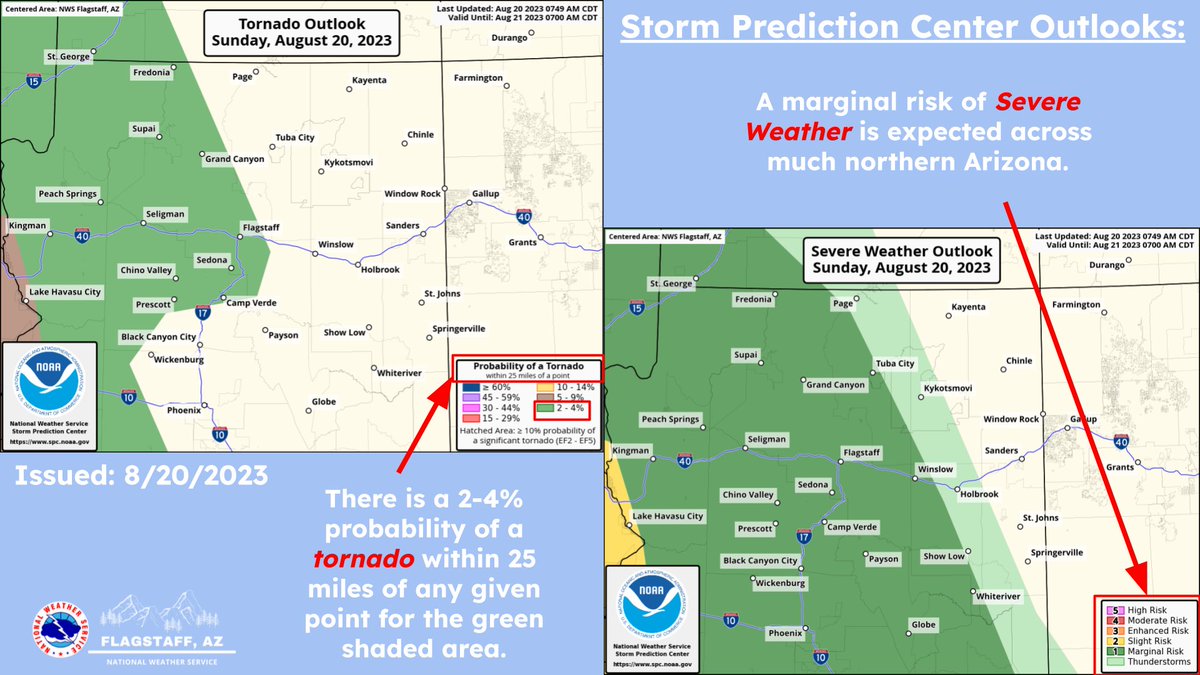 8:33 a.m.
Hilary has weakened to a Tropical Storm and is expected to make it into SoCal this afternoon. Expect periods of heavy rain; areas of flooding especially in the mtns and deserts; and strong winds especially in San Diego Co, east Inland Empire, mtns, and deserts. Be safe! - @NWSSanDiego on X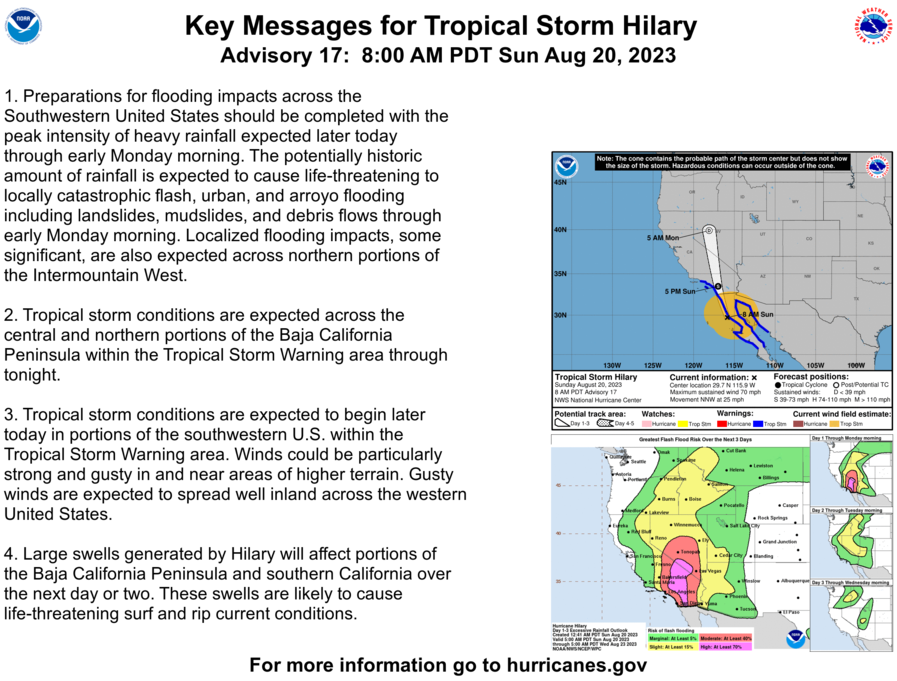 8:30 a.m.
Sky Harbor's website shows that a total of 191 flights have been disrupted as of 8 a.m. Of the 175 that were canceled, a significant amount of them are Southwest flights to southern California.
Check the latest flight updates here.
6:10 a.m.
As tropical system Hilary moves north along northern Baja coast today toward southern California, southeast Arizona will see gusty south to southeast winds and scattered showers and thunderstorms. Locally heavy rain with some of the stronger storms. - @NWSTucson on X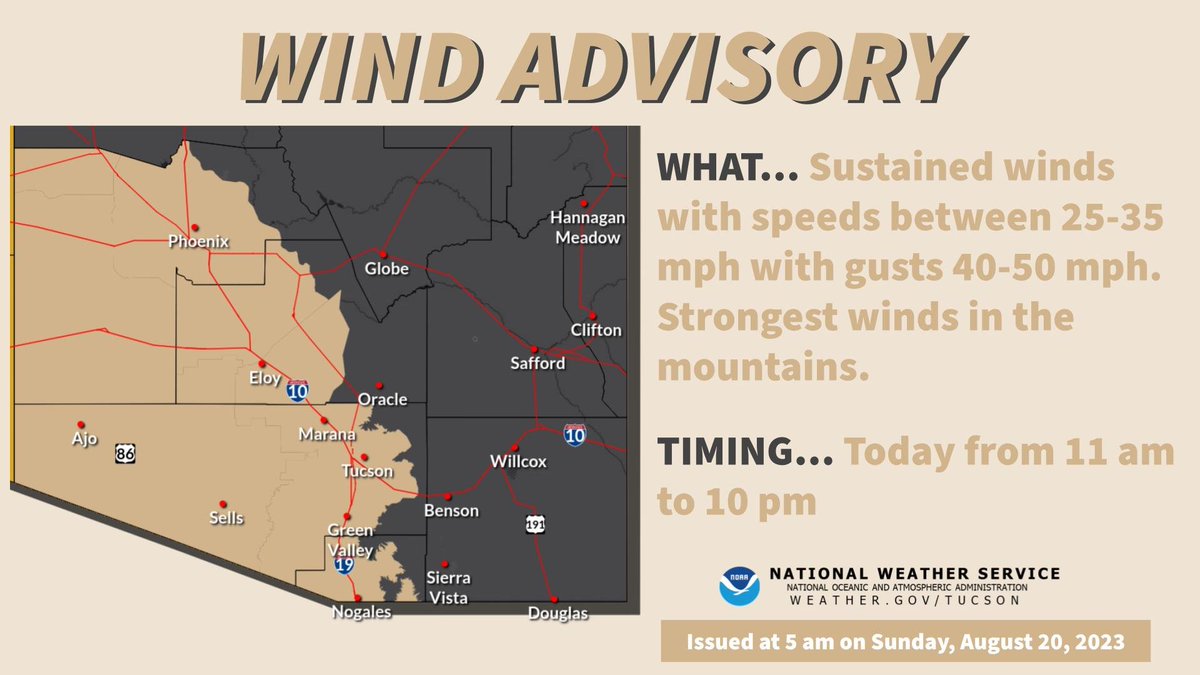 5:30 a.m.
Radar Update: Isolated showers will continue early this morning across south-central Arizona. Further west, heavier rain is expected to develop later this morning across portions of southeastern California. - @NWSPhoenix on X
5 a.m.
There will be a threat for flash flooding later today (see the graphic for details) Be sure to avoid flood prone areas such as slot canyons, swimming holes, low-lying and poor drainage areas. Here are some flood safety tips: https://weather.gov/safety/flood - @NWSFlagstaff on X
10 p.m., Saturday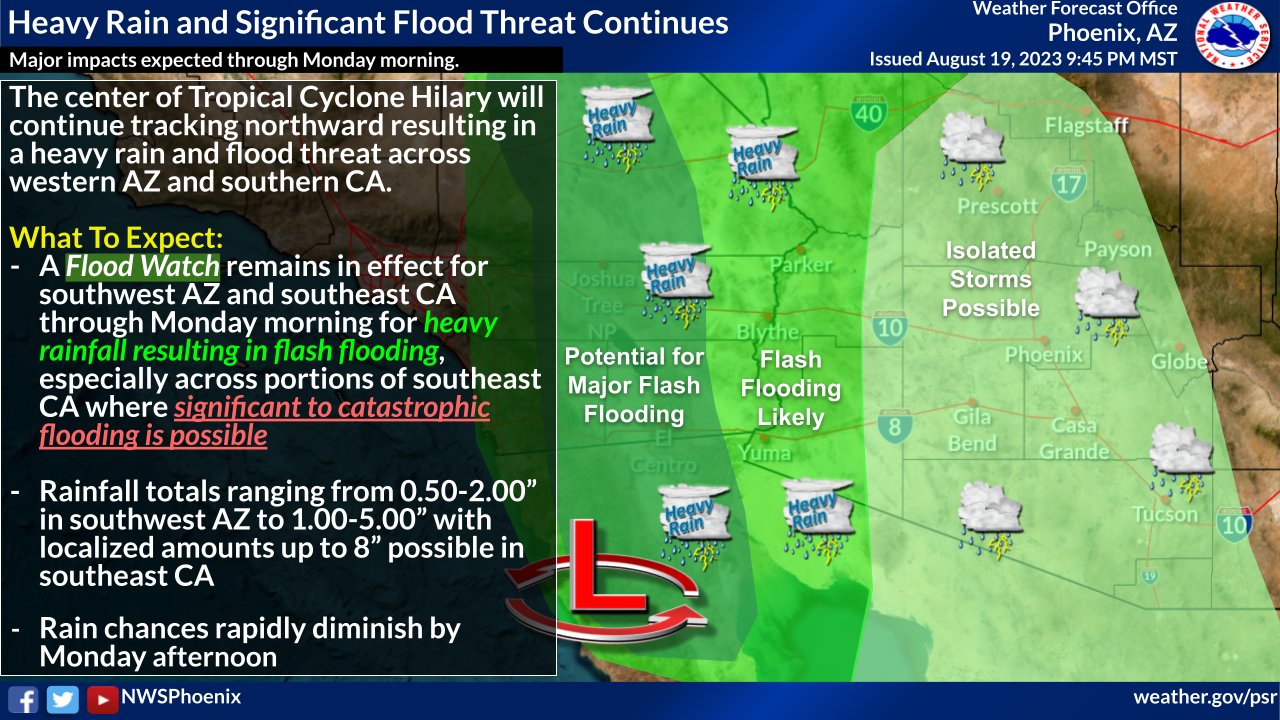 Dangerous to locally catastrophic flooding is expected Sunday over southern CA and western AZ (esp. over/near rugged terrain). Residents should be finishing preparations as soon as possible. If you have travel plans through this area, please consider changing them. - @NWSPhoenix on X
9 p.m., Saturday