'Operation Gun Crime Crackdown': Phoenix Police talk about progress made
PHOENIX - Months after Phoenix Police announced a multi-agency crackdown on gun violence in the city, we are taking a look at the focus of the operation, as well as progress that have been made so far.
Operation Gun Crime Crackdown, Explained
"Operation Gun Crime Crackdown" is an effort to focus on reducing gun crime in the community. The department said on June 22 that it will work together to streamline the shooting investigation process, which includes assigning detectives to individual precincts to work with neighborhood enforcement teams and patrol officers.
In addition to Silent Witness, a new tip line was created for the public to report gunfire or the illegal possession of firearms. That tip line launched on July 5.
"It's a small percentage of individuals that are creating 80% of this crime," says Sgt. Philip Krynsky of the Phoenix Police Department. "This is why we're focusing on offenders creating multiple incidences, not just one occurrence."
"We just do something to protect our children and my officers from gun violence," then-Phoenix Police Chief Jeri Williams said. "This effort is not about taking guns away from law-abiding citizens. It's the antithesis of that. It's about getting guns out of the hands of criminals and those that are not supposed to have them.
Chief Williams, who announced her retirement in May, was replaced as police chief on an interim basis by Michael Sullivan. In the week prior to the news conference that announced Operation Gun Crime Crackdown, Williams testified at a Senate hearing on gun violence. Her testimony came just a day after a Phoenix detective was badly injured during an ambush shooting.
The operation was announced as the city is experiencing a police officer shortage. Officials said 10 detectives were added to precincts hit with higher rates of gun-related crime, from prohibited possession to armed robbery and murder. 
"It allows those detectives to be out there on those scenes immediately and working with patrol officers,' said Sgt. Brian Bowers with Phoenix Police.
Police officials detail progress made
According to officials, from July 1 through Sept. 18, officers impounded nearly 1,200 guns. They say about 82% of them are linked to crimes.
"All those guns that were used, they're just part of some criminal action which that person was arrested for, and charges were submitted," said Sgt. Bowers.
The operation is set to wrap up in October. Phoenix Police will evaluate the results and determine what can be approved.
Loves ones of gun violence victims speak out
At the news conference announcing the initiative in June, police displayed photos of several young victims who have been killed by gunfire. Many of the suspects in the murders have not been identified or arrested. 
From left to right: Nicasio Yzagere, Patrick Pierson, Destiny McClain, and Brian Lujan (Phoenix Police Department)
One of the victims was Emily Morgan, who was killed in a mass shooting at a Phoenix strip mall.
The incident that led to Emily's death happened on June 4. About 100 people reportedly gathered for a party that night that was promoted on social media. According to police, a fight broke out between multiple groups, which escalated into a series of shootings inside the building, in the parking lot, and on the street.
Emily, who was 14, died from her injuries at the hospital. Two women suffered life-threatening injuries, while five men and a teenage boy suffered non-life-threatening injuries.
The shooter has not been caught, and no suspect description has been released.
Emily's family member was at the June news conference, where they pleaded with the public to help find the person or persons responsible.
"We watch our door every night and wait for her to walk through," said Emily's father, Gabe Keely. "We need your help. Not just us, but other families."
"She didn't want this. She didn't want to die young," said Emily's mother.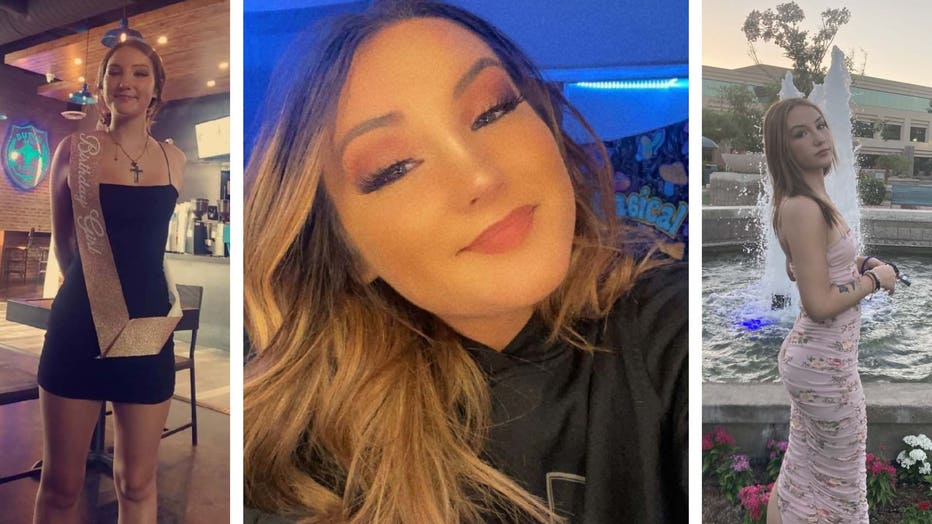 Emily "Emma" Morgan was killed during a mass shooting at a Phoenix strip mall.
Another victim of gun violence is Joseph McNally, who was shot dead on July 30, 2021.
Read More: Mother searches for justice after son was shot and killed in North Phoenix
According to Phoenix Police officials at the time, McNally, who was 28 at the time, was shot during the early morning hours. The incident happened somewhere near 28th Drive, between Peoria Avenue and Cactus Road. That area is close to the former Metrocenter Mall. McNally died at the hospital.
"They took off, going about 80 mph, dragging my son for almost a mile," said McNally's mother, Julie Ferer. "They shot him in the arm and then they shot him in the head, killing him."
The police precinct that covers where McNally was shot and killed was impacted by the operation. While leads in McNally's case have been rare, Ferer hopes the crackdown can save someone else's child.
"It's too late for my son, but hopefully it can help someone else's son," said Ferer. "I have hope that they can find maybe one of those guns as one of the guns that killed my son. I don't know."
Operation Gun Crime Crackdown Tip line
602-644-5805 
azactic.gov
More Arizona Crime headlines