375K fake fentanyl pills, $70K in cash, guns seized in Phoenix; 4 men arrested
PHOENIX - Police say four men were arrested in connection to a large drug trafficking operation in Phoenix.
Phoenix Police say they worked with the U.S. Drug Enforcement Administration on the investigation, which culminated on Feb. 7 when authorities served three separate search warrants in Phoenix and Avondale. The bust, according to police, came about after a two-week-long investigation into a drug trafficking group.
The total seizure from the search warrants yielded 375,000 fake M30 pills suspected to contain fentanyl, 190 pounds of methamphetamine, 12 pounds of marijuana, three pounds of heroin, over two kilograms of powder cocaine, and one kilo of powder suspected to be fentanyl. Additionally, over $70,000 in cash was recovered, along with seven guns and five vehicles.
Four men were arrested and booked into jail in connection to the operation:
37-year-old Victor Manuel Vargas, accused of multiple drug and weapons charges
28-year-old Jake Aldaco, accused of multiple drug charges
21-year-old Damien Roman Escobar, accuse of multiple drug and weapons charges
19-year-old Carlos Manuel Munoz-Garcia, accused of one count of possession of narcotic drugs for sale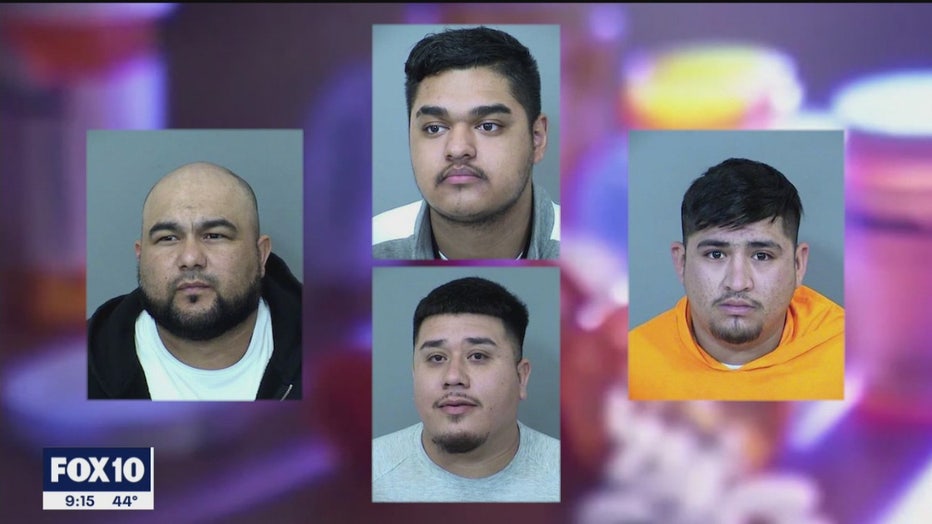 Victor Manuel Vargas, Jake Aldaco, Damien Roman Escobar, and Carlos Manuel Munoz-Garcia were arrested in connection to a large-scale drug trafficking bust in Phoenix, authorities said.
"Thanks to the diligence of our officers and help from @DEAPHOENIXDiv and @marcoattorney, these drugs have been taken off the streets of Phoenix," police tweeted on Feb. 23.
"This is a significant seizure when you think about the fact that one fentanyl pill can kill somebody," said Phoenix Police Sergeant Ann Justus. "The fact that we took 375,000 of them off the street, I don't think people quantify how many lives could have been saved from that."
Sgt. Justus said it is not known at this point where the pills originated, or where they were heading. Her best advice for the public is to keep an eye out, and especially for parents to talk to their kids about the dangers.
"What kids need to understand is don't take any medication that does not come from a pharmacy," said Sgt. Justus. "You have no idea what it is. These pills have an M30 stamp on them, but they are not. They are deadly." 
Police say four men were arrested in connection to a large drug trafficking operation in Phoenix.
DEA officials say Arizona's drug problem is worsening
"These pills are lethal," said DEA Phoenix Field Division Special Agent Cheri Oz. "One pill, one time, that's it. It's over."
The seizure is adding to concern about the rise in drugs making their way through Arizona.
"We are borderline at a catastrophic level, but we are diligently working with our partners to keep it under control," said Oz.
Read More: A 'tidal wave' of drugs: Mother left heartbroken as Arizona authorities deal with record amounts of fentanyl
In a report on Arizona's drug problems, Oz said authorities seized nearly 12 million fentanyl pills in 2021, which is double the amount seized in 2020. DEA numbers also show more than five tons of meth were seized in 2021.
Fentanyl is a synthetic opioid that is 80 to 100 times stronger than morphine. According to the Centers for Disease Control and Prevention (CDC), the number of fatal drug overdoses in the U.S. surpassed 100,000 during a 12-month span from May 2020 to April 2021, for the first time.
"In 25 years of law enforcement, I've never seen anything like this fentanyl epidemic," said Oz.
More Arizona crime news
Tune in to FOX 10 Phoenix for the latest news:
Get breaking news alerts in the FOX 10 News app. It is FREE! Download for Apple iOS or Android.