Arizona Gov. Hobbs tours southern border with DHS secretary
TUCSON, Ariz. - Arizona Governor Katie Hobbs and Homeland Security Secretary Alejandro Mayorkas visited the southern border on March 21.
Tuesday's visit marks Hobbs' third trip to the border since taking office in January.
Hobbs and Mayorkas attended several meetings with political, health, and law enforcement leaders in the Tucson sector.
"This morning, I joined the Arizona Border Counties Coalition meeting and heard from local leaders about the challenges our border communities face," Hobbs tweeted. "These folks are on the ground every day and their perspectives are integral to understanding the challenges faced at the border. It is with their insight that I am able to bring real solutions to Arizona."
The two had a briefing with Tucson sector border patrol, and they've been meeting with different community groups throughout the day. While speaking to members of the media, Sec. Mayorkas thanked Gov. Hobbs for the invitation.
In addition to a tour of the border, both Sec. Mayorkas and Gov. Hobbs went to the Mariposa Port of Entry, which is located in Nogales, before finishing the day at the U.S. Customs and Border Protection office in the area.
Map of Mariposa Port of Entry
Fentanyl, end of Title 42 were big questions during the border visit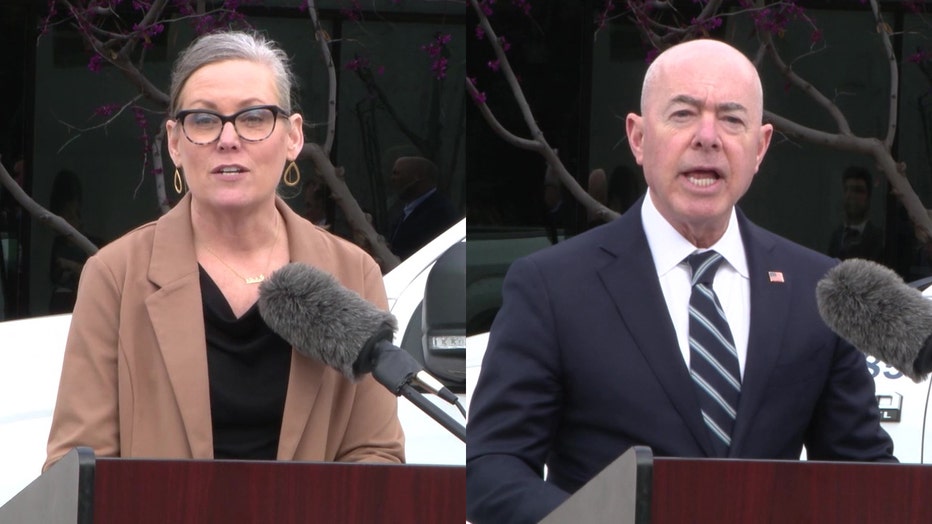 Arizona Governor Katie Hobbs (left) and Homeland Secretary Secretary Alejandro Mayorkas (right)
Both Sec. Mayorkas and Gov. Hobbs talked about issues related to the border, such as fentanyl.
"The Department of Homeland Security has already confiscated more fentanyl than ever before. In the last two years, we have seized more fentanyl that we have in the previous five years combined," Sec. Mayorkas said.
"Last year, 1,773 Arizonans lost their lives to opioid overdose. Nearly all of these cases involve synthetic opioids like fentanyl," said Gov. Hobbs.
Gov. Hobbs, for her part, also touched on the Border Strike Task Force, funding that in the past was used to assist law enforcement in border counties. She said her administration is working to reallocate those funds, but did not provide details on what that means.
"We can repurpose those dollars where they can be most beneficial, in terms of coordinating law enforcement response at the border," Gov. Hobbs said.
Sec. Mayorkas also fielded multiple questions about his agency's preparation for the end of Title 42.
"The model is to build safe, legal and orderly pathways, and to deliver consequences to those who do not avail themselves to the pathway," said Sec. Mayorkas.
Border-related problems are spreading beyond border counties, some say
Sheriffs across the state say border counties are not the only counties dealing with issues because of the high level of illegal immigration at the border.
Yavapai County Sheriff David Rhodes, the vice president of the Arizona Sheriffs Association, says the issues law enforcement are dealing with are extremely complex, but are all directly impacted by the current immigration system.
"We seized a million fentanyl pills last year. We're working multi layered human trafficking investigations all the time, human smuggling investigations all the time. We're dealing with the organized crime that gets set up, and we can't wait for the federal government to do something to help us out," he said. "We need to as a community and as a state, to step up."
Hobbs' budget currently allocates $12 million for local law enforcement in border communities, but sheriff Rhodes says the Arizona Sheriffs Association is asking the governor for more funding and for that funding to be accessible for all counties in the state, not just the four border counties of Yuma, Pima, Santa Cruz and Cochise.