Female mechanic trailblazes ahead at Courtesy Chevrolet in Phoenix
PHOENIX - The Arizona Automotive Institute trains students for technical jobs in the real world. A lot of these students land jobs after just one year of training. One such young woman landed an apprenticeship with Chevrolet. She is now making her mark in a male-dominated field. 
Rylee Lyttle is part tomboy and part girly girl. The 23-year-old woman, is trailblazing ahead, as a mechanic.
"I just love the hands on stuff I never knew I love getting my hands dirty getting on my feet, so I'm just glad I found something where I can do everything I love all at one," Rylee said.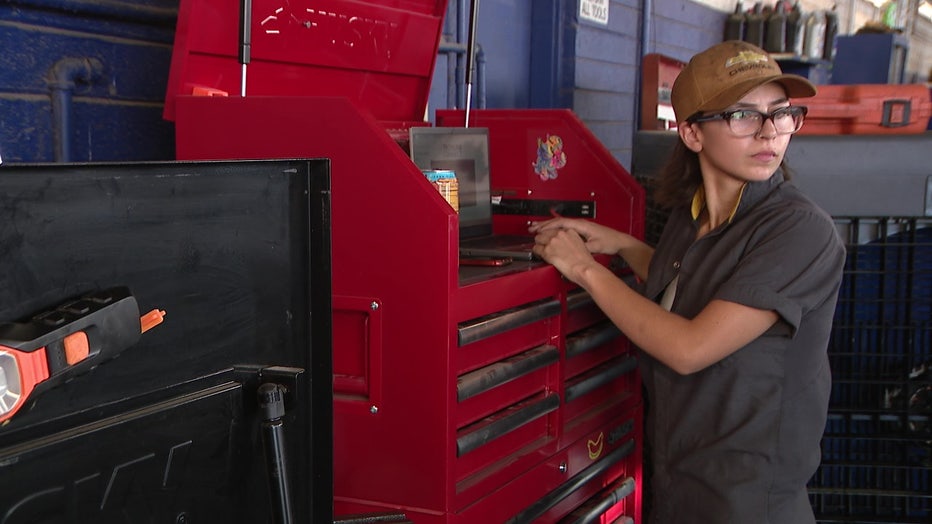 She spent a year at AAI, where she was top of her class. She got her start as an apprentice and moved up to the position of auto tech at Courtesy Chevrolet. A place where she certainly stands out. According to the U.S. Bureau of Labor Statistics, only about 12% of working mechanics are women.
Billy Blandford, the Shop Foreman at Courtesy Chevrolet, only had nice things to say about her work ethic and impact.
"I think some of them are intimidated by her, she is actually very good at what she does. She's been working with different guys throughout the shop, and they're like wow she knows her stuff."
Lyttle says she didn't always dream of working on cars. As a kid, she didn't know if it was possible. 
"My uncles and dad have always worked on cars, I've always just been standing around watching but always too nervous to ask can I help." Rylee said. She got over that fear, and it turns out there are some advantages to being a woman in this male-dominated field. 
"It's exciting, women are more meticulous, pay more attention to details. I'm very excited that she's here." said Blandford.  
Lyttle says she's still learning every day, and the important thing is, she's doing something she loves. 
"I think I was really blessed I'm just grateful I was given the opportunity to even interview."