Vietnam veterans honored at Scottsdale Civic Center in inaugural event
SCOTTSDALE, Ariz. - On National Vietnam War Veterans Day, tribute is paid to veterans of the Vietnam War, including those listed as missing in action and prisoners of war
At the Civic Center in Scottsdale Wednesday night, there were dozens of veterans honored.
"I was doing it for my country at the time and I made it back and here I am," said Navy veteran Clair Steiner who served from 1968 to 1988 – three terms in Vietnam.
"When I flew home the first time on leave, they told me not to wear my uniform, and I said 'why not?' I was proud. They said 'people weren't proud of you back home' from the war and I wondered why, and they said just because they think we shouldn't be over there," he remembered.
The city of Scottsdale partnered with the Veterans Heritage Project to honor these veterans.
"They did not receive the welcome home that they should of. They serve our country, and they protect our freedoms and their stories are important," an organizer said.
Six veterans shared their stories among others who served in the Vietnam War and all were honored with Vietnam veteran lapel pins, including Steiner, who is helping to honor all veterans in his own way.
"This is the 'Riding with Private Malone' car edition that I came up with. This is the fourth Corvette I've done this with," he said.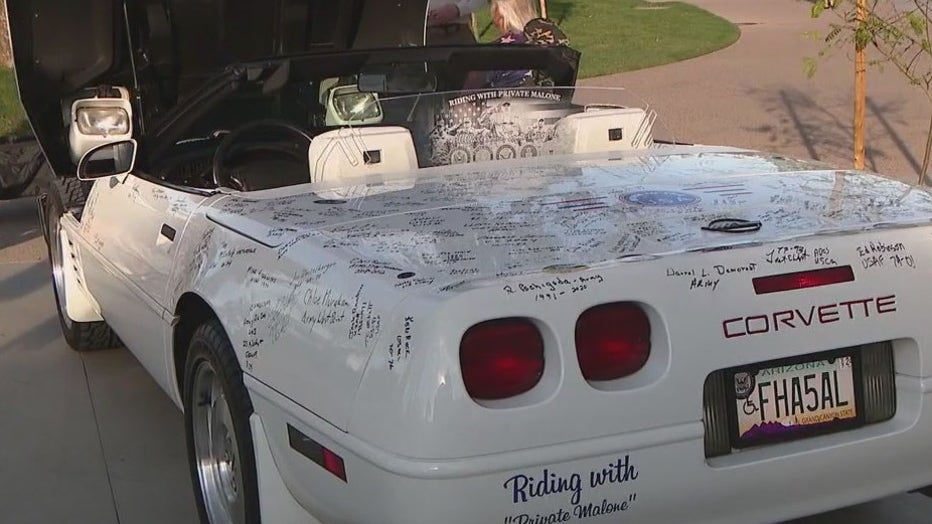 Veterans from all over the world sign his car with their rank and years served.
"I could say the hardest for me was a Silver Star widow that signed her husband's name on there. She asked me if she could sign it on there and I teared up. I didn't know what to say to her. It was really hard," Steiner said.
It's his way of giving back, even after serving.
"Something I try to give back to the service or the veterans and let them know I care still," Steiner said.
This is the first year the city of Scottsdale has held this event.