Kevin Durant practices with Suns, to be introduced at news conference on Feb. 16
PHOENIX - Kevin Durant has yet to play in a game for the Phoenix Suns, but on Monday he was spotted practicing with the team.
The Suns acquired the 13-time All-Star, along with T.J. Warren, on Feb. 9 in a trade with the Brooklyn Nets. In exchange for Durant, the Suns dealt fan favorite Mikal Bridges, Cam Johnson, four first-round draft picks, and a 2028 pick swap.
The 34-year-old Durant is still playing at an elite level, averaging nearly 30 points per game this season. He asked for a trade last summer and the Suns were interested, and finally got him before the NBA trade deadline.
Durant is currently recovering from a sprained knee ligament and is not expected to play before the All-Star break.
According to a news release from the Suns, Durant will be welcomed to the Valley during a news conference at 2 p.m. on Feb. 16.
The Associated Press (AP) contributed to this report.
More Phoenix Suns headlines
Tune in to FOX 10 Phoenix for the latest news: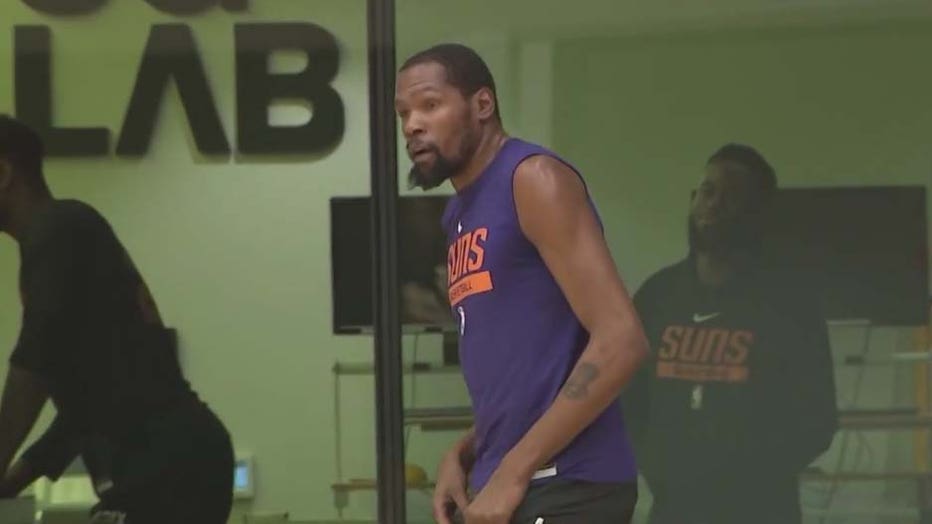 Suns forward Kevin Durant practicing with the team on Feb. 13. (Brad Gass)