Officials: Tempe house fire that left 2 women dead was 'not accidental'
TEMPE, Ariz. - Investigators say a Tempe house fire that left two women dead during the early morning hours of Oct. 11 was "not accidental."
"As soon as we got on scene, we realized that the amount of damage and the time frame just didn't quite match up," said Tempe Assistant Fire Marshal David Fabok.
According to earlier statements from Tempe Fire officials, crews from multiple agencies responded to reports of a fire at a home near Priest Drive and Southern Avenue. Once at the scene, crews encountered flames coming out of all the windows of the home and the fire was declared defensive, meaning firefighters battled the fire from the outside.
"After the fire was put out it was determined that there were two deceased adult persons inside the home," Assistant Chief Andrea Glass said in a statement on Oct. 11.
On Oct. 15, Tempe Fire officials say the cause of the fire is still unknown. Officials say they were able to confirm the fire as non-accidental with the help of Zeta, the only K-9 in Arizona that is able to detect accelerants in suspicious fires.
"In this case, she did have multiple alerts. At this time, those samples were taken to the crime lab, and they will determine what ignitable liquid that was used," said Gilbert Fire investigator David Zehring.
Tempe Fire officials also say neighbors reported hearing an explosion before the fire.
"The explosion that was heard was heard by neighbors was a result of the ignition source coming in contact with vapors from the accelerant," said Glass.
The victims' identities have not been released, but they are said to be a mother and her daughter. Glass said it does not appear as if there were working smoke detectors inside the home.
As far as who may have done this and why, that is still unknown, but Tempe Fire officials say this was an isolated incident.
The fire was an isolated event, but officials can't say at this time if the fire was arson.
Tempe Police and Fire departments are leading the investigation.
Neighbors say victims were very kind
A day later, neighbor Victor Nevarez, shared a video that shows the moments leading up to the fire.
The home has been fenced off from the public for some time since the firefighters cleaned up, but right outside the fencing are balloons and leftover candles. 
Rachel Day, a neighbor, says, "So I woke up and my neighbor pounded on my door and woke me up said there was a fire, so I looked over and at first I thought it was the house next to me and it wasn't so I was a little less panicked then the police officers showed up and started clearing out some of the other houses."
Abbas Alazzwi saw it all happen from across the street.
"It was very dramatic like the ones that you see in the movies, it was so big that we knew there was nothing that can be done other than we were just hoping that they would survive," Alazzwi said.
Adding, "We saw the fire blasted throughout the and ripped throughout the house and it was really freaky so I got closer to see if we could do something and the second explosion happened."
Neighbors say the victims were kind ladies who fed the neighborhood cats and always waved to drivers passing by.
"They had plans I'm sure and then not to even wake up and fulfill those plans – so it just makes me feel bad," said a neighbor named Liz, who made it a point to bring flowers to pay her respects.
Neighbors, including Liz, are discussing a gathering to help remember the victims.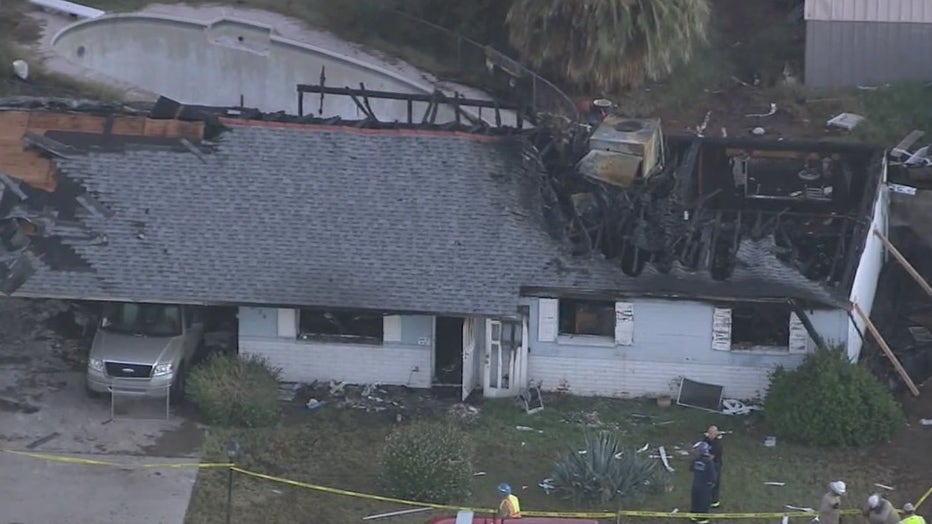 Two people were found dead after firefighters extinguished a house fire in Tempe on Oct. 11.
Arizona Headlines
Tune in to FOX 10 Phoenix for the latest news:
Get breaking news alerts in the FREE FOX 10 News app. Download for Apple iOS or Android.