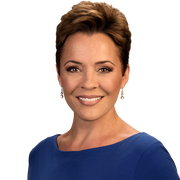 Kari Lake anchors FOX 10 News at 4 pm, 5 pm and 9 pm. Kari and co-anchor, John Hook, make up "Hook and Lake," the longest-running news team in Arizona.
Lake is an Emmy Award-winning anchor and reporter, who has covered stories that affect Arizona since 1994. Some of the most memorable are stories that took her to the landmine fields of Cambodia, to The White House to interview President Obama, but her favorite stories involved those where regular people are doing amazing things.
Before joining FOX 10, Kari worked as an anchor, reporter, and weathercaster in New York, Arizona, and Illinois.
She was raised in Iowa, the youngest in a family of nine children; eight girls and one boy.
She received her Bachelor of Arts degree in communications and journalism from The University of Iowa.
Kari actively volunteers her time to many Arizona charities especially those helping children, families, and pets. She loves to read, swim and hike with her family.
She and her husband live in Phoenix with their daughter and son and four dogs.
Kari enjoys interacting with those who follow her on social media.
The latest from Kari Lake